SINGLE BULLET THEORY - New Album Details Revealed


By Tokemaster General, Contributor
Friday, July 22, 2011 @ 3:09 PM


Philadelphia's SINGLE BULLET THEORY has released the artwork and track listing from their forthcoming release IV. IV will be released on September 27th via Goomba Music.
IV is described as "a much more musically diverse yet [more] muscular" effort than the band's previous releases, and it contains a nine-minute instrumental track called 'Auctioneer Of Souls'. The track features guitar solos from twenty of metals finest and is destined to become a classic."
Joining founding member Matt DiFabio (formerly of PISSING RAZORS) on IV are new members John Ruszin III (guitar), Jeff Kalber (bass) and international drumming sensation, Acacio Carvalho (drums). All drum tracks were recorded at Clay Creek Studio in Newark, Delaware with engineer Nick Rotundo. The remainder of the record was recorded at Ruszin's studio in Wenonoh, New Jersey.
IV also contains bonus tracks from previous sessions, including a guest performance from Matt Thompson (KING DIAMOND) on a cover of DEATH's 'Spirit Crusher'.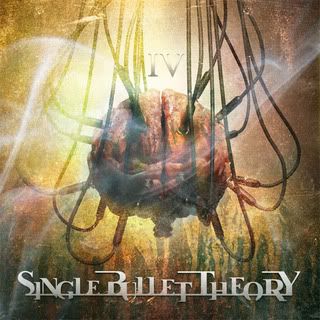 IV tracklisting:
'Echoes Of The Past'
'What Have I'
'Letting Go'
'Diabolical'
'Leviathan Smiles'
'Auctioneer of Souls'
'Hands of the Wicked'
'The Wake of Betrayal'
'Samsara'
CD Bonus Tracks
'Spirit Crusher' (Death cover)
'The Hurt That Never Ends'




Please log in to view RANTS

If you don't have a username, click here to create an account!