After breathing the fire and forging beyond the permafrost, the Ohio-based SKELETONWITCH return this fall with Forever Abomination. Produced by Grammy-winner Matt Hyde (SLAYER, MACHINE HEAD, KREATOR), the album is now available for pre-order at ForeverAbomination.com, where a new song ('The Infernal Resurrection') is currently streaming and the album's artwork by Andrei Bouzikov (MUNICIPAL WASTE, HOLY GRAIL, CANNABIS CORPSE) - who also contributed the cover art for the band's 2009 release, Breathing The Fire - has been unveiled.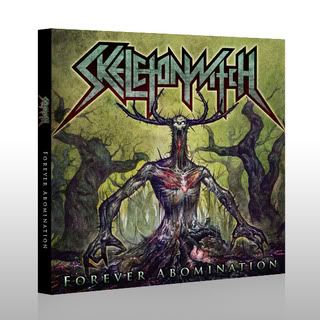 Forever Abomination will be released internationally on the following dates:
Mainland Europe: October 7
United Kingdom: October 10
North America: October 11
Japan: October 19
The album - Skeletonwitch's first with new drummer Dustin Boltjes (DEMIRICOUS) - will be issued in three formats: digital download; a six-panel, plastic-free digipak; and a triple-gatefold LP (which in turn will be available in several color variants).
'The Infernal Resurrection' was first heard this spring, when the band debuted the track during a spring tour. A demo of the song then appeared on the final chapter of a sold-out 7-inch trilogy.
On Thursday (August 4), Skeletonwitch kicks off a European tour, which will see them play some of the continent's most storied metal festivals. The group will then return to North America to play a series of shows alongside ARCH ENEMY, DEVILDRIVER and CHTHONIC.