God Bless OZZY OSBOURNE Premier Screening Set For August 22nd


By Tokemaster General, Contributor
Friday, August 12, 2011 @ 1:16 PM


This month, audiences across the country will get an unrivalled look into the mind of legendary rock icon OZZY OSBOURNE in God Bless Ozzy Osbourne, an exclusive in-theater Fathom event that will be broadcast to more than 400 movie theaters nationwide on Wednesday, August 24th and Monday, August 29th at 7:30 PM (local time).
In advance of the August 24th and August 29th nationwide screenings, producer/filmmaker Jack Osbourne and Eagle Rock Entertainment will host a special private preview of the documentary, on Monday, August 22nd at the ArcLight Cinerama Dome in Hollywood that will benefit the MusiCares MAP FundSM.
To help raise awareness and funds for the MusiCares MAP FundSM, exclusive ticket packages will be sold in an online auction from Monday, August 15th through Friday, August 19th at this location and proceeds will benefit the MusiCares MAP Fund, which provides access to addiction recovery treatment and sober living resources for members of the music community.
Shot over the course of three years, audiences will experience the life story of Ozzy, as seen through the eyes of his youngest child, producer/filmmaker, Jack Osbourne, who worked alongside directors Mike Fleiss and Mike Piscitelli.
During the documentary, Ozzy will recount his troubled youth, his early career with BLACK SABBATH and the impact of fame and addictions on his first marriage. Viewers will also witness the second chapter of his life as a family man with Sharon, during which his addictions grew to a frightening level, as well as hear Ozzy and his children explain his attempts at staying clean, ultimately resulting in more than five years of sobriety. Music fans will also see live performances from around the world, including rare behind the scenes clips of Ozzy on and off stage, in his dressing rooms pre-show, to his nights in a series of hotel rooms. Throughout God Bless Ozzy Osbourne, audiences are given an inside look into the life of a rock star, from the good times to the bad.
Tickets for God Bless Ozzy Osbourne are available at participating theater box offices and online at FathomEvents.com. For a complete list of theater locations and prices, visit the NCM Fathom website (theaters and participants are subject to change).
Presented by NCM Fathom, Omniverse Vision and Eagle Rock Entertainment, God Bless Ozzy Osbourne will be broadcast to nearly 400 select movie theaters across the country through NCM's exclusive Digital Broadcast Network.
"This is the most honest portrait of my father. I set out to tell the truth - regardless of how raw it might be - and I think we accomplished just that," said Jack Osbourne.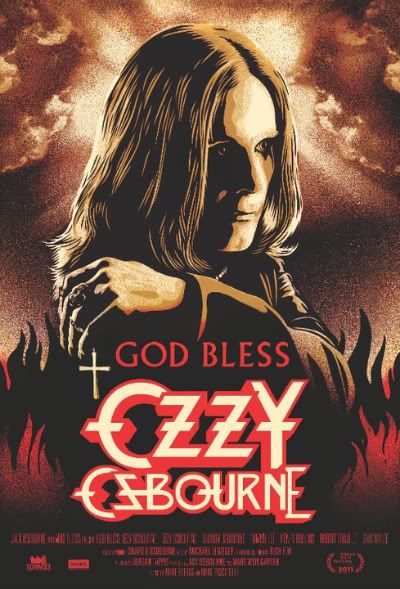 Ozzy Osbourne is a multi-platinum Rock & Roll Hall of Fame inductee and Grammy-winning musician. Osbourne's career has spanned four decades (as both a solo artist and as the lead singer of Black Sabbath) and his music is as relevant today as ever. Beyond his music career, Osbourne is an author (I Am Ozzy, 2010), advice columnist (Sunday Times, London and Rolling Stone, America) and the first to have a celebrity-reality television program (The Osbournes, which won a 2002 Primetime Emmy Award for Outstanding Reality Program). God Bless Ozzy Osbourne will relive the highs of his triumphs as well as his voyage to sobriety, which Ozzy regards as his greatest accomplishment.
"During this exclusive Fathom event, Ozzy's son, Jack, will take the legion of Ozzy fans on an unbelievable journey experiencing a side of the music legend most have never seen," said Dan Diamond, vice president of Fathom.
A personal video invitation from Ozzy can be seen below:




Please log in to view RANTS

If you don't have a username, click here to create an account!