ICED EARTH Giving Away Epic 'Dante's Inferno' Track


By Tokemaster General, Contributor
Wednesday, September 7, 2011 @ 11:18 AM


Some bands release mere snippets of songs to preview their upcoming tours. Some release a single song. In typical balls-to-the-wall ICED EARTH fashion, the legendary metal band has re-recorded the entire 17-minute fan-favorite epic 'Dante's Inferno' – and will give it away free on their official web site.
"If there's one song fans have asked us to play live more than any other it's 'Dante's Inferno,'" Iced Earth main man Jon Schaffer said. "The simple reason why we haven't is because the original click track was erased, therefore requiring a keyboard player to do the parts live. That's OK for a special event like when we recorded Alive in Athens, but to hire a keyboard player for a full tour, for one song, just isn't financially feasible."
This summer, during the recording of Dystopia, Iced Earth's soon-to-be-released tenth studio album, the band entered the studio for the express purpose of remedying that situation – and emerged with a powerful rendition that's (if possible) even more monumental than the original, which was the closing track on the band's 1995 album Burnt Offerings.
Schaffer and new vocalist Stu Block talk about the recording of 'Dante's Inferno' in this exclusive video clip just posted to the band's Official YouTube Channel:
'Dante's Inferno' can be downloaded – free – from Iced Earth's web site here.
'Dante's Inferno' (which is based on Inferno, the first part of Dante's poem The Divine Comedy) hasn't been played live since 1999's groundbreaking Alive in Athens album.
"We wanted to say 'Thank You' to all of our loyal fans who have waited so long to hear us play 'Dante' again," said Schaffer. "So, we decided to give this to them, free. It's because of our fans we've been able to make music all these years. This is a way to show how much we appreciate them."
Schaffer promises 'Dante's Inferno' will be back in the band's set lists for all upcoming shows on the 2011-2012 World Dystopia Tour.
The European leg of the 2011-2012 World Dystopia Tour has been posted on the band's official web site, and all official social-media sites. The tour begins October 30th in Bochum, Germany.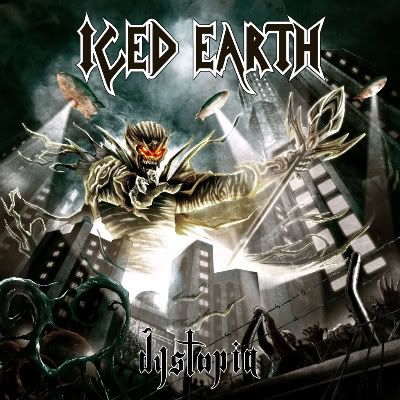 Dystopia is scheduled for release in Europe on October 17th, and in the US on October 18th, both via Century Media. Two bonus tracks have also been recorded for inclusion on special editions of the album.
The release of Dystopia will be followed by the most extensive world tour Iced Earth has ever undertaken.
Schaffer formed Iced Earth in Tampa, Florida, in 1984. Since then, he has released 9 studio albums, one live album, two compilations, three boxed sets, and several DVDs - the most recent of which is Festivals of the Wicked. With worldwide sales in the millions, Iced Earth has earned a seat in the pantheon of America's most successful heavy-metal bands.




Please log in to view RANTS

If you don't have a username, click here to create an account!