The Stones Tour Goes Up Like A Led Zeppelin


By Phyllis Pollack, Contributor
Thursday, May 9, 2002 @ 4:47 PM


| | | |
| --- | --- | --- |
| | | The Rolling Stones Annouce The |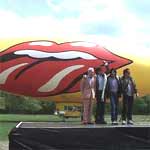 The Rolling Stones announced plans for their upcoming World Tour 2002/2003 on Tuesday, May 7, at a press conference that was held after the group landed in a blimp in New York City's Van Cortland Park. The band, comprised of Keith Richards, Mick Jagger, Charlie Watts and Ron Wood, literally descended upon fans and members of the press, who witnessed the spectacle in awe. Their tour is slated to begin on September 5th of this year at Boston's CMGI Field. The Stones will be playing shows in both stadiums and arenas, as well as gigs in small clubs. In the past, more intimate club gigs were always slated as surprise gigs, and were announced at the last moment. The Rolling Stones still hold the record for the three most attended tours of all time, "Bridges To Babylon," "Steel Wheels," and "Voodoo Lounge." Coinciding with the tour, the Stones will be releasing a CD set, containing some of their greatest hits, as well as previously unreleased material from the band. The Stones will be recording new material for the album in Paris, and thereafter, the band will be on their way to Toronto for rehearsals for the tour. So far, the Stones have not publicly revealed the name of the tour, which will relate to the title of the upcoming album package that will be released by Virgin Records. The Stones will be finalizing their concert tour in the States in February of 2003, and from the U.S., the band will continue touring in Europe, Japan, Australia, and in other countries. The opening acts have not been announced yet, although some dates will include No Doubt, Sheryl Crow, and Jonnie Lang. The Rolling Stones originally formed forty years ago, in 1962. A year later, drummer Charlie Watts joined the group. Guitarist Mick Taylor replaced Bryan Jones, who died in 1969, after drowning in his swimming pool under the influence of drugs and alcohol. After Taylor departed from the band, guitarist Ron Wood took his place in 1975 as Keith Richards' perfect foil. Bassist Bill Wyman announced his own departure from the group in 1993, and Darryl Jones has since filled in for him. As with the past several tours, the Stones will be joined the extraordinary back-up singer, Bernard Fowler. ROLLING STONES – WORLD TOUR 2002/2003 09/05/02 Boston CMGI Field
09/08/02 Boston The Orpheum Theatre
09/10/02 Chicago United Center
09/13/02 Chicago Comiskey Park
09/16/02 Chicago Aragon Ballroom
09/18/02 Philadelphia Veterans Stadium
09/22/02 Philadelphia Tower Theater
09/26/02 New York Madison Square Garden
09/28/02 New York Giants Stadium
09/30/02 New York Roseland Ballroom
10/04/02 Washington, DC FedExField
10/12/02 Detroit Ford Field
10/14/02 Cleveland Gund Arena
10/16/02 Toronto Air Canada Centre
10/18/02 Toronto SkyDome
10/20/02 Columbus Nationwide Arena
10/22/02 Ft. Lauderdale National Car Rental Center
10/23/02 Miami American Airlines Arena
10/26/02 Atlanta Turner Field
10/31/02 Los Angeles STAPLES Center
11/02/02 Los Angeles Edison Field
11/04/02 Los Angeles Wiltern Theater
11/08/02 San Francisco Pac Bell Park
11/14/02 San Diego Sports Arena
11/23/02 San Antonio SBC Center
11/25/02 Nashville Gaylord Entertainment Center
11/29/02 Las Vegas Venue To Be Confirmed
01/08/03 Montreal Molson Centre
01/10/03 Pittsburgh Mellon Arena
01/25/03 Houston Reliant Stadium
01/30/03 Phoenix America West Arena
02/01/03 Denver Pepsi Center

Additional cities and venues to be announced.






Please log in to view RANTS

If you don't have a username, click here to create an account!






Represent! Get Your KNAC.COM Bumper Sticker

Happenings This Week on KNAC.COM

MEGADETH's DAVE MUSTAINE Diagnosed With Throat Cancer

LUCIFER Announce 'North America Part II' Headline Tour

DOLL SKIN To Drop Love Is Dead and We Killed Her Album

IN THIS MOMENT Announces "Mother's House Of Horror" Fall Tour

HATRIOT Set For New Album From Days Unto Darkness

HANK VON HELL To Tour North America This Summer

SWORN ENEMY Releases "Seeds Of Hate" Video

SACRED REICH Unveil New Album, Awakening

WEAPONS OF ANEW Announces Dates With SCOTT STAPP And MESSER

FAITHSEDGE Reveal Bleed For Passion Album Details

LIKE A STORM Unleash "Out Of Control" Video

METAL & BEER FEST: LOS ANGELES Announces First Bands For 2019 Edition

EDENBRIDGE Unveil New Album Dynamind Details

BARONESS Drop New Video For "Tourniquet"

SUNN O))) Announces US West Coast September Tour Dates

3TEETH Endorse "President X" With New Video

SABATON Releases New Single For "The Red Baron"

WEDNESDAY 13 Reissues Album Back Catalog

THE NIGHT FLIGHT ORCHESTRA Debut Brand New Single, Video For "Satellite"

HARM'S WAY Announces North American Summer Headlining Tour

DEVIN TOWNSEND Reveals Eras Part 4 Vinyl Box Set

MICHAEL SCHENKER FEST "Rock Steady" With New Single, Video

NONPOINT Drop "Fix This" Video

HE IS LEGEND Premiere "Boogiewoman" Video

GLORYHAMMER Stream "Masters Of The Galaxy" Track

BETRAYING THE MARTYRS Announce 'Summer Rapture' North American Tour

ALTER BRIDGE Set To Walk The Sky With New Album

HAMMERFALL Stream New Track "(We Make) Sweden Rock"

STATIC-X Adds More Dates To 'Wisconsin Death Trip 20th Anniversary Tour'

LOVE AND WAR Reveal Edge Of The World Cover Artwork

VOLBEAT Debut "Last Day Under The Sun" Video

PERIPHERY Announce "Hail Stan: North America 2019" Tour

CROBOT Unveil New Album Motherbrain

DEMON HUNTER Announce Summer "An Evening With" Dates

GRANNY 4 BARREL Gets "Nitro Sexy" With New Video

3rd Annual LAS RAGEOUS Music Festival Announces Music Lineup & Onsite Activations

JOHN 5, THE ARISTOCRATS Team Up For Co-Headline Los Angeles Show

REV JONES Drops "Bakwash" Video

NEW YEARS DAY Announce Tour Dates With GODSMACK

CLUTCH Stream New Single "Evil"

KADAVAR Reveal New Album's Title, European Tour

SHIPROCKED Goes To 11: 2020 Cruise Bands Revealed

GENERATION AXE Stream "Highway Star" Track

KATAKLYSM Announce "Meditations Over North America" 2019 Tour

THE AGONIST Return With New Album Orphans

THY ART IS MURDER Drop "Death Squad Anthem" Video

NORDIC NOISE Festival Invades The UK

PRONG Confirm "Cleansing" European Tour 2019

CARNIFEX Unveil New Album World War X

GRAND MAGUS Release "Untamed" Video

Thrash Legends WRATH Announce Summer Tour Dates

AMON AMARTH Launches New Video For "Mjolner, Hammer Of Thor"

REVOCATION, VOIVOD Announce Co-Headline Tour

WORMWITCH Debut "Vernal Womb" Video

CRASHDIET Return With New Album Rust

SEBASTIAN BACH Announces 30th Anniversary Tour, To Play 1st SKID ROW Album In Full

MICHAEL SCHENKER FEST Reveal Revelation Cover Artwork

BUCKCHERRY Premieres "Right Now" Music Video

MUNICIPAL WASTE, NAPALM DEATH Announce Co-Headlining Tour

BEARTOOTH Launch "Afterall" Video

MACHINE HEAD Announce Burn My Eyes 25th Anniversary Show

IMMOLATION Unleash "The Distorting Light" Video

SONS OF APOLLO Announce Live With The Plovdiv Psychotic Symphony Release

STRIKER Are "On The Run" With New Music Video

ABBATH Unleash New Album Title Track "Outstrider"

ALICE COOPER Announces November 2019 Headline Tour Dates

INKCARCERATION Music and Tattoo Festival Reveals Band Performance Times

JANET GARDNER Releases New Album, Title Track Video For "Your Place In The Sun"

MAC SABBATH Announces Cheesiest Tour Yet with OKILLY DOKILLY And PLAYBOY MANBABY

ROXY BLUE Unveil First New Album In Over 27 Years

TEXAS HIPPIE COALITION Releases "Moonshine" Video

LIKE A STORM, THROUGH FIRE Join For Co-Headline "FIRESTORM TOUR 2019"

DESTRAGE Launches Video For "Hey, Stranger!"

H.E.A.T Reveal Live At Sweden Rock Festival Album

SAXON Celebrate 40 Year Anniversary With "Casltes & Eagles" European Shows, The Eagle Has Landed 40 (Live) Release

Mexican Metal Giants CERBERUS Drop "Last Dance" Video

DEATH ANGEL Unleashes "I Came For Blood" Video

MEGADETH Announces Reissues Of Iconic Albums United Abominations, Endgame & Th1rt3en

GRAHAM BONNET BAND Set To Release New CD/DVD Live In Tokyo 2017

ACE FREHLEY Releases "Mission To Mars" Animated Video

WOLVHAMMER Announces Summer Tour With VAULTED

DEE SNIDER Drops "Tomorrow's No Concern" Video

TANK Announce First Dates Of World Tour

CELLAR DARLING Stream New Track "Pain"

KIKO SHRED Signs To RFL Records For Royal Art Album

BILLYBIO (BIOHAZARD/POWERFLO) Releases Volatile New Music Video For "Enemy"

THE 69 EYES Announce New Studio Album West End

POSSESSED Unleash New Music Video For "Graven"

SPREAD EAGLE Return With Subway To The Stars Album

EXUMER Launches Video For "King's End"

BLACKTOP MOJO Announce '2019 Can't Sleep Tour' Dates

GREG PRATO's New Book, FACTS ON TRACKS: STORIES BEHIND 100 ROCK CLASSICS, Gets Release

LIFE OF AGONY Set To Invade The UK This Fall

DIAMOND HEAD Drop New Album Title Track Video For "The Coffin Train"

IMMOLATION Announce North American Headline Tour

SUICIDAL ANGELS Set To Release Years Of Aggression

RINGWORM Announce Summer Headline Tour Dates

SANTA CRUZ Unveils New Single "Tell Me Why"

GHOST Add More Dates To 'Ultimate Tour Named Death' North American Headline Arena Trek

OPETH Reveal New Album In Cauda Venenum Details

FULL TERROR ASSAULT OPEN AIR Festival Returns For Fifth Year

GLENN HUGHES Announces November 2019 UK Tour

GYGAX Releases "Hide Mind" Single

Calgary's DECIMATE METALFEST Announces 2019 Lineup

CANNIBAL CORPSE Unveil Brutal "Red Before Black" Video

PAUL GILBERT Presents Video For "A Herd Of Turtles"

SHALLOW SIDE Announce Spring Tour Dates

SHATTERED SUN Drop "Shades Of Melodie" Video

KEELFEST 2019 Celebrates Three Decades Of Music In Non-Stop Show Over Three Hours Long

SUMMONER'S CIRCLE Drop Become None Album

HOLLYWOOD VAMPIRES Stream "The Boogieman Surprise" Track

BLACK STAR RIDERS Return With Another State Of Grace Album

CROBOT Debut New Video For "Keep Me Down"

VANDEN PLAS Set To Release The Epic Works 1991-2015 Box Set Collection

SOTO Launch "HyperMania" Single, Video

ROCKLAHOMA Band Performance Times Announced

TAKE THE DAY Release Music Video For "Save Me Now"

HARD ROCK HELL Announce HRH Road Trip XI - Ibiza 2020

SLIPKNOT Unveil New Album We Are Not Your Kind, First Video For "Unsainted"

RED FANG Launch Headbanging Music Video App Featuring New Single

PSYHO LAS VEGAS Announces Daily Band Lineups

SAMMY HAGAR Confirms The Lineup For His Second "High Tide Beach Party & Car Show"

HEAVY AS TEXAS Unleash "King Of Fools" Video

DESTRUCTION Reveal Cover Art For New Album Born To Perish

PAUL GILBERT Announces Solo Album Tour Dates

VOLBEAT Return With Rewind, Replay, Rebound Album

BARONESS Stream New Track "Throw Me An Anchor"

DONNIE VIE Gets Release Date For New Solo Album Beautiful Things

KILLSWITCH ENGAGE, CLUTCH Join For Summer Tour Dates

GRETA VAN FLEET Announces Fall Leg Of 2019 Tour

AS I MAY Unveil My Own Creations Album Details

HATE Launches Video For "Sovereign Sanctity"

TORCHE Reveal New Album Admission Details

THE ROCK GODS & METAL MONSTERS Auction Commences

ROTTING CHRIST Announce North, South American Headline Dates

AVATAR To Support BABYMETAL In North America

ALIEN WEAPONRY Release Music Video For "Ahi Ka"

PHILIP H. ANSELMO & THE ILLEGALS Confirm European Tour

(HED) P.E. Announces New Album Stampede

GLORYHAMMER Stream "The Siege Of Dunkeld (In Hoots We Trust)" Track

GENERATION AXE Lineup Reveal Live Album, Generation Axe: The Guitars That Destroyed The World (Live In China)

HELIX Go Old School With New Album Of Unreleased Material

ABBATH Announce European Tour

TENGGER CAVALRY Reveal Northern Memory Full Album Stream

Bay Area Thrash Metal Documentary Murder In The Front Row: The San Francisco Bay Area Thrash Metal Story Set For Public Premiere

Fantasy Metal Crusaders GYGAX Reveal New Album High Fantasy

LO-PAN Debuts New Song "Ascension Day"

SWEET Announce November/December UK Tour

JORN Set To Release New Live On Death Road Album