The Stones Tour Goes Up Like A Led Zeppelin


By Phyllis Pollack, Contributor
Thursday, May 9, 2002 @ 4:47 PM


| | | |
| --- | --- | --- |
| | | The Rolling Stones Annouce The |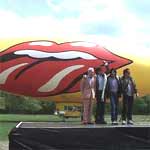 The Rolling Stones announced plans for their upcoming World Tour 2002/2003 on Tuesday, May 7, at a press conference that was held after the group landed in a blimp in New York City's Van Cortland Park. The band, comprised of Keith Richards, Mick Jagger, Charlie Watts and Ron Wood, literally descended upon fans and members of the press, who witnessed the spectacle in awe. Their tour is slated to begin on September 5th of this year at Boston's CMGI Field. The Stones will be playing shows in both stadiums and arenas, as well as gigs in small clubs. In the past, more intimate club gigs were always slated as surprise gigs, and were announced at the last moment. The Rolling Stones still hold the record for the three most attended tours of all time, "Bridges To Babylon," "Steel Wheels," and "Voodoo Lounge." Coinciding with the tour, the Stones will be releasing a CD set, containing some of their greatest hits, as well as previously unreleased material from the band. The Stones will be recording new material for the album in Paris, and thereafter, the band will be on their way to Toronto for rehearsals for the tour. So far, the Stones have not publicly revealed the name of the tour, which will relate to the title of the upcoming album package that will be released by Virgin Records. The Stones will be finalizing their concert tour in the States in February of 2003, and from the U.S., the band will continue touring in Europe, Japan, Australia, and in other countries. The opening acts have not been announced yet, although some dates will include No Doubt, Sheryl Crow, and Jonnie Lang. The Rolling Stones originally formed forty years ago, in 1962. A year later, drummer Charlie Watts joined the group. Guitarist Mick Taylor replaced Bryan Jones, who died in 1969, after drowning in his swimming pool under the influence of drugs and alcohol. After Taylor departed from the band, guitarist Ron Wood took his place in 1975 as Keith Richards' perfect foil. Bassist Bill Wyman announced his own departure from the group in 1993, and Darryl Jones has since filled in for him. As with the past several tours, the Stones will be joined the extraordinary back-up singer, Bernard Fowler. ROLLING STONES – WORLD TOUR 2002/2003 09/05/02 Boston CMGI Field
09/08/02 Boston The Orpheum Theatre
09/10/02 Chicago United Center
09/13/02 Chicago Comiskey Park
09/16/02 Chicago Aragon Ballroom
09/18/02 Philadelphia Veterans Stadium
09/22/02 Philadelphia Tower Theater
09/26/02 New York Madison Square Garden
09/28/02 New York Giants Stadium
09/30/02 New York Roseland Ballroom
10/04/02 Washington, DC FedExField
10/12/02 Detroit Ford Field
10/14/02 Cleveland Gund Arena
10/16/02 Toronto Air Canada Centre
10/18/02 Toronto SkyDome
10/20/02 Columbus Nationwide Arena
10/22/02 Ft. Lauderdale National Car Rental Center
10/23/02 Miami American Airlines Arena
10/26/02 Atlanta Turner Field
10/31/02 Los Angeles STAPLES Center
11/02/02 Los Angeles Edison Field
11/04/02 Los Angeles Wiltern Theater
11/08/02 San Francisco Pac Bell Park
11/14/02 San Diego Sports Arena
11/23/02 San Antonio SBC Center
11/25/02 Nashville Gaylord Entertainment Center
11/29/02 Las Vegas Venue To Be Confirmed
01/08/03 Montreal Molson Centre
01/10/03 Pittsburgh Mellon Arena
01/25/03 Houston Reliant Stadium
01/30/03 Phoenix America West Arena
02/01/03 Denver Pepsi Center

Additional cities and venues to be announced.






Please log in to view RANTS

If you don't have a username, click here to create an account!






Represent! Get Your KNAC.COM Bumper Sticker

Happenings This Week on KNAC.COM

OZZY OSBOURNE Reveals Definitive Vinyl Box Set See You On The Other Side

AIRBOURNE Unveil New Album Boneshaker

HURRICANE Releases Cover Of QUEEN/DAVID BOWIE's Classic "Under Pressure"

HAVOK Announces US Headline Tour Dates

DREAM THEATER Launch "Barstool Warrior" Animated Video

JINJER Return With New Album Macro

PERIPHERY Drop "Chvrch Bvrner" Video Ahead Of Tour

RINGS OF SATURN Announce 2019 "The Gidim Release Tour"

SANTA CRUZ Unveils Lyric Video For "Into The War"

BEARTOOTH Reveal The Blackbird Session EP

SONS OF APOLLO Announce 2020 'MMXX Tour'

MONOLORD Release "The Last Leaf" Video

TURBOKILL To Release Debut Album in October

DORO Premieres "Freunde Fürs Leben" Single, Video

FALLING IN REVERSE Announce Fall Tour Plans

ENTRAILS Reveal Rise Of The Reaper Album Details

1349 Announce Second Batch Of North American Fall Tour Dates

SHIPROCKED 2020 Announces Band Additions

SLASH FEATURING MYLES KENNEDY AND THE CONSPIRATORS Drop "Shadow Life" Performance Video

ATREYU To Embark On Fall 20th Anniversary Tour

KILLSWITCH ENGAGE Release "The Signal Fire" Video

CHEVELLE Confirms Intimate Headline Dates And Festival Appearances

WEDNESDAY 13 Debuts Track "Bring Your Own Blood"

CANNABIS CORPSE Unveil New Album Nug So Vile Details

KING DIAMOND Announces North American Tour Dates

SONS OF APOLLO Launch Live Clip For "Labyrinth"

LOGAN EP One Step Closer, Featuring Original LILLIAN AXE Vocalist JOHNNY VINES, Gets Expanded Re-Release

LIZZY BORDEN Streams "The Scar Across My Heart" Track

JOE ELLIOTT Fronted Project DOWN 'N' OUTZ Announce Release Of New Studio Album This Is How We Roll

BLACK TUSK Announce Fall U.S. Tour Dates

STARSET Drop Video For "Manifest"

IRON KINGDOM Stream New Single "White Wolf"

NWOBHM Legends TRESPASS Release "Be Brave" Video

AFTERSHOCK Announces Onsite Entertainment & Unique Food Offerings

SLAYER's NASCAR Sponsorship Is Pulled From Bristol Motor Speedway

Mexico's CIRROSIS (CRS) Drop New Lyric Video For "Tan Lejos de Dios"

EXES FOR EYES Announces #TheAluminumProject; Selling New Album For Only $1 Of Strength and Sorrow

REVIVAL BLACK Announce Debut Album Step In Line

GWAR Return To UK/Europe For November/December Tour

Supergroup FLYING COLORS Announce Third Album Third Degree

RAM Launches Video For New Single, "Blades of Betrayal"

ALLEGAEON Announces "Apoptosis Tour Pt II" USA Headlining Trek

EXHUMED Return With Horror New Album

CREED's Human Clay Gets 20th Anniversary Vinyl Reissue

Music Industry Legend JON ZAZULA (JONNY Z), Pens Tell-All Book, Heavy Tales: The Metal. The Music. The Madness. As Lived by Jon Zazula

TOXIC HOLOCAUST Unveil New Album Primal Future: 2019

SWEETWATER STUDIOS Hosts ANTHRAX In Recording Master Class

MAYHEM Reveal Details For New Album Daemon

HELLYEAH Stream New Track "Perfect"

DESTRUCTION Stream "Inspired By Death" Track

KNIGHTMARE To Release New Album Space Nights

SLAYER Joins Rick Ware Racing As Primary Sponsor For No. 54 At Bristol Motor Speedway

STEEL PANTHER Debut Video For "Always Gonna Be A Ho"

THUNDERPUSSY Releases New Track "Never Know"

THE 69 EYES Drop Video For Track "Black Orchid"

AS I LAY DYING Announce New Album Shaped By Fire

TARJA Joins Roller Derby In "Tears In Rain" Video

STRYPER Front Man MICHAEL SWEET Set To Release Tenth Solo Album, Ten, This Fall

DIAMOND HEAD Unleash "The Sleeper" Track

THE DARKNESS Return With New Album Easter Is Cancelled

WAR OF THRONES Are "Channeling Demons" In New Video

LIFE OF AGONY Unveils New Album "The Sound Of Scars"

THUNDER Mark 30 Years With The Greatest Hits Release

UNDEROATH Launch New Video For "Wake Me"

HEAVY PETTIN' Announce "Back On The Road Part II" UK Tour

ANGEL WITCH Signs To Metal Blade Records

MICHAEL SCHENKER FEST Launch Second New Video For Single "Sleeping With The Light On"

GATECREEPER Unveil New Album Deserted

JOHN 5 AND THE CREATURES Announce Second U.S. Leg Of Their "Invasion Tour"

BLACKSTAR REPUBLIC Drop New Song "She's The Devil"

MEGACRUISE Adds Final Band LAMB OF GOD To Lineup

SEVEN KINGDOMS Release "Barracuda" Cover Video

LOUDER THAN LIFE Announces Onsite Experiences, Full Bourbon Lineup & Unique Food Offerings

EPICA Announce Design Your Universe 10th Anniversary North American Dates

URIAH HEEP Keyboardist PHIL LANZON Set For Second Solo Album, Book

TOOL Reveals New Album Fear Inoculum

NEW YEARS DAY Announce Fall Headline Tour

CLOAK Reveal The Burning Dawn New Album Details

FULL TERROR ASSAULT OPEN AIR FESTIVAL Announces Daily Band Lineups, Special Sale Ticket Pricing + Chicago Pre-Party

NORTHTALE Stream "Sirens' Fall" Track

MOTIONLESS IN WHITE Confirm Fall Headline Tour

HAMMERFALL Unleash "Dominion" Video

ICE NINE KILLS To Headline SIRIUSXM OCTANE Presents "THE OCTANE ACCELERATOR TOUR"

KILLSWITCH ENGAGE Drop "I Am Broken Too" Video

CANNIBAL CORPSE Announces North American Tour

HELLOWEEN Release "Pumpkins United" Live Single/Video

RPM Fest Returns To Massachusetts For Fifth Year, Announces Lineup

STRONG LIKE BULL Launch "Live While You Can" Video

FRANK MARINO Releases 6 Hour Live DVD/Blu-Ray, Live At The Agora Theatre

VICTORIUS Return With New Album Space Ninjas From Hell

DEVOURMENT Share "A Virulent Strain of Retaliation" NSFW Video

Supergroup SAINT ASONIA Drop New Song "The Hunted" Featuring GODSMACK's SULLY ERNA

LEATHERWOLF Announce New Lineup, Stream New Song

1349 Reveal New Album Details, Premiere New Single

JOHN 5 AND THE CREATURES Drop "I Want It All" Video

LOU DIBELLO Continues To Shred On New Album American Hard Rock

THE FERRYMEN Reveal Sophomore Album A New Evil

THE AWAKENING Debuts New Video For "About You"

ALTER BRIDGE Release New Track "Pay No Mind"

CROBOT Premiere "Low Life" Video

MICHAEL MONROE Set For New Album One Man Gang

IMMORTAL GUARDIAN Confirms Spring North American Tour With POWERGLOVE

RARE BIRD BOOKS Set To Release LOU BRUTUS Book SONIC WARRIOR: MY LIFE AS A ROCK AND ROLL REPROBATE

THE 69 EYES Release "Cheyenna" Music Video

BMG & MOTORHEAD Embark On Exciting Legacy Journey

METAL ALLEGIANCE Announce Their BLACK SABBATH Halloween Show

DRAGONFORCE Announce New Album Extreme Power Metal

THY ART IS MURDER Launch "New Gods" Video

TOM KEIFER Unveils Second Solo Album Rise

KYUSS Founder BRANT BJORK Announces North American Tour Dates

WEDNESDAY 13 Set To Release New Album Necrophaze

SEPTEMBER MOURNING Release "Unholy" New Music

THE DEAD DAISIES Set To Release Covers Album Locked And Loaded

DENNER'S INFERNO Unleash "Fountain Of Grace" Video

STATIC-X, DEVILDRIVER Announce Second Leg Of Co-Headline North American "Wisconsin Death Trip 20th Anniversary Tour"

BEHEMOTH Drop Video For "Sabbath Mater"

FIVE FINGER DEATH PUNCH Announce Fall 2019 U.S. Arena Headlining Tour

DESTRUCTION Launch Second Single, Music Video For "Betrayal"

5th Annual BOWL FOR RONNIE Celebrity Bowling Party Set For November

(HED) P.E. To Tour This Fall

LACUNA COIL Release "Layers Of Time" Single, Video

CHEVELLE Announces Exclusive Craft Beer Collaboration With REVOLUTION BREWING

FIT FOR AN AUTOPSY Unveil Their 5th Studio Album, The Sea Of Tragic Beasts

FREEDOM CALL Releases Video For Title Track Of New Album M.E.T.A.L

SLASH FEATURING MYLES KENNEDY AND THE CONSPIRATORS Set To Deliver Living The Dream Tour Live DVD, CD, Vinyl

HIGH ON FIRE Confirm Fall Dates With POWER TRIP

VOLBEAT Debut "Cheapside Sloggers (Feat Gary Holt)" Video

CATTLE DECAPITATION Reveals New Album Death Atlas

SACRED REICH Launches "Manifest Reality" Video

SLAYER Adds Second Los Angeles Show

DEMON HUNTER Unleash "The Negative" Video

IRON KINGDOM Announces North American Tour Dates In Support of New Album On The Hunt

LAS RAGEOUS Unveils Daily Music Lineups

LACUNA COIL, ALL THAT REMAINS Join For "Disease Of The Anima" Co-Headline Tour

KXM Release Video For "War Of Words"

STEEL PANTHER Announces Fall U.S. Headine Run, The "Heavy Metal Rules Tour"

DREAM THEATER Confirm New Leg Of North American Tour Dates

EXIT 111 Festival Announces Band Performance Times

OF MICE & MEN Reveal New Album Earth & Sky

LOVE AND WAR Unveil Tracklist For Sophomore Album Edge Of The World

QUEENSRYCHE Streaming New Track "Bent" In Lyric Video

THE AGONIST "Burn It All Down" With New Video

KOBRA AND THE LOTUS Announce New Album Evolution