The Stones Tour Goes Up Like A Led Zeppelin


By Phyllis Pollack, Contributor
Thursday, May 9, 2002 @ 4:47 PM


| | | |
| --- | --- | --- |
| | | The Rolling Stones Annouce The |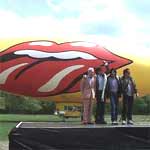 The Rolling Stones announced plans for their upcoming World Tour 2002/2003 on Tuesday, May 7, at a press conference that was held after the group landed in a blimp in New York City's Van Cortland Park. The band, comprised of Keith Richards, Mick Jagger, Charlie Watts and Ron Wood, literally descended upon fans and members of the press, who witnessed the spectacle in awe. Their tour is slated to begin on September 5th of this year at Boston's CMGI Field. The Stones will be playing shows in both stadiums and arenas, as well as gigs in small clubs. In the past, more intimate club gigs were always slated as surprise gigs, and were announced at the last moment. The Rolling Stones still hold the record for the three most attended tours of all time, "Bridges To Babylon," "Steel Wheels," and "Voodoo Lounge." Coinciding with the tour, the Stones will be releasing a CD set, containing some of their greatest hits, as well as previously unreleased material from the band. The Stones will be recording new material for the album in Paris, and thereafter, the band will be on their way to Toronto for rehearsals for the tour. So far, the Stones have not publicly revealed the name of the tour, which will relate to the title of the upcoming album package that will be released by Virgin Records. The Stones will be finalizing their concert tour in the States in February of 2003, and from the U.S., the band will continue touring in Europe, Japan, Australia, and in other countries. The opening acts have not been announced yet, although some dates will include No Doubt, Sheryl Crow, and Jonnie Lang. The Rolling Stones originally formed forty years ago, in 1962. A year later, drummer Charlie Watts joined the group. Guitarist Mick Taylor replaced Bryan Jones, who died in 1969, after drowning in his swimming pool under the influence of drugs and alcohol. After Taylor departed from the band, guitarist Ron Wood took his place in 1975 as Keith Richards' perfect foil. Bassist Bill Wyman announced his own departure from the group in 1993, and Darryl Jones has since filled in for him. As with the past several tours, the Stones will be joined the extraordinary back-up singer, Bernard Fowler. ROLLING STONES – WORLD TOUR 2002/2003 09/05/02 Boston CMGI Field
09/08/02 Boston The Orpheum Theatre
09/10/02 Chicago United Center
09/13/02 Chicago Comiskey Park
09/16/02 Chicago Aragon Ballroom
09/18/02 Philadelphia Veterans Stadium
09/22/02 Philadelphia Tower Theater
09/26/02 New York Madison Square Garden
09/28/02 New York Giants Stadium
09/30/02 New York Roseland Ballroom
10/04/02 Washington, DC FedExField
10/12/02 Detroit Ford Field
10/14/02 Cleveland Gund Arena
10/16/02 Toronto Air Canada Centre
10/18/02 Toronto SkyDome
10/20/02 Columbus Nationwide Arena
10/22/02 Ft. Lauderdale National Car Rental Center
10/23/02 Miami American Airlines Arena
10/26/02 Atlanta Turner Field
10/31/02 Los Angeles STAPLES Center
11/02/02 Los Angeles Edison Field
11/04/02 Los Angeles Wiltern Theater
11/08/02 San Francisco Pac Bell Park
11/14/02 San Diego Sports Arena
11/23/02 San Antonio SBC Center
11/25/02 Nashville Gaylord Entertainment Center
11/29/02 Las Vegas Venue To Be Confirmed
01/08/03 Montreal Molson Centre
01/10/03 Pittsburgh Mellon Arena
01/25/03 Houston Reliant Stadium
01/30/03 Phoenix America West Arena
02/01/03 Denver Pepsi Center

Additional cities and venues to be announced.






Please log in to view RANTS

If you don't have a username, click here to create an account!






Represent! Get Your KNAC.COM Bumper Sticker

Happenings This Week on KNAC.COM

DEVIN TOWNSEND Announces "An Evening With" Acoustic Solo Tour

BULLETS AND OCTANE Release "When We Were Young" Single/Music Video

RED DRAGON CARTEL Announces North American Tour

AUGUST BURNS RED Releases Winter Wilderness EP

ARTILLERY Releases Video For Third Single, "Pain"

LACUNA COIL Releases 'Nothing Stands In Our Way' Book

KANE ROBERTS Set To Release The New Normal Solo Album

IRON MAIDEN Announce "Legacy Of The Beast" 2019 Dates

NORDIC NOISE Announces First Bands For 2019

A PERFECT CIRCLE Drop Gleefully Apocalyptic Video For "So Long, And Thanks For All The Fish"

TRIPTYKON, ROADBURN Collaborate In The Completion Of CELTIC FROST's Unfinished Requiem

More MEGADETH Inaugural MEGACRUISE Details Revealed

QUIET RIOT Set To Release One Night in Milan Live Album

CRIMSON REIGN Debut '"The Darker Side Of Life" Video

CORROSION OF CONFORMITY Announces 2019 North American Headlining Tour

MEMPHIS MAY FIRE Premiere "The Old Me" Video

Ex-DOKKEN Supergroup Changes Band Name From SUPERSTROKE To THE END: machine

VANDENBERG'S MOONKINGS Release Lyric Video For "Walk Away"

DEKO MUSIC Launches New Label With Specialty Vinyl Releases

SILVER TALON Rises From SPELLCASTER Ashes

TANTRIC Premieres Official "Letting Go" Music Video

RAVEN Set To Unleash New Live Album Screaming Murder Death From Above: Live in Aalborg

SLEEPKILLERS Drop Video For "Dirty Foot"

BILLYBIO (BIOHAZARD/POWERFLO) Set To Release Debut Solo Album, Feed The Fire

DREAM THEATER Unveil New Album Distance Over Time, 2019 North American Tour

LIKE A STORM Release New Video For "Pure Evil"

HOLLOW CRY Unleash New Track, "Procrastinated"

OZZY OSBOURNE Announces Tour Dates With MEGADETH

BILL HUDSON's NORTHTALE Unveil First Song "Shape Your Reality" From Upcoming Album

CELLAR DARLING Stream New Single, Video For "Insomnia"

METALWINGS Launch "For All Beyond" Video

BEDLEM, Featuring PAUL WANDTKE (ex-TRIVIUM), Releases Debut LP Back To Bedlem

MEKA NISM Premiere Music Video "Black Sky"

BLACK WATER RISING Premieres New Video For "World of Frustration"

HERMAN FRANK Set To Release Fight The Fear Album

AMON AMARTH Launches "Raise Your Horns" Live Video

"Burn In Hell" With DANKO JONES' New Track

HOLLYWOOD UNDEAD Release Surprise EP, Psalms

BUCKCHERRY Reveal First New Track in Over Three Years, "Head Like A Hole"

THE POWER OF THE RIFF's Final Lineup Announced

New Book, Long Live Queen: Rock Royalty Discuss Freddie, Brian, John & Roger, Out Now

THE NIGHT FLIGHT ORCHESTRA Debut New Music Video, Kick Off European Tour

GODSMACK Announce 2019 European Tour Dates

SEVENDUST Release Music Video For "Unforgiven"

TENGGER CAVALRY Frontman Curates Nomadic Metal Compilation, Sound of The Raging Steppe

SODOM Go "One Step Over The Line" With New Single, Video

WHITECHAPEL Set To Release New Album The Valley

AUGUST BURNS RED Confirm Winter 2019 Tour Dates

DUST BOLT Are Trapped In Chaos With New Album

More OZZFEST New Year's Eve Los Angeles Details Revealed

MAGNUM Announce New Live Album Live At The Symphony Hall

KAMELOT Announce 2019 North American Tour

ARCHITECTS Release "Modern Misery" Video

BEAST IN BLACK Unveil From Hell With Love"

THE MARYLAND DOOM FEST Confirms Its 2019 Full 5th Anniversary Lineup

FIGHT THE FURY Drop New Video "My Demons"

LAST UNION Featuring MIKE LEPOND, ULI KUSCH And JAMES LABRIE Reveal Twelve Album Details

AMBERIAN DAWN Premiere Video For "Cherish My Memory"

ALTITUDES & ATTITUDE Feat. DAVID ELLEFSON (MEGADETH), FRANK BELLO (ANTHRAX) Ready New Album Get It Out

QUEENSYRCHE Unveil New Album The Verdict, Spring Tour

BRITISH LION Stream New Track "Spit Fire" Ahead Of November Tour

HAMMERFALL To Release Legacy Of Kings - 20 Year Anniversary Edition Boxset

STELLAR CIRCUITS Drops "Skylights" Video

GRANNY 4 BARREL Kick Off Tour With CKY

SOILWORK Release "Full Moon Shoals" Single, Video

NIGHTWISH Confirm Re-Issue End Of An Era Live Album

ASHES OF ARES Unleash "Let All Despair" Video

MARTY FRIEDMAN Reveals 2019 U.S Tour Dates

ACCEPT Reveal Live Video For "Symphony No. 40"

VOLBEAT To Release Live Album, Concert Film Let's Boogie! Live From Telia Parken

KISS Announces First "End Of The Road" Tour Dates

GIN ANNIE Set To Release Debut Album 100% Proof

SURF CITY BLITZ Reveals Band Performance Times, Motorcycle Event Times, Onsite Activities & More

JETBOY Are "Beating The Odds" With New Track Streaming

LORD OF THE LOST Reveal Confession (Live at Christuskirche) CD/DVD

WARKINGS Release Second Glorious Single "Hephaistos"

OPETH Announce LA Garden Of The Titans Film Screening

METAL ALLEGIANCE Confirm Their Annual Los Angeles January Metal Assault

Music Industry Veterans Look To Reward Fans, Sites, And Musicians With Revolutionary CNOTE

Canadian Rockers ONE Go All Or Nothing With New Album

STEVE VAI Unveils "Dark Matter" Video

CENTURY MEDIA RECORDS Streams Documentary Of WARREL DANE Recording Shadow Work

TED POLEY's Modern Art Album Gets Splatter Vinyl Issue

POWERWOLF Premiere Video For Title Track "The Sacrament Of Sin"

REPENTANCE Stream New Single, "Enter The Gallows"

ICE NINE KILLS Drop "Stabbing In The Dark" Video

STATIC-X Returns with Original Band Lineup, Announces New Album, World Tour For 20th Anniversary Of Debut Album, Wisconsin Death Trip

SIRENIA Launch Official Video For "Into The Night"

Artist VINCENT CASTIGLIA Documentary Bloodlines: The Art And Life Of Vincent Castiglia Out In November

STRIKER Go "Head First" With New Video

2019 ROCKSTOK Festival Announced

JINJER Releases New Single And Video For "Ape"

OZZFEST To Celebrate New Year's Eve In Los Angeles

LIKE A STORM Announce December Headline Tour

MAC SABBATH Debuts Meaty Marionette Music Video For "Sweet Beef"

JORN To Release 50 Years On Earth - The Anniversary Box Set

MYLES KENNEDY Releases The Great Beyond Video

STARBREAKER, Featuring TONY HARNELL And MAGNUS KARLSSON, Readies New Album Dysphoria

AFTERSHOK Unleash "Forever In Metal" Video

FATE DESTROYED Caution "We Fall" In New Music Video

INGLORIOUS Announce New Album Ride To Nowhere

DIRE PERIL Unleash "Blood In The Ice" Video

ARTILLERY Releases New Single, "Crossroads To Conspiracy"

BEAST IN BLACK Reveal New Album "From Hell With Love"

FRACTAL CYPHER's New Music Video Reaches "From The Above And To The Stars"

TENGGER CAVALRY Announce North American Tour

GHOST Reaches Into The Past For "Dance Macabre" Video

REVERENCE Announce Vengeance Is...Live Live Album

KATAKLYSM Release New Animated Video For "...And Then I Saw Blood"

ALL THAT REMAINS Guitarist OLI HERBERT Passes Away At 44

GWAR Set To Release New Graphic Novel GWAR: The Enormogantic Fail

BULLET FOR MY VALENTINE Are "Not Dead Yet" With New Video

ENSIFERUM Announces 2019 North American Headlining Trek, "Two Paths Of Glory Tour"

ARIA Stream Lyric Video Ahead Of New Album Curse Of The Sea

ACE FREHLEY Is "Rockin' With The Boys" In New Video

KILLCODE Drop First Video In Trilogy For "The Answer"

ROCKFEST 80's Music Festival Returns For Year Three

GODSMACK's 2018 European Tour Postponed

GOATWHORE Announces Additional Headlining Shows

WAR OF THRONES Unleash "Say What" Video

Inaugural ROCKLANTA Festival Announced For 2019

AUDIOTOPSY Stream Heavy New Anthem "War"

POP EVIL Announce 2019 U.S. Headline Tour Dates

FAITHSEDGE, Featuring Ex-Members Of STRPYER, MR. BIG, DOKKEN, Wrapping Up Recording Fourth Album

A PERFECT CIRCLE Release 2D Version Of "Eat The Elephant" Video

IRON MAIDEN Remasters Get CD Digipak Treatment

AVANTASIA Set To Release New Album Moonglow

SOULFLY Announce 2019 North American Tour

SOILWORK Reveal Verkligheten Album Details

CHEVELLE Stream New Track "In Debt To The Earth"

METAL CHURCH Release "Damned If You Do" Video

JIZZY PEARL'S LOVE/HATE Returns To The UK For Four Special Shows