NIGHTWISH - The Making Of Imaginaerum Video Available


By Tokemaster General, Contributor
Friday, October 21, 2011 @ 7:01 AM


NIGHTWISH mainman Tuomas Holopainen gives fans some insight into the making of their upcoming album Imaginaerum and some exclusive behind-the-scenes footage from the film set.
Nightwish will release their new album, Imaginaerum in North America on January 10th. The album is the band's first since 2007's Dark Passion Play, which was then-new singer Anette Olzon's debut.
The band examined its catalog when sitting down to write what would become Imaginaerum. The songs for the album were written between 2008 and 2010, after the Dark Passion Play tour cycle ended. At that point, Nightwish knew they wanted to do something different, new and unique, which is exceptional for a band whose career has been defined by words like different, new and unique!
The band consciously wanted to do something so big, crossover, detailed, innovative and, well, "nuts," that it would leave the band, and hopefully the people experiencing it, completely awestruck. It would be a situation where fans and/or critics would either love it or hate it, but they'd be left awestruck nonetheless. That's when the band realized another dimension, namely video, was necessary for the project. Instead of a concept album, the band set the album to a film.
"The original idea I had was to film 13 short stories related to the songs with a connected storyline, shot by Stobe Harju," keyboardist/songwriter Tuomas Holopainen said. It was Harju's idea to turn the 13 stories and visions into more of a connected cinematic piece – essentially, a film. It would have a clear plot, script, dialogue and real actors in an ambitious effort to create something wholly unique.The film was shot in September of this year.
The movie is based on the album and its 13 tracks, honoring the original ideas, but having evolved radically from the initial plan.
Holopainen said," Still, it was important from the very beginning that the album would work as its own individual piece of art, as well. It is a thematic album about life itself, about imagination, love, goodness and beauty, with a touch of darkness and melancholy, which are strongly included in all of those things mentioned." As if we could expect anything less from Nightwish!
The band will have but a small part in the film. A 2012 premiere date is being eyed. Imaginaerum: an audiovisual testament of what Nightwish have always been about.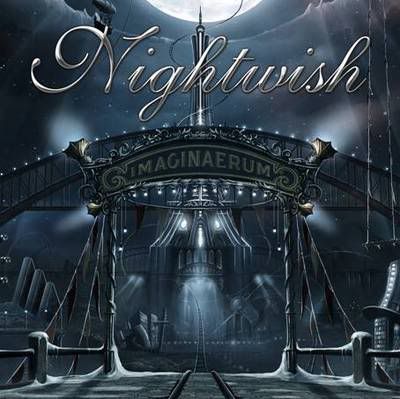 The track listing for Imaginaerum is as follows (note that track 12 is broken down into four parts):
'Taikatalvi'
'Storytime'
'Ghost River'
'Slow, Love, Slow'
'I Want My Tears Back'
'Scaretale'
'Arabesque'
'Turn Loose The Mermaids'
'Rest Calm'
'The Crow, The Owl And The Dove'
'Last Ride Of The Day'
'Song Of Myself'
Song 1: 'From A Dusty Bookshelf'
Song 2: 'All That Great Heart Lying Still'
Song 3: 'Piano Black'
Song 4: 'Love'
'Imaginaerum'





Please log in to view RANTS

If you don't have a username, click here to create an account!