LILLIAN AXE To Release New Album Next Month


By Tokemaster General, Contributor
Wednesday, January 4, 2012 @ 1:02 PM


New Orleans-based hard rockers LILLIAN AXE will release their new album, XI: The Days Before Tomorrow, on February 14th in North America via CME Records/Sony Music (RED).
"This is the best record I have ever written for Lillian Axe," says lead guitarist Steve Blaze. That's a bold statement considering the amount of music Lillian Axe has produced during its eventful career.
XI:The Days before Tomorrow is the eleventh release from Louisiana Music Hall of Fame members, Lillian Axe and marks the debut of new lead vocalist Brian Jones of Jackson, Mississippi. Lillian Axe has recorded an impressive amount of songs, earned the loyalty of a devout fan base worldwide and amassed an extensive amount of effusive critical acclaim from their peers. Brian Jones brings an amazing new voice and incredible vocal range to Lillian Axe. His vocal style compliments Steve Blaze's songwriting and in turn has inspired Steve to write some of his most passionate, deep and soulful new songs to date.
The songs on XI:The Days before Tomorrow reflect Steve Blaze's passionate beliefs in the power of music. Steve's compositions are as emotional as they are infectious. They are in your face songs of truth, war, neglect, Mother Nature, the innocent victim, the state of the world, current issues and spirituality. Personally charged rock 'n' roll is what makes Steve's songwriting so melodic and drenched with deep lyrical insight.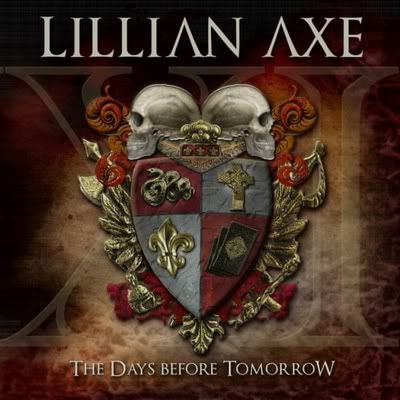 The album was produced by guitarist/songwriter Steve Blaze. Engineering was done by Rob Hovey and mixing by Sylvia Massey (TOOL, JOHNNY CASH, DEFTONES, SYSTEM F OF A DOWN, PRINCE, BLACK CROWES).
XI: The Days Before Tomorrow tracklisting:
'Take the Bullet'
'the Great Divide'
'Caged In'
'Lava On My Tongue'
'Babylon'
'Bow Your Head'
'Soul Disease'
'Gather Up The Snow'
'Death Comes Tomorrow'
'My Apologies'




Please log in to view RANTS

If you don't have a username, click here to create an account!