IRON MAIDEN - Bruce Air Flight 666 Training Sessions


By Tokemaster General, Contributor
Wednesday, January 18, 2012 @ 8:31 AM


After the success of the first Bruce Air Flight 666 Experience, more Bruce Air flight simulation dates are available, in a state-of-the-art full motion 737 flight simulator with personal instruction from the IRON MAIDEN singer.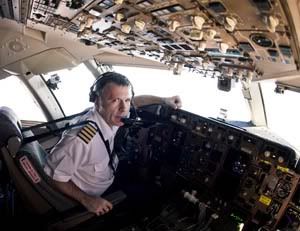 A press release reads as follows:
"This full motion flight simulator has been purchased by Bruce and ex-Astraeus colleage Mario Fulgioni as part of their aviation business, training and checking pilots and crews from many airlines. In fact, Bruce did his own pilot training in a 737 sim just like this one.
For those of you with good memories you might also recall that a 737 was the very first plane to bear the Bruce Air moniker when Flight 666 took its maiden voyage to Paris back in November 2003!
The simulator is located at Heathrow Airport, London. You will taxi the aeroplane around a major international airport, line up on the runway and perform the take off. If you're good enough, you'll do the landing too! In between take off and landing, you will be shown the real performance capabilities of a modern airliner and experience the most advanced cockpit visuals - so if all you want to do is sight see, we've got some pretty spectacular sights.
You can book a slot and have an hour of Bruce's one-to-one tuition all to yourself, or you can split it between two or three of you and divide up the hour of flying time between you and your friends. Or if you just want to bring a couple of people to sit in the observers seats (directly behind the pilots seats), you can do that too.
All participants will be given a personally signed commemorative Bruce Air Flight 666 certificate as a souvenir of their experience.
The Bruce Air Flight 666 Experience costs £666 +vat (at 20%) for one hour of simulator time with Bruce.
We have slots available - please check the calendar on the booking form for the latest availability."
Visit BruceAir.co.uk for more information.




Please log in to view RANTS

If you don't have a username, click here to create an account!