RIOT Founder Mark Reale Passes


By Tokemaster General, Contributor
Thursday, January 26, 2012 @ 9:44 AM





Yesterday (Wednesday, January 25th), RIOT guitarist and founder Mark Reale passed away due to complications stemming from Crohn's disease in a San Antonio hospital. He was 56 year old. Reale had been in a coma since January 11th due to a subarachnoid hemorrhage. He had battled Crohn's for most of his life, working and performing while enduring almost constant pain and the side effects of treatment for his illness. He was in Texas bravely attempting to practice for the band's scheduled shows, but was felled by a severe onset of Crohn's symptoms, which eventually put him in the Intensive Care Unit.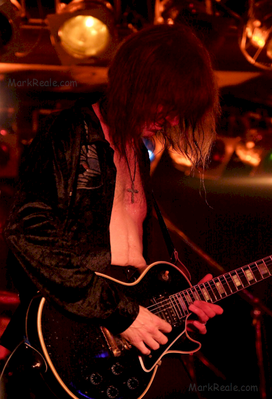 A statement at his official website reads as follows: "Our brother Mark Reale went home to be with our Lord this day January 25th, 2012 after a long battle and complications from Crohns disease. He is survived by his father Anthony Reale and was precede in death by his mother Frances Reale. Mark was born June 7th, 1955 in Brooklyn New York at a time when rock and roll was flourishing with many new sounds. Early in his life, his first interest had been the movies. ever so curiously, he had shown an interest in films. But then, songs he heard on the radio began to change that. He quickly began to love music from THE BEATLES and CREAM. Mark lists GEORGE HARRISON and ERIC CLAPTON as great influences. When he was seven years old his grandfather bought him his first basic guitar to practice on and later his father bought him a new guitar and amp, his passion had begun. In the early to mid '70's his influences included the likes of EDGAR WINTER, RONNIE MONTROSE and RICK DERRINGER. He also loved a range of bands and artists from AL DI MEOLA to DEEP PURPLE. In 1975 Mark formed his band Riot, then at a block party Mark's father found vocalist Guy Speranza. Mark's guitar style and his passion for writing songs that told stories that were so deep and moving had made a real connection with those who would become life long fans. The fans felt so connected to Mark because the lyrics in Riot's songs were extremely close to the stories of their own lives. His song writing style could weave tales of anything from old lore to battle fields and warriors, personal loss and triumph. And heavy metal anthems that will be with us for decades to come. The brethren of brothers that Mark spent his life long career in music with and whom he leaves behind or joins in heaven are, Guy Speranza, L.A Kouvaris, Kip Leming, Peter Bitelli, Rhett Forrester, Rick Ventura, Jimmy Iommi, Sandy Slavin, Tony Moore, Don Van Stavern, Mike Flyntz, Pete Perez, Bobby Jarzombek, Mike Dimeo, John Macaluso, Bobby Rondinelli, Mike Tirelli, Frank Gilchriest and Damon Di Bari who was always like the "6th" member of the band being Riot's lighting director / production manager / tour manager and Mark's personal assistant. Mark's final days were spent with Damon at his hospital bedside, sharing the fans thoughts, well wishes and prayers. Even though Mark began his career in New York, San Antonio was a special place he loved and not only lived here for a while but had planned on moving back here to make San Antonio his permanent home. With heart felt thanks to the fans around the world, the United States, Japan, Europe and all points in between. The Riot army meant everything in the world to Mark., it's what kept him going. The loyalty and love of the fans fueled his passion and desire to continue making music for as long as possible. Please keep the Mighty Tior in your hearts and the memory of Mark alive within you. Shine on, Mark shine on!"




Please log in to view RANTS

If you don't have a username, click here to create an account!






Represent! Get Your KNAC.COM Bumper Sticker

Happenings This Week on KNAC.COM

LORDS OF THE TRIDENT Premiere 360 Degree VR Video "Zero Hour"

SAXON Unleash New Video For Track "Predator"

MEMPHIS MAY FIRE Announce New Album Broken

BYZANTINE Launches New Video For "The Cicada Tree"

ARCHER NATION Readies New Album Beneath The Dream

WARKINGS Release First Glorious Single, Video "Gladiator"

DECIBEL METAL & BEER FEST: LA Announces PRE-FEST With ARMORED SAINT, NIGHT DEMON, PERSEKUTOR And UADA

WRATH Streams New Track "Draw Blood" From The New Album Rage

DEVILSKIN Release "ENDO" Video With Important Message

KISS Announces The "End Of The Road" Final Tour

MADBALL Release Music Video For "Freight Train"

ICARUS WITCH Return With Goodbye Cruel World Album

TRIBULATION Release "Nightbound" Video

VIRGIN STEELE Will Release With Seven Devils Moonshine Special 5 CD Boxset For Their 35th Anniversary

KNAC-FM DJ THRASHPIE Release Head Bangin' Radio Book

DREAM CHILD Drop "Midnight Song" Video

WITHIN TEMPTATION Announce New Album Resist

BMG To Reissue DIO's Classic 1996 - 2004 Studio Albums

DEE SNIDER Is "American Made" With New Video

STEEL PANTHER Announce More "SUNSET STRIP LIVE!" Tour Dates

IMPELLITTERI Unleash "Run For Your Life" Video

THE POWER OF THE RIFF Makes Its Return To Los Angeles In November

GRAVE DIGGER Stream New Track "The Power Of Metal"

VOIVOD Release "Inconspiracy" Video, 7 Inch EP

CASTLE Unveils New Song "Can't Escape The Evil"

MEGADETH Bassist DAVID ELLEFSON Announces East Coast "BASSTORY" Dates

FIVE FINGER DEATH PUNCH Premiere "When The Seasons Change" Video

UNLEASH THE ARCHERS Stream Track "Ten Thousand Against One"

LACUNA COIL Release "Blood, Tears, Dust" Clip From The 119 Show - Live In London

ARCHITECTS Return With Holy Hell Album

STEELHEART Set To Release Rock'n Milan Live Album, DVD

'A BOWIE CELEBRATION' Announces 32-Date North American Winter Tour

BLACKTOP MOJO Reveal PledgeMusic Campaign To Fund Upcoming Album

POP EVIL Announces 2018 Canadian Headline Tour Dates

SODOM To Release New EP Partisan In November

CIRITH UNGOL Releases First New Track Since 1991 With "Witch's Game"

STRATOVARIUS To Release Enigma: Intermission 2

ENUFF Z'NUFF Release Video For Title Track of New Album Diamond Boy

ALCATRAZZ Reveal Parole Denied-Tokyo 2017 Live LP

SEPTICFLESH Announce Show With Live Orchestra

HELIX To Release A Helix Christmas Album

SUPERSUCKERS Debut "History Of Rock N' Roll" Video

LOUDER THAN LIFE Daily Music Schedule Announced

STEVE VAI Reveals First Round Of Guests Performing At "The Big Mama-Jama Jamathon"

FIFTH ANGEL Unleash 'Can You Hear Me' Lyric Video

GHOST Announces 2019 European Headline Dates

WITHERFALL Release "Ode to Despair" Single/Video

AUDIOTOPSY Reveal Grooving New Track "What Am I?"

KROKUS To Call It A Day With "Adios Amigos Tour"

Former MUSHROOMHEAD Frontman, Co-Founder JEFFREY NOTHING Returns With New Single

METAL ALLEGIANCE Unleash New Beer Visualizer Video For "The Accuser"

FOZZY Announces Full Canadian Tour

SEVENTH WONDER Debut New Song "The Everones"

MADAM X Release 'Monstrocity' Music Video

GRETA VAN FLEET Announces Its Debut Full-Length Album, Anthem of The Peaceful Army

YOB Premiere "Original Face" Video

RIVER CITY ROCKFEST Announces Band Performance Times

BEHEMOTH Launches Video For "Wolves Ov Siberia"

RED FANG Announce Late 2018 West Coast Tour Dates

AFTERSHOCK, LOUDER THAN LIFE Festivals Announce VINNIE PAUL ALL-STAR TRIBUTES

OBSCURA Announce Winter 2019 Headlining Tour Dates

OZZY OSBOURNE Partners With OMAZE To Offer Fans An Epic Concert Experience

HOLTER Set To Release Vlad The Impaler Album

KAMELOT Premiere Video For "MindFall Remedy"

VICIOUS RUMORS Kick Off the "Digital Dictator 30th Anniversary Tour" With SOLD OUT Show In Santa Rosa

SEVEN KINGDOMS Announce North American Headline Tour

ANTHRAX To Celebrate The 30th Anniversary Of State Of Euphoria With Special Edition

STRYPER Guitarist OZ FOX To Resume Touring After Medical Scare

GWAR Takes Over DC's Rick And Morty-Themed Pop-Up Bar

FLOTSAM AND JETSAM Announce New Album, 2019 "Tour Of Chaos"

THE VEER UNION Launch "Living Not Alive" Video

KINGDOM COME Confirms Addditonal Tour Dates For Band's 30-Year Anniversary Tour

SUNFLOWER DEAD Release "Victim" Video

SOULFLY Stream Title Track To New Album Ritual

OPETH Start Pre-Order For "Ghost Of Perdition (Live)" On 10" Vinyl