RIOT Founder Mark Reale Passes


By Tokemaster General, Contributor
Thursday, January 26, 2012 @ 9:44 AM





Yesterday (Wednesday, January 25th), RIOT guitarist and founder Mark Reale passed away due to complications stemming from Crohn's disease in a San Antonio hospital. He was 56 year old. Reale had been in a coma since January 11th due to a subarachnoid hemorrhage. He had battled Crohn's for most of his life, working and performing while enduring almost constant pain and the side effects of treatment for his illness. He was in Texas bravely attempting to practice for the band's scheduled shows, but was felled by a severe onset of Crohn's symptoms, which eventually put him in the Intensive Care Unit.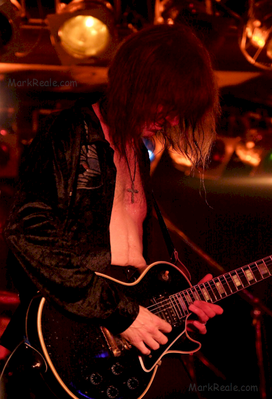 A statement at his official website reads as follows: "Our brother Mark Reale went home to be with our Lord this day January 25th, 2012 after a long battle and complications from Crohns disease. He is survived by his father Anthony Reale and was precede in death by his mother Frances Reale. Mark was born June 7th, 1955 in Brooklyn New York at a time when rock and roll was flourishing with many new sounds. Early in his life, his first interest had been the movies. ever so curiously, he had shown an interest in films. But then, songs he heard on the radio began to change that. He quickly began to love music from THE BEATLES and CREAM. Mark lists GEORGE HARRISON and ERIC CLAPTON as great influences. When he was seven years old his grandfather bought him his first basic guitar to practice on and later his father bought him a new guitar and amp, his passion had begun. In the early to mid '70's his influences included the likes of EDGAR WINTER, RONNIE MONTROSE and RICK DERRINGER. He also loved a range of bands and artists from AL DI MEOLA to DEEP PURPLE. In 1975 Mark formed his band Riot, then at a block party Mark's father found vocalist Guy Speranza. Mark's guitar style and his passion for writing songs that told stories that were so deep and moving had made a real connection with those who would become life long fans. The fans felt so connected to Mark because the lyrics in Riot's songs were extremely close to the stories of their own lives. His song writing style could weave tales of anything from old lore to battle fields and warriors, personal loss and triumph. And heavy metal anthems that will be with us for decades to come. The brethren of brothers that Mark spent his life long career in music with and whom he leaves behind or joins in heaven are, Guy Speranza, L.A Kouvaris, Kip Leming, Peter Bitelli, Rhett Forrester, Rick Ventura, Jimmy Iommi, Sandy Slavin, Tony Moore, Don Van Stavern, Mike Flyntz, Pete Perez, Bobby Jarzombek, Mike Dimeo, John Macaluso, Bobby Rondinelli, Mike Tirelli, Frank Gilchriest and Damon Di Bari who was always like the "6th" member of the band being Riot's lighting director / production manager / tour manager and Mark's personal assistant. Mark's final days were spent with Damon at his hospital bedside, sharing the fans thoughts, well wishes and prayers. Even though Mark began his career in New York, San Antonio was a special place he loved and not only lived here for a while but had planned on moving back here to make San Antonio his permanent home. With heart felt thanks to the fans around the world, the United States, Japan, Europe and all points in between. The Riot army meant everything in the world to Mark., it's what kept him going. The loyalty and love of the fans fueled his passion and desire to continue making music for as long as possible. Please keep the Mighty Tior in your hearts and the memory of Mark alive within you. Shine on, Mark shine on!"




Please log in to view RANTS

If you don't have a username, click here to create an account!






Represent! Get Your KNAC.COM Bumper Sticker

Happenings This Week on KNAC.COM

MSG Streams New Single For "Drilled To Kill"

WITHERFALL Release Cinematic "As I Lie Awake" Video

Vocalist JAMES DURBIN Unveils Debut DURBIN Album, The Beast Awakens

A DAY TO REMEMBER Drop New Single "Brick Wall"

SLIPKNOT Announce First Ever KNOTFEST BRAZIL

WEAPONS OF ANEW Launch New Video For "Sick Boy"

MOONSPELL Shares Upcoming Album Details For Hermitage

WE CAME AS ROMANS Announce Free "The Barricade" Live Performance Event

TED POLEY Introduces Miss Your Touch Jewelry Line

Icons & Idols: TRILOGY Rock 'n' Roll Auction Set For December 2nd In Beverly Hills

CORNERS OF SANCTUARY Announce "Metal Never Dies: The Online Barrage of Shows 2020 & Beyond" Tour

CLUTCH Set To Release The Weathermaker Vault Series Vol. I

ANGELES Unleash New Video For "Celebrate"

SHARK ISLAND Release New Video For "Someday"

EYEHATEGOD Ready New Album A History of Nomadic Behavior

PALAYE ROYALE Release Cinematic, Vampire Thriller Music Video For "Tonight Is The Night I Die"

AVATARIUM To Release New Live Digital Album, An Evening With Avatarium

DEE SNIDER, LZZY HALE Team Up For New Version Of "The Magic Of Christmas Day"

JOEL HOEKSTRA'S 13 Announces New Album Running Games

POP EVIL Debuts New Single "Breathe Again"

TRIBULATION Launches Video For New Single "Leviathans"

THE PRETTY RECKLESS Reveal New Album Death By Rock And Roll

VICIOUS RUMORS Unleash Video For "Asylum of Blood"

AVATAR Announces Unique 4-Part Concert Series For January, "Avatar Ages - An Impossible Concert Experience"

WOLFGANG VAN HALEN Releases First Music From Solo Band MAMMOTH WVH, "Distance", Tribute To His Father

HARLOTT Launches Video For "Idol Minded"

LOVE AND DEATH Return With New Album Perfectly Preserved

MACHINE HEAD Releases New Single "My Hands Are Empty"

PAPA ROACH Drops New Video For "The Ending"

W.E.T. Unveil New Studio Album Retransmission

THUNDER Release Video For "Last One Out Turn Off The Lights"

DEATH DEALER Streams New Track "Every Nation"

DARK TRANQUILLITY Announce New Album Livestream

MR. BUNGLE Premiere Video For "Sudden Death"

EKTOMORF Return To Their Roots On New Album Reborn

BLACK VEIL BRIDES Return With New Single, Video "Scarlet Cross"

BAD WOLVES Launches "Learn To Walk Again" Video

SEA OF TRANQUILITY Announces Sea Of Tranquility Fall Fest 2020 Virtual Concert

HJELVIK Release New Single And Video For "Glory Of Hel"

EVERY MOTHER'S NIGHTMARE Launces New Video In Tribute To Veterans, "Here's To The Ones"

BLUE ÖYSTER CULT Unveils Another Live Release, Live At Rock Of Ages Festival 2016, And Reissue Of A Long Day's Night

KILLER BE KILLED Debut "Inner Calm From Outer Storms"

CARACH ANGREN Shares "Franckensteina Strataemontanus" Video

JASON BIELER Announces New Solo Album Songs For The Apocalypse

DREAM THEATER Release Live Video Of "Fatal Tragedy"

WITHERFALL Stream New Track "The Last Scar"

DEMON HUNTER Announce New Acoustic Album Songs Of Death And Resurrection

FATES WARNING Drop New Video For "Begin Again"

SYSTEM OF A DOWN Return With Two New Tracks

IMMORTAL GUARDIAN Unveils New Concept Album Psychosomatic

INGLORIOUS Announce New Album We Will Ride

PUSCIFER Launch "Theorem" Video

BLOODY HAMMERS Go Punk on New Album, Songs Of Unspeakable Terror

AMARANTHE Unleash Music Video For "Boom!1"

THUNDER Announce New Album All The Right Noises

DEATH DEALER Are "Running With The Wolves" With New Video

EDENBRIDGE Set To Release Second Best Of Album, The Chronicles Of Eden Part 2

WYTCH HAZEL Drop New Video For "Spirit and Fire"

PALAYE ROYALE Announce "The Bastards" 2021 North America Headline Tour Dates

ACCEPT Unveil Second Single From New Album, Too Mean To Die

KICKIN VALENTINA Release New Video For "Somebody New"

KIX Celebrates 35th Anniversary Of Midnite Dynamite Album With Midnite Dynamite Re-Lit Release

THEM DAMN KINGS Release Official Music Video For "Throw it Away"

LABYRINTH Unveil New Album Welcome To The Absurd Circus

ACID BLOOD's Debut Album Gets US Release

DARK TRANQUILLITY Explore "The Dark Unbroken" With New Video

VOLBEAT Confirms New Live Album, Rewind, Replay, Rebound: Live In Deutschland

BUTCHER BABIES Debut Evolved Sound With New Single "Bottom Of A Bottle"

RA Unveil New Album Intercorrupted

CAVO Return With New Single, Video "Muscle Memory"

PARADISE LOST Announce Special Livestream Performance On November 5th

KORPIKLAANI Announce New Album Jylhä

MIKE TRAMP Streams New Track "Take Me Away"

FOZZY Announces 'Capturing Judas' Livestream

NERVOSA Announces Fourth Studio Album, Perpetual Chaos, Featuring Brand New Line-Up

APOCALYPTIC LOVERS Drop Charity Video For "Better Days"

SACRED REICH Launches Video For "Something To Believe"

ANTHRAX Ushers In Holiday Season With Two New Signature Rye Whiskeys, "Evil Twin I" And "Evil Twin II"

OVERKILL Bassist DD VERNI's THE BRONX CASKET CO. Returns With 5 Disc Box Set, The Complete Collection

ARMORED SAINT Unleash "Missile To Gun" Video

SOILWORK Reveal New EP A Whisp Of The Atlantic

ICE NINE KILLS Reveal Cinematic Trailer For Upcoming Streaming Event "The Silver Stream"

SICK OF IT ALL Releases 4th Quarantine Sessions Video For "Hardcore Horsehoe"

MAGNUM Set To Release Special Collection Album, Dance Of The Black Tattoo

ATREYU Announce "Carry The Fire" Livestreams

CATS IN SPACE Unveil New Album Details For Atlantis

IN THIS MOMENT Drop "As Above So Below" Video

WOLFHEART Stream New Track "Horizon On Fire"

DAVID HASSELHOFF Goes Heavy Metal on "Through The Night" With Two-Man Metal Band CUESTACK

ROCK FEST Announces 2021 Festival Lineup

DISCIPLES OF BABYLON Return With Their First New Song In Three Years, "Liberty"

PHIL CAMPBELL & THE BASTARD SONS Release Music Video For "We're The Bastards"

EPICA Unveil New Album Omega

GWAR Announces "Scumdogs XXX Live" Livestream

KING PARROT "Kick Up A Stink" With New Animated Video

FIVE FINGER DEATH PUNCH Officially Confirms Lineup Change