RIOT Founder Mark Reale Passes


By Tokemaster General, Contributor
Thursday, January 26, 2012 @ 9:44 AM





Yesterday (Wednesday, January 25th), RIOT guitarist and founder Mark Reale passed away due to complications stemming from Crohn's disease in a San Antonio hospital. He was 56 year old. Reale had been in a coma since January 11th due to a subarachnoid hemorrhage. He had battled Crohn's for most of his life, working and performing while enduring almost constant pain and the side effects of treatment for his illness. He was in Texas bravely attempting to practice for the band's scheduled shows, but was felled by a severe onset of Crohn's symptoms, which eventually put him in the Intensive Care Unit.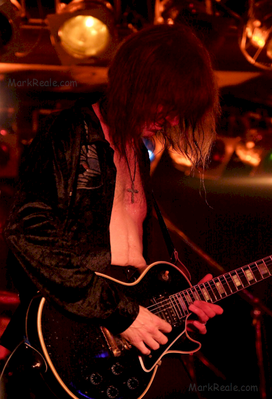 A statement at his official website reads as follows: "Our brother Mark Reale went home to be with our Lord this day January 25th, 2012 after a long battle and complications from Crohns disease. He is survived by his father Anthony Reale and was precede in death by his mother Frances Reale. Mark was born June 7th, 1955 in Brooklyn New York at a time when rock and roll was flourishing with many new sounds. Early in his life, his first interest had been the movies. ever so curiously, he had shown an interest in films. But then, songs he heard on the radio began to change that. He quickly began to love music from THE BEATLES and CREAM. Mark lists GEORGE HARRISON and ERIC CLAPTON as great influences. When he was seven years old his grandfather bought him his first basic guitar to practice on and later his father bought him a new guitar and amp, his passion had begun. In the early to mid '70's his influences included the likes of EDGAR WINTER, RONNIE MONTROSE and RICK DERRINGER. He also loved a range of bands and artists from AL DI MEOLA to DEEP PURPLE. In 1975 Mark formed his band Riot, then at a block party Mark's father found vocalist Guy Speranza. Mark's guitar style and his passion for writing songs that told stories that were so deep and moving had made a real connection with those who would become life long fans. The fans felt so connected to Mark because the lyrics in Riot's songs were extremely close to the stories of their own lives. His song writing style could weave tales of anything from old lore to battle fields and warriors, personal loss and triumph. And heavy metal anthems that will be with us for decades to come. The brethren of brothers that Mark spent his life long career in music with and whom he leaves behind or joins in heaven are, Guy Speranza, L.A Kouvaris, Kip Leming, Peter Bitelli, Rhett Forrester, Rick Ventura, Jimmy Iommi, Sandy Slavin, Tony Moore, Don Van Stavern, Mike Flyntz, Pete Perez, Bobby Jarzombek, Mike Dimeo, John Macaluso, Bobby Rondinelli, Mike Tirelli, Frank Gilchriest and Damon Di Bari who was always like the "6th" member of the band being Riot's lighting director / production manager / tour manager and Mark's personal assistant. Mark's final days were spent with Damon at his hospital bedside, sharing the fans thoughts, well wishes and prayers. Even though Mark began his career in New York, San Antonio was a special place he loved and not only lived here for a while but had planned on moving back here to make San Antonio his permanent home. With heart felt thanks to the fans around the world, the United States, Japan, Europe and all points in between. The Riot army meant everything in the world to Mark., it's what kept him going. The loyalty and love of the fans fueled his passion and desire to continue making music for as long as possible. Please keep the Mighty Tior in your hearts and the memory of Mark alive within you. Shine on, Mark shine on!"




Please log in to view RANTS

If you don't have a username, click here to create an account!






Represent! Get Your KNAC.COM Bumper Sticker

Happenings This Week on KNAC.COM

DEVIN TOWNSEND Announces "An Evening With" Acoustic Solo Tour

BULLETS AND OCTANE Release "When We Were Young" Single/Music Video

RED DRAGON CARTEL Announces North American Tour

AUGUST BURNS RED Releases Winter Wilderness EP

ARTILLERY Releases Video For Third Single, "Pain"

LACUNA COIL Releases 'Nothing Stands In Our Way' Book

KANE ROBERTS Set To Release The New Normal Solo Album

IRON MAIDEN Announce "Legacy Of The Beast" 2019 Dates

NORDIC NOISE Announces First Bands For 2019

A PERFECT CIRCLE Drop Gleefully Apocalyptic Video For "So Long, And Thanks For All The Fish"

TRIPTYKON, ROADBURN Collaborate In The Completion Of CELTIC FROST's Unfinished Requiem

More MEGADETH Inaugural MEGACRUISE Details Revealed

QUIET RIOT Set To Release One Night in Milan Live Album

CRIMSON REIGN Debut '"The Darker Side Of Life" Video

CORROSION OF CONFORMITY Announces 2019 North American Headlining Tour

MEMPHIS MAY FIRE Premiere "The Old Me" Video

Ex-DOKKEN Supergroup Changes Band Name From SUPERSTROKE To THE END: machine

VANDENBERG'S MOONKINGS Release Lyric Video For "Walk Away"

DEKO MUSIC Launches New Label With Specialty Vinyl Releases

SILVER TALON Rises From SPELLCASTER Ashes

TANTRIC Premieres Official "Letting Go" Music Video

RAVEN Set To Unleash New Live Album Screaming Murder Death From Above: Live in Aalborg

SLEEPKILLERS Drop Video For "Dirty Foot"

BILLYBIO (BIOHAZARD/POWERFLO) Set To Release Debut Solo Album, Feed The Fire

DREAM THEATER Unveil New Album Distance Over Time, 2019 North American Tour

LIKE A STORM Release New Video For "Pure Evil"

HOLLOW CRY Unleash New Track, "Procrastinated"

OZZY OSBOURNE Announces Tour Dates With MEGADETH

BILL HUDSON's NORTHTALE Unveil First Song "Shape Your Reality" From Upcoming Album

CELLAR DARLING Stream New Single, Video For "Insomnia"

METALWINGS Launch "For All Beyond" Video

BEDLEM, Featuring PAUL WANDTKE (ex-TRIVIUM), Releases Debut LP Back To Bedlem

MEKA NISM Premiere Music Video "Black Sky"

BLACK WATER RISING Premieres New Video For "World of Frustration"

HERMAN FRANK Set To Release Fight The Fear Album

AMON AMARTH Launches "Raise Your Horns" Live Video

"Burn In Hell" With DANKO JONES' New Track

HOLLYWOOD UNDEAD Release Surprise EP, Psalms

BUCKCHERRY Reveal First New Track in Over Three Years, "Head Like A Hole"

THE POWER OF THE RIFF's Final Lineup Announced

New Book, Long Live Queen: Rock Royalty Discuss Freddie, Brian, John & Roger, Out Now

THE NIGHT FLIGHT ORCHESTRA Debut New Music Video, Kick Off European Tour

GODSMACK Announce 2019 European Tour Dates

SEVENDUST Release Music Video For "Unforgiven"

TENGGER CAVALRY Frontman Curates Nomadic Metal Compilation, Sound of The Raging Steppe

SODOM Go "One Step Over The Line" With New Single, Video

WHITECHAPEL Set To Release New Album The Valley

AUGUST BURNS RED Confirm Winter 2019 Tour Dates

DUST BOLT Are Trapped In Chaos With New Album

More OZZFEST New Year's Eve Los Angeles Details Revealed

MAGNUM Announce New Live Album Live At The Symphony Hall

KAMELOT Announce 2019 North American Tour

ARCHITECTS Release "Modern Misery" Video

BEAST IN BLACK Unveil From Hell With Love"

THE MARYLAND DOOM FEST Confirms Its 2019 Full 5th Anniversary Lineup

FIGHT THE FURY Drop New Video "My Demons"

LAST UNION Featuring MIKE LEPOND, ULI KUSCH And JAMES LABRIE Reveal Twelve Album Details

AMBERIAN DAWN Premiere Video For "Cherish My Memory"

ALTITUDES & ATTITUDE Feat. DAVID ELLEFSON (MEGADETH), FRANK BELLO (ANTHRAX) Ready New Album Get It Out

QUEENSYRCHE Unveil New Album The Verdict, Spring Tour

BRITISH LION Stream New Track "Spit Fire" Ahead Of November Tour

HAMMERFALL To Release Legacy Of Kings - 20 Year Anniversary Edition Boxset

STELLAR CIRCUITS Drops "Skylights" Video

GRANNY 4 BARREL Kick Off Tour With CKY

SOILWORK Release "Full Moon Shoals" Single, Video

NIGHTWISH Confirm Re-Issue End Of An Era Live Album

ASHES OF ARES Unleash "Let All Despair" Video

MARTY FRIEDMAN Reveals 2019 U.S Tour Dates

ACCEPT Reveal Live Video For "Symphony No. 40"

VOLBEAT To Release Live Album, Concert Film Let's Boogie! Live From Telia Parken

KISS Announces First "End Of The Road" Tour Dates

GIN ANNIE Set To Release Debut Album 100% Proof

SURF CITY BLITZ Reveals Band Performance Times, Motorcycle Event Times, Onsite Activities & More

JETBOY Are "Beating The Odds" With New Track Streaming

LORD OF THE LOST Reveal Confession (Live at Christuskirche) CD/DVD

WARKINGS Release Second Glorious Single "Hephaistos"

OPETH Announce LA Garden Of The Titans Film Screening

METAL ALLEGIANCE Confirm Their Annual Los Angeles January Metal Assault

Music Industry Veterans Look To Reward Fans, Sites, And Musicians With Revolutionary CNOTE

Canadian Rockers ONE Go All Or Nothing With New Album

STEVE VAI Unveils "Dark Matter" Video

CENTURY MEDIA RECORDS Streams Documentary Of WARREL DANE Recording Shadow Work

TED POLEY's Modern Art Album Gets Splatter Vinyl Issue

POWERWOLF Premiere Video For Title Track "The Sacrament Of Sin"

REPENTANCE Stream New Single, "Enter The Gallows"

ICE NINE KILLS Drop "Stabbing In The Dark" Video

STATIC-X Returns with Original Band Lineup, Announces New Album, World Tour For 20th Anniversary Of Debut Album, Wisconsin Death Trip

SIRENIA Launch Official Video For "Into The Night"

Artist VINCENT CASTIGLIA Documentary Bloodlines: The Art And Life Of Vincent Castiglia Out In November

STRIKER Go "Head First" With New Video

2019 ROCKSTOK Festival Announced

JINJER Releases New Single And Video For "Ape"

OZZFEST To Celebrate New Year's Eve In Los Angeles

LIKE A STORM Announce December Headline Tour

MAC SABBATH Debuts Meaty Marionette Music Video For "Sweet Beef"

JORN To Release 50 Years On Earth - The Anniversary Box Set

MYLES KENNEDY Releases The Great Beyond Video

STARBREAKER, Featuring TONY HARNELL And MAGNUS KARLSSON, Readies New Album Dysphoria

AFTERSHOK Unleash "Forever In Metal" Video

FATE DESTROYED Caution "We Fall" In New Music Video

INGLORIOUS Announce New Album Ride To Nowhere

DIRE PERIL Unleash "Blood In The Ice" Video

ARTILLERY Releases New Single, "Crossroads To Conspiracy"

BEAST IN BLACK Reveal New Album "From Hell With Love"

FRACTAL CYPHER's New Music Video Reaches "From The Above And To The Stars"

TENGGER CAVALRY Announce North American Tour

GHOST Reaches Into The Past For "Dance Macabre" Video

REVERENCE Announce Vengeance Is...Live Live Album

KATAKLYSM Release New Animated Video For "...And Then I Saw Blood"

ALL THAT REMAINS Guitarist OLI HERBERT Passes Away At 44

GWAR Set To Release New Graphic Novel GWAR: The Enormogantic Fail

BULLET FOR MY VALENTINE Are "Not Dead Yet" With New Video

ENSIFERUM Announces 2019 North American Headlining Trek, "Two Paths Of Glory Tour"

ARIA Stream Lyric Video Ahead Of New Album Curse Of The Sea

ACE FREHLEY Is "Rockin' With The Boys" In New Video

KILLCODE Drop First Video In Trilogy For "The Answer"

ROCKFEST 80's Music Festival Returns For Year Three

GODSMACK's 2018 European Tour Postponed

GOATWHORE Announces Additional Headlining Shows

WAR OF THRONES Unleash "Say What" Video

Inaugural ROCKLANTA Festival Announced For 2019

AUDIOTOPSY Stream Heavy New Anthem "War"

POP EVIL Announce 2019 U.S. Headline Tour Dates

FAITHSEDGE, Featuring Ex-Members Of STRPYER, MR. BIG, DOKKEN, Wrapping Up Recording Fourth Album

A PERFECT CIRCLE Release 2D Version Of "Eat The Elephant" Video

IRON MAIDEN Remasters Get CD Digipak Treatment

AVANTASIA Set To Release New Album Moonglow

SOULFLY Announce 2019 North American Tour

SOILWORK Reveal Verkligheten Album Details

CHEVELLE Stream New Track "In Debt To The Earth"

METAL CHURCH Release "Damned If You Do" Video

JIZZY PEARL'S LOVE/HATE Returns To The UK For Four Special Shows