RIOT Founder Mark Reale Passes


By Tokemaster General, Contributor
Thursday, January 26, 2012 @ 9:44 AM





Yesterday (Wednesday, January 25th), RIOT guitarist and founder Mark Reale passed away due to complications stemming from Crohn's disease in a San Antonio hospital. He was 56 year old. Reale had been in a coma since January 11th due to a subarachnoid hemorrhage. He had battled Crohn's for most of his life, working and performing while enduring almost constant pain and the side effects of treatment for his illness. He was in Texas bravely attempting to practice for the band's scheduled shows, but was felled by a severe onset of Crohn's symptoms, which eventually put him in the Intensive Care Unit.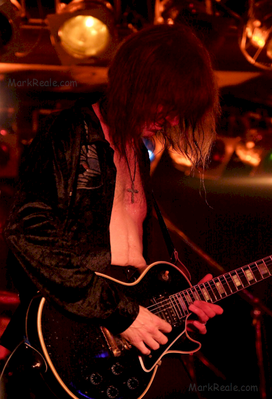 A statement at his official website reads as follows: "Our brother Mark Reale went home to be with our Lord this day January 25th, 2012 after a long battle and complications from Crohns disease. He is survived by his father Anthony Reale and was precede in death by his mother Frances Reale. Mark was born June 7th, 1955 in Brooklyn New York at a time when rock and roll was flourishing with many new sounds. Early in his life, his first interest had been the movies. ever so curiously, he had shown an interest in films. But then, songs he heard on the radio began to change that. He quickly began to love music from THE BEATLES and CREAM. Mark lists GEORGE HARRISON and ERIC CLAPTON as great influences. When he was seven years old his grandfather bought him his first basic guitar to practice on and later his father bought him a new guitar and amp, his passion had begun. In the early to mid '70's his influences included the likes of EDGAR WINTER, RONNIE MONTROSE and RICK DERRINGER. He also loved a range of bands and artists from AL DI MEOLA to DEEP PURPLE. In 1975 Mark formed his band Riot, then at a block party Mark's father found vocalist Guy Speranza. Mark's guitar style and his passion for writing songs that told stories that were so deep and moving had made a real connection with those who would become life long fans. The fans felt so connected to Mark because the lyrics in Riot's songs were extremely close to the stories of their own lives. His song writing style could weave tales of anything from old lore to battle fields and warriors, personal loss and triumph. And heavy metal anthems that will be with us for decades to come. The brethren of brothers that Mark spent his life long career in music with and whom he leaves behind or joins in heaven are, Guy Speranza, L.A Kouvaris, Kip Leming, Peter Bitelli, Rhett Forrester, Rick Ventura, Jimmy Iommi, Sandy Slavin, Tony Moore, Don Van Stavern, Mike Flyntz, Pete Perez, Bobby Jarzombek, Mike Dimeo, John Macaluso, Bobby Rondinelli, Mike Tirelli, Frank Gilchriest and Damon Di Bari who was always like the "6th" member of the band being Riot's lighting director / production manager / tour manager and Mark's personal assistant. Mark's final days were spent with Damon at his hospital bedside, sharing the fans thoughts, well wishes and prayers. Even though Mark began his career in New York, San Antonio was a special place he loved and not only lived here for a while but had planned on moving back here to make San Antonio his permanent home. With heart felt thanks to the fans around the world, the United States, Japan, Europe and all points in between. The Riot army meant everything in the world to Mark., it's what kept him going. The loyalty and love of the fans fueled his passion and desire to continue making music for as long as possible. Please keep the Mighty Tior in your hearts and the memory of Mark alive within you. Shine on, Mark shine on!"




Please log in to view RANTS

If you don't have a username, click here to create an account!






Represent! Get Your KNAC.COM Bumper Sticker

Happenings This Week on KNAC.COM

IMPELLITTERI Launches Theatrical "Phantom Of The Opera" Video

ROTTING CHRIST Stream New Track "The Raven"

SAVAGE AFTER MIDNIGHT Set For Debut EP 11:59

WHITECHAPEL Launches New Single, "Third Depth"

UK's BREAKING BANDS FESTIVAL 5 Reveal Final 2019 Lineup

SILVERTUNG Set To Release (But, At What Cost??!) Album

STEEL ENGRAVED Release "Rebellion" Video, Single

KING DIAMOND Announces NYC Release Party For DVD/Blu-Ray, Songs For The Dead Live

ONE STEP FROM THE EDGE Unleash "Believe" Video

VICIOUS RUMORS Announce "Digital Dictator - 30th Anniversary European Tour"

All-Star Metal Band IMONOLITH Reveals First Official New Single "Hollow"

INKCARCERATION Music and Tattoo Festival Announces Massive 3-Day Line Up

ARCHITECTS Confirm North American Tour

THE AVIATORS Launch "Goodbye To The Rain" Video

DEVIN TOWNSEND Announces New Album Empath

BLACKTOP MOJO Release "Prodigal" Music Video

TARA LYNCH Reveals Evil Enough Album Details

GIBSON Announces Limited Edition CHRIS CORNELL Tribute Guitar

DUST BOLT Drop New Video For "Another Day In Hell"

QUEENSRYCHE Drop "Dark Reverie" Lyric Video

Vocalist JANET GARDNER Says Goodbye To VIXEN

BEAST IN BLACK Unveil New Single "Die By The Blade"

WHITECHAPEL To Co-Headline "Chaos & Carnage" US Tour

AT THE GATES Unleash "The Mirror Black" Video

DELAIN Release "Masters Of Destiny" Video

CHILDREN OF BODOM Announce 2019 Hexed North American Tour

GODSMACK Launch "When Legends Rise" Video

THE WILD! Announce Support Dates With BREAKING BENJAMIN, ASKING ALEXANDRIA

DOWNFALL OF GAIA Debut "We Pursue The Serpent Of Time" Video

DREAM THEATER Stream New Track "Fall Into The Light"

"Nedal" Band OKILLY DOKILLY is Back! Kicking Off "Reneducation Tour" On February 1

ROCKLAHOMA Announces Its 2019 Band Lineup

SEBASTIEN Are Back Behind The World With New EP

THE THREE TREMORS Announce First-Ever US Tour

BURNING RAIN Reveals Forthcoming Fourth Album, Face The Music

Inaugural PSYCHO SMOKEOUT Announced: Psycho Entertainment Partners With RidingEasy Records For A Day-Long Celebration Of Reefer And Riffs

TYR Reveals Details For New Album, Hel

RONNIE MONTROSE REMEMBERED: A NAMM 2019 ALL-STAR MEMORIAL CONCERT Event Set For NAMM 2019

GARY HOEY Returns With Neon Highway Blues

JINJER Premiere Video For Track "Perennial"

THE END machine, Featuring GEORGE LYNCH, JEFF PILSON, MICK BROWN, & ROBERT MASON, To Release Debut Album

VARNA Release Lyric Video For "The Craving"

CARMINE APPICE's GUITAR ZEUS Albums Get Reissue

HALL OF HEAVY METAL HISTORY Announces Final Inductees List For 2019 Metal Hall of Fame Gala

PERIPHERY Join DANCE GAVIN DANCE For 15 Date North American Trek

BEHEMOTH Unleash "Ecclesia Diabolica Catholica" Video

STATEMENT Reveal New Album, Force Of Life

SEPTEMBER MOURNING Launch "Glass Animals" Video

BLOODBOUND Announce 2019 European Headlining Trek, "Tour Of The Dragon Empire"

PROPHETS OF ADDICTION Release "Babylon Boulevard" Video

HIGH ON FIRE Cancels 'Electric Messiah Tour 2019' Due To Medical Emergency

MIKE TRAMP Is Set To Stray From The Flock In March

SWALLOW THE SUN Streams First Single "Upon The Water"

CRYSTAL LAKE Debuts "Lost In Forever" Video

HATEVIRUS Reveal New Album Hateful Mind

STEEL ENGRAVED Unleash "Where Shadows Remain" Video

BLACKLIST 9 Announce New Album Mentally Ill, Legally Sane

JOHN 5 AND THE CREATURES Release "Zoinks!" Video

LORDS OF SALEM Drop EP Hell Over Salem

GRANNY 4 BARREL Launches PledgeMusic Campaign For New EP

SOILWORK Release Brand New Song "Stålfågel"; Animated Music Video Available

KILLCODE Drop Final Video For "Show Me" In Their 'Trilogy' Series

SNAKEYES Returns To Studio, Releases RAINBOW Cover "Kill The King"

DIMEBASH 2019 Details Revealed

THE BROWNING Reveal 2019 Tour Plans

IGNITE Release "Nothing Can Stop Me" Video

BUCKCHERRY Announce Leg One Of Warpaint Tour

BATTLE BEAST Unveil New Studio Album No More Hollywood Endings

YOB Announce Spring 2019 Tour With VOIVOD & AMENRA

CANDLEMASS Release New Track 'The Omega Circle'

DIRTY MACHINE Unleash "Against The World" Video

GWAR Announces End Of Year Shows

MALEVOLENT CREATION Unveil The 13th Beast Album

KILLSWITCH ENGAGE, PARKWAY DRIVE Announce Co-Headline "Collapse The World" Tour

DUST BOLT Streams New Track "Bloody Rain"

MEGADETH Announce Iconic Album Reissues For The World Needs A Hero & The System Has Failed

NIGHTRAGE Releases New Video For "By Darkness Drawn"

'KISSWORLD – THE BEST OF KISS Coming In January

CANE HILL Drop "Acid Rain" Video

OVERKILL Unveil New Single "Last Man Standing"

LEGION OF THE DAMNED Unleash New Video For "Slaves Of The Southern Cross"

HORROR PAIN GORE DEATH Launches Free 2018 Label Sampler

CURRENTS Debut "Forever Marked" Video

THE RAVEN AGE Announce New Album Conspiracy

MOB RULES Releases New Single And Video For "My Sobriety Mind (For Those Who Left)"

GHOST SHIP OCTAVIUS Release "Edge of Time" Video

WHITECHAPEL Launches New Single, "Black Bear"

RELAPSE RECORDS Launches Free 2018 Label Sampler

RIVERS OF NIHIL Announces USA Headlining Tour

DELAIN Announce Hunter's Moon< Release

To Join RAZOR, EXCITER As Headliners Of HELL'S HEROES Fest

TETRARCH Announce 'Twisted Dreams' Tour Dates

PRETTY MAIDS Set To Release A Blast From The Past 12CD Box Set