3 INCHES OF BLOOD - Long Live Heavy Metal!


By Tokemaster General, Contributor
Tuesday, January 31, 2012 @ 10:48 AM


3 INCHES OF BLOOD will release, Long Live Heavy Metal, on March 27th. Produced by Terry "Sho" Murray (CITY OF FIRE, EXHIBITIONISTS), the twelve-track achievement offers an explosion of sound, setting new standards for classic heavy metal. 3 Inches Of Blood teamed up with Kim Thiessen for the artwork to perfect their artistic vision for the album, the different formats will be announced shortly.
The album artwork can be seen below: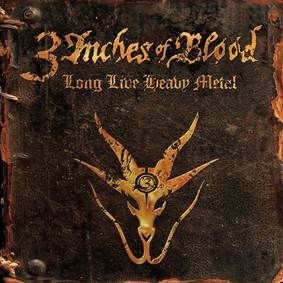 After touring North America around the release date with DEVILDRIVER, THE FACELESS, DYING FETUS, JOB FOR A COWBOY, IMPENDING DOOM and WRETCHED, they will head to Europe for a tour in May that is yet to be announced.
3 Inches Of Blood recently announced that Bryon Stroud, former STRAPPING YOUNG LAD and FEAR FACTORY member, has officially joined the group, taking over bass duties. Stroud and 3 Inches Of Blood have been working together on a variety of things, and Stroud is beyond pleased to shift his involvement to a creative level.
"I am super stoked to let everyone know that I have joined my brothers in 3IOB," exclaims Stroud. "We are busy rehearsing for touring of the new record, Long Live Heavy Metal. The band asked me to come on board as manager earlier last year. We rehearse in my bike shop, I've toured with them in the past and being involved in many aspects of the new record has been extremely gratifying for me. I'm looking forward and see a great future for this band. I'll see you all on tour this year."




Please log in to view RANTS

If you don't have a username, click here to create an account!