ROCKLAHOMA Report: Day 2 With Photos


By Larry Petro, News Monkey
Sunday, May 27, 2012 @ 10:26 AM





MEGADETH, ZOMBIE Among Bands Playing

Day 2 of Rocklahoma is now in the books on what may arguably be the best day of the festival.

The day was, well, hot and windy again, but we are in Oklahoma where on any given day there's probably a 70% chance or better of the wind being a factor. After getting to bed about 4 a.m. we decided to sleep in a bit this morning as the Day 2 bands we wanted to see didn't start until later in the afternoon. We got up and ready and I had finished my Day 1 report just in time for us to hit the VIP tent for the lunch feeding. As with the first day, the food catered to us was over the top. Lunch included choices such as a taco bar, fried fish with tots, burgers, hot dogs, BBQ sausage and of course the gratuitous salad bar. On the way back to the campsite after lunch we ran into the Lillian Axe boys waiting by the VIP camp entrance for a lift to the stage for their setup. In the end, after chatting with them for a few minutes, they ended up having to walk the 1/4 mile or so to the Retrospect Tent.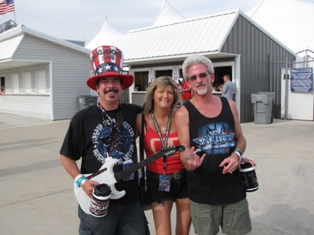 The days stage festivities got under way right around 4 when we caught bands like Pop Evil and Anti-Mortem, the latter of which started off the day with a hardcore performance that resulted in the day's first mosh pit in front of the Hard Rock Stage. Right about 6 Trivium hit the Hard Rock Stage and absolutely shredded the place with a brutal, energetic performance. A very large crowd had gathered for their show and disappoint the band's request for movement, as the entire center area of the crowd erupted into a huge mosh pit throughout most of their set. The crowd totally exploded with frenzy when they closed their set by playing Metallica's "Creeping Death". An excellent performance!
We had a bit of a break at this point that we could go and grub for dinner so off we went back to the VIP tent (Note: This doesn't count the umpteen number of times we went there for drinks). The dinner menu was smoked pork loin, roast brisket, grilled sirloin tips, seafood marinara, mixed vegetables, rice, mashed potatoes and, of course, salad bar. This sustinence did quite a good job of soaking up the beer that was consumed.
So, back to the show and I decided to catch and shoot a couple pics of The Darkness. If there was one performance I could have worn earplugs for, it was this band. I'm sorry, but I just couldn't deal with Tiny Tim fronting the band, though they were very flashy and did musically sound good. At 8:40, Megadeth took the Main Stage and if one didn't know any better you would swear that they were headlining as they appeared to have full stage and light use, or so we thought. The band played a nice, solid set of hits, including several tracks for their most recent release, Thirteen. Songs played included "Trust", "Hangar 18", "Sweating Bullets", "Public Enemy #1", "Symp[hony of Destruction" and "Peace Sells".
Then it was time for Rob Zombie. I had never seen him live before so i really had no idea what to expect, but holy shit, was I blown away! Everything from the stage set to the video screens and the band's costumes screamed of the macabre.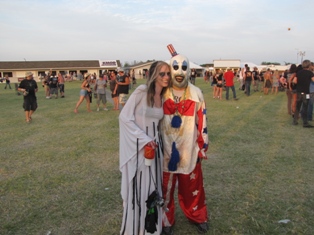 Zombie took the stage by coming out of an enormous, iron version of the wicker man and the packed crowd was ready to rock! Words cannot completely describe the visuals that took place throughout the entire show. There's was almost too much to take in all at once, but there was certainly enough fire to make even Beavis happy. A fantastic metal performance to close out the Main Stage of Day 2. Prior to heading back to camp for the night we made a stop at the Retrospect Stage where Lillian Axe played an hour long set with their new vocalist Brian Jones. Guitarist Steve Blaze was in top form as always and got to use the much-hyped special Air Force guitar created specifically for this tour. A great way to finish the night. A special shout out to my brother Mark and his wife Andrea for the awesome assist on the photos for Day 2!
On tap for Day 3: Black Stone Cherry, Puddle of Mudd, Jackyl, Queensryche, Hellyeah and Chickenfoot. The weather forecast? What else, hot and windy!
Click HERE for photos from Day 2.




Please log in to view RANTS

If you don't have a username, click here to create an account!