ROCKLAHOMA Report: Day 3 With Photos


By Larry Petro, News Monkey
Monday, May 28, 2012 @ 2:22 PM





CHICKENFOOT, QUEENSRYCHE Close Out Festival

Well, Rocklahoma 2012 is now history, but not without one final hurrah on Day 3.

As with Day 2, the bands we wanted to check out didn't come until later in the afternoon, so staying up until 4 a.m. the night before would not be a huge factor. We hit the VIP tent for the lunch hour, which this time included eggs, breakfast sausage, hash browns, biscuits and gravy, hot wings, sausage and sauerkraut and, all together now, salad. It's amazing how short the beer lines are at this hour, but after all, it is lunchtime and that makes it beer thirty for me. I even managed to squeeze in a photo-op with Miss Rocklahoma for 2012. After filling up, we headed back to camp for just a bit so i could finish my Day 2 stuff, then head out for Day 3.

The first band of the day that I wanted to see and shoot pictures of was Black Stone Cherry.The Gaffe of the Day Award goes to myself for this one. I decided to let my sister-in-law go and take the pictures since she did such an awesome job the day before, but I neglected to put the memory card back into the camera after doing my Day 2 article! The funny thing was, it took her until midway through the 3rd song to realize it! Doh! Luckily, my brother hadn't made it to the stages from the campsite and so i didn't have to make the 1/4 trek back to pick it up. Black Stone Cherry did however put on a nice set to start the day off, as did Puddle of Mudd, who followed them on the Main Stage.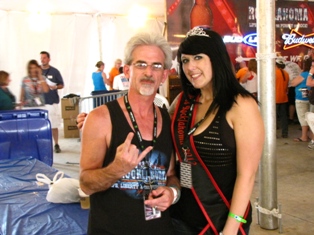 Jackyl was next up and these guys get my vote for the fun band of the day, bringing their energetic, sexually charged brand of southern hard rock to Rocklahoma. Though the band played several of the expected songs like "Down on Me", "She Loves My Cock" and "Redneck Punk", the highlight of the band's set was listening to the Rev. Jesse James Dupree preaching his 'sermon' in between songs. I truly believe this guy could be a real preacher or even a motivational speaker if he so chose. They finished their set with "The Lumberjack", at which point Dupree dragged Eddie Trunk out on to the stage to give him a lesson on how to use a chainsaw! Funny stuff indeed watching Eddie trying to do that.
Then came Queensryche. What can I say about these guys? I think someone in the band needs to give (former guitarist) Chris DeGarmo a call and tell him that the band wants their balls back. Seriously, they had a chance to blow Chickenfoot off the stage and instead they just blew it. What the hell was this crap you served us? Following the rumored incident in Brazil involving an altercation with the band members and the lackluster performance displayed by the band at the M3 Festival, I would have hoped for more, but it was not to be. Vocalist Geoff Tate once again took the opportunity to berate the crowd on hand, telling them that the last time the band played Rocklahoma two years ago, it must have been a different crowd as this one sucked. That's right, he told the crowd that they sucked. Not a real good way to endear yourselves to your fans Geoff. No, on the contrary, the only thing that sucked was the setlist they fed us. As I was in the pit shooting pictures I actually saw people leaving the pit duriong their first 2 songs, something I had not seen all weekend. Sure, they played some hits like "Walk in the Shadows", "Jey City Woman", "Empire" and "Eyes of a Stranger", but even those songs were slowed down to the point of being just hollow shells of their rocking selves. I noticed some people a few rows in front of me holding up the Queensryche logo and you know, that actually used to mean something, but not anymore. In the ultimate show of disrespect just like at M3, singer Tate left the stage before the final number was finished and never returned. One has to ask themselves if at this stage of the game he isn't deliberately trying to sabotage the band.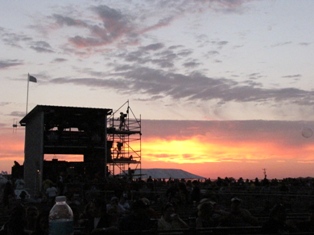 Chickenfoot closed out this years festival and did an admiral job, even if Sunday's crowd had dwindled a bit from the prior two evenings. The band played a nice, adequate set comprised completely of their own material; No Van Halen, Satriani or Hagart solo material, save the final number, "Rock Candy, done as a tribute to the late Ronnie Montrose. The one thing I really like about this band is that they always seem to be having fun, and in the end, isn't that what it's all about?
A big thanks to Chef Rick, who not only had to feed tens of thousands every day, but also had to accommodate the dietary needs of 10 vegetarians, and did it all with class and style. The food was always fresh, tasty and hot. And also to all the volunteers that made sure all of us VIPers were taken care of. If you ever think about coming to Rocklahoma in future years, it was well worth it to go the VIP route!
Til next time! Click HERE for photos from Day 3.




Please log in to view RANTS

If you don't have a username, click here to create an account!