Metal Blade Records has announced a 30th anniversary show that will take place on Friday, November 30th at the House Of Blues in Los Angeles, CA. Label acts ARMORED SAINT and GYPSYHAWK are scheduled to perform.

Tickets go on sale this Friday August 31st.

SiriusXM Liquid Metal is helping the label commemorate the occasion by hosting the Liquid Metal Blade's 30th Anniversary Weekend, which begins Friday, August 31st at 9AM (EST) and ends Tuesday, September 4th at 3AM (EST).

The Liquid Metal Blade's 30th Anniversary Weekend will include interviews with Metal Blade founder Brian Slagel talking about CANNIBAL CORPSE appearing in the film Ace Ventura: Pet Detective to meeting METALLICA's Lars Ulrich, censorship, and staying independent.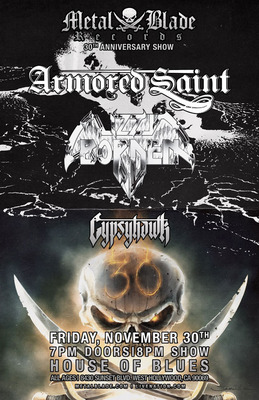 SiriusXM Liquid Metal will also be playing host to some premieres from bands such as: SATAN'S WRATH, DOWNFALL OF GAIA, OVER YOUR THRESHOLD, and ABIOTIC. Also included will be a cover from BATTLECROSS.
Slagel commented: "I am very honored to have SiriusXM's Liquid Metal devote a weekend to help us celebrate our 30th anniversary. Liquid Metal is such an important way for everyone to hear our music and we have always loved working with them. Thanks so much and I hope everyone enjoys the music and stories over the weekend!"
UPDATED: LIZZY BORDEN posted on their Facebook page that they are NOT performing at this event! Bummer.....