Death is the Only Mortal, the sixth studio album from the Massachusetts foursome that cannot stand being categorized as a deathcore band, according to vocalist Vincent Bennett. Fair enough. What you will hear is a grinding kind of slow-tempo death metal accompanied by lyrics and cryptic song titles that the listener to interpret on their own.

An unassuming front man for a metal band, Bennett has the appearance of a nerd, the sound of a madman, and unexpectedly, a deep affection for Rihanna.

As it turns out, I interrupted Bennett while he was watching a horror movie: Motel Hell, to be exact. Early in our interview he seemed to be on edge, but after the first laugh the conversation opened up. "Basically, the theme of the record is our obsession with death and dying," Bennett explains about the new release while chomping on a Starburst, "and that we're so infatuated with what happens after you die. Where do you go, what's the truth about what happens after you die. And people are afraid to die. It makes them forget that they need to live their lives. This obsession with death is personified--with the guy who is a skeleton with a robe and a sickle and chains and all that stuff. We need to understand that death is not a person. It's not a character. It's just something that happens. It's part of living and we've got to deal with it and just kind of remember that you're only here for a certain amount of time, and you need to kind of live your life the way you want to without focusing so much on when and where and how you're going to die.

We've done the thing in the past where we had to prove ourselves to the masses or whatever. This time around we took 100 percent of the reins. Our guitar player [Daniel "DL" Laskiewicz] recorded it and engineered it. We took the opportunity to do the record that we wanted to do. We know we don't have to prove ourselves to anybody. We don't really care what people think about us. We're not making music because we want to gain Warped Tour fans or the pop punk kids' fans. We just want to make music for us. If we touch somebody with the music and we gain fans here and there then, I guess, it's just an added bonus for us. We respect music as an art form and not a commercial selling point. If people like it and they want to buy the record that helps us want to make more music."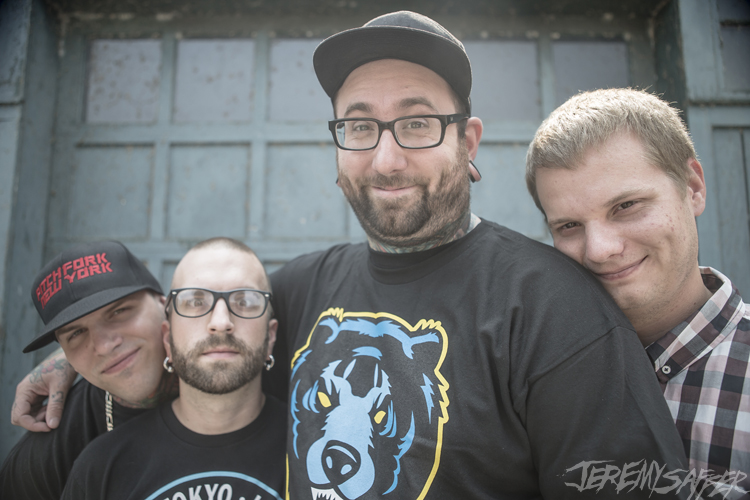 After being on the Prosthetic Records label for nearly the whole of their career, THE ACACIA STRAIN signed with Rise Records in April of 2012. Death is the Only Mortal, released last October, is TAS's Rise debut and an album Bennett and his bandmates are most proud of.
"We've been with Prosthetic since the beginning and we felt that it was time for something new. We wanted to try something else out because we hadn't really had a chance to try a new label out, so we searched around and Rise seemed like the obvious choice for us. What's the point of making music if nobody hears it? So we figured Rise would help us get it out there so they would hear what we had to say. And so far, so good. I have zero complaints. A lot of people gave us flak because we're like the black sheep of the record label. We didn't really fit into what ever stereotype people have affixed to that label. There's the obvious Rise record band. Then there's bands like us. Bands like Hot Water Music and Make Do and Mend who have been working really hard on what they have to say. It helps for bands like us to be on a label like Rise, because it might steer a young, impressionable Rise Records band's fan towards some music that really speaks to them. Instead of just being like, 'Oh, this is the band my girlfriend likes. I'm going to like this band too.' We basically signed to Rise so we could just shit all over everyone."
Bennett talks about a few of the new songs. "Doomblade", the first track, begins with an eerie discussion between a woman and a 911 operator.
"I named it after a magic card," he says, reinforcing the fact that a title of a TAS song and its content don't always jibe. "I used to play it when I was 14 and I just got back into it recently. That's how deep I get sometimes. You know, it's a double-edged sword for me. I could either get super deep or I could just name a song after a magic card."
""Go to Sleep" is CM Punk's finisher from WWE," Bennett says. See that's the kind of person I am. You take something real serious and I'll try to make a 180, to make people think. The song is obviously pretty dark. It's got Kirk Windstein from CROWBAR on it."
"A couple years ago we did the Stillborn Fest with HATEBREED and CROWBAR, THE CASUALTIES, and THY WILL BE DONE," Bennett recalls of touring with other metal heavyweights and getting to know Kirk Windstein. "It was real fun. It's crazy how a person who's so old can still act like a child. The dude is a legend and it was amazing to be in the same room as him and share the same space with him at the same time. And the fact that he agreed to be on the record is kind of like a dream come true, because I've been listening to CROWBAR since I was 19. So, it's just really cool to make these connections with people that you would think in a million years that you would never even know. To have them be a part of something as huge as guest vocals on our record is just awesome. It's crazy to step outside of my actual life and to think, 'I have a legend singing my lyrics. On a record.' "
"Victims of the Cave" is a song based on an old philosophical allegory by Plato, The Allegory of the Cave.
"I don't know if you know the story, but it's about three guys who were raised from birth chained to rocks facing a wall. And there's a fire behind them. Their whole reality is that wall. When things pass in front of the fire they try to guess what it is, and the person who has the best guess is the champion of their reality. Now, that whole situation has been their whole reality from birth. They don't know anything else. All they know is a wall and light behind them. To think if one of these people got released and saw that the fire was a fire and that everything passing in front of the fire was just people with baskets on their heads and squirrels or whatever, it would break their minds to know that their reality had been false. It's kind of like a metaphor of what we're going through now. We could just be people staring at a cave wall. Just because we see it doesn't mean it's real. The whole record is based on old philosophy like that. What is reality? If we were ever to step outside of what we think is reality, how would we deal with it?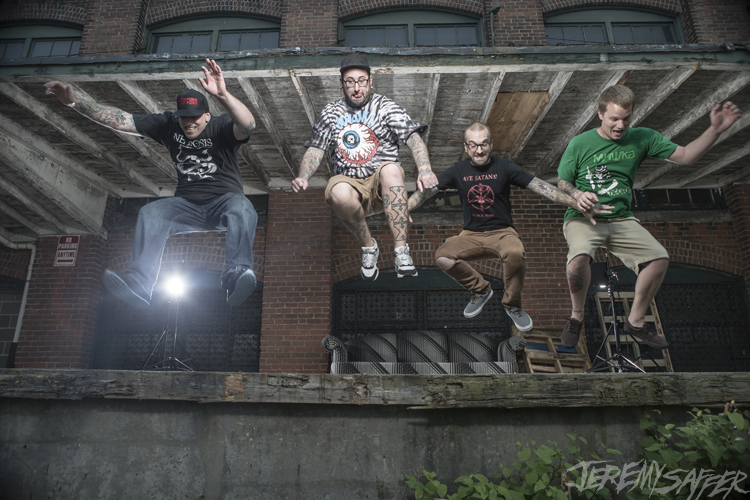 I'm trying to enlighten without enlightening. I'm trying to make people think. When you juxtapose a song like that against a title that has such ridiculous connotation, I feel it really helps people make their own inference on what the song's actually about. "Go to Sleep" is obviously not about WWE, and it's obviously not about committing suicide. But people can kind of make a tie-in with their own experiences in life. That's what I always try and do with lyrics. I draw the lyrics from personal experience or from a story that I read one time and I freeze it in a way where people say, 'You know, I'm having a really rough day and this song helped me through it.' It could be about anything to them as long as they think about it and make it apply to themselves.
A lot of musicians take themselves way, way too seriously. Like I said, we make music for us...and it's dark and scary and loud. Kids just automatically think that we're a bunch of scary people. And we're not, really. We're just a bunch of nerds, I guess. We want to make it evident that we're just human beings and the best way to do that--I feel like-- is to broadcast yourself being an idiot on the Internet. And that what we do. What's the point of living if you can't have fun with it? We definitely like to poke fun at ourselves. I feel like more bands should just lighten up a bit. You know, it's not all serious all the time. Like I said, we want people to realize that we're just people. There's no weird egos or anything like that. We just like to have fun and broadcast it on YouTube, I guess (laughs)."
By this time in the interview Bennett has lightened up noticeably. I asked him if he had imagined his band living the dream: making albums, touring abroad and playing music to scores of kids.
"No way," he replies. "We started this band 11 years ago. There was no way I would ever think that we would go further than local venues. I don't want to say it's a dream come true because who would ever dream to be stuck in a van with seven people for eight hours a day? But, you know, it's one of those things where I'm happy. I'm doing what I'm doing, because I'm doing what I want to do instead of being stuck behind a bank desk, telling people I can't accept their check because they signed their name in the wrong place. I don't want to ever regret anything I did in my life. So far, so good. I don't really ever regret anything that I've ever done. I'm not pumping gas on the New Jersey Turnpike, I'm not living in a gutter, and I'm not a bank teller. So I can't really complain."
Note: Best wishes and a most happy new year to the members and crew of THE ACACIA STRAIN, who avoided extensive injuries while in a serious van accident last November. This interview took place before that event.
http://www.theacaciastrain.com/