The following update comes to us from Rex Brown, former bassist for PANTERA and DOWN and current bassist for KILL DEVIL HILL:

"Hello all... I'm proud to announce the release of my upcoming book. I can now officially add 'author' to my list of credits! This is what went down, from my point of view... If you read it , everything should be clear from where I was sittin'!! The book will be out on March 12, but is available for pre-order now at the link below! God bless you all & R.I.P. to my long, lost brother!!"

Official Truth, 101 Proof: The Inside Story Of Pantera is 320 pages long and will be released by Da Capo Press in hardcover form. The following is the official synopsis:

Few heavy metal acts survived the turmoil of the early 1990s music scene. PANTERA was different. Instead of humoring the market, the band instead demanded that the audience come to them by releasing a series of fiercely uncompromising, platinum albums, including Vulgar Display Of Power and Far Beyond Driven—two #1 albums that, like METALLICA's And Justice for All, sold millions of copies despite minimal airplay.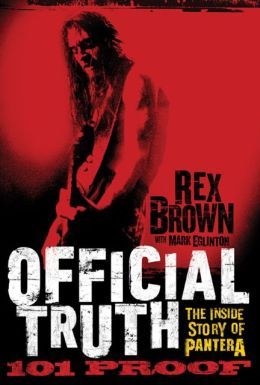 Rex Brown's memoir is the definitive account of life inside one of rock's biggest bands, which succeeded against all odds but ultimately ended in tragedy when iconic lead guitarist Darrell "Dimebag" Abbott was murdered mid-performance by a deranged fan.
This is a lucid account of the previously untold story behind one of the most influential bands in heavy metal history, written by the man best qualified to tell the truth about those incredible and often difficult years of fame and excess.
You can preorder Official Truth, 101 Proof: The Inside Story Of Pantera in the KNAC.COM More Store HERE.