It Books Set To Release Louder Than Hell: The Definitive Oral History Of Heavy Metal In May


By Larry Petro, News Monkey
Monday, March 4, 2013 @ 7:31 AM


| | | |
| --- | --- | --- |
| | | By Veteran Rock Journalists Katherine Turman & Jon Wiederhorn |
Katherine Turman and Jon Wiederhorn know metal. Louder Than Hell is an amazing gathering of different breeds of heavy metal rockers telling the tales metal fans want to hear.

Louder Than Hell is a love letter to the misunderstood genre of heavy metal music, written by trusted companions who had a front row seat on the devil's rollercoaster. The definitive chronological testimony by the people who were there, including some who are no longer with us.

Emerging from the blues and psychedelic rock of the 1960s and 70s, heavy metal has been a driving force in music for nearly 50 years, known for its massive sound, extended guitar solos, and unrelenting intensity. Despite being critically reviled throughout its history, metal has stood the test of time with bands such as BLACK SABBATH, JUDAS PRIEST, and MOTLEY CRUE achieving legendary status, unfathomable wealth and exerting a profound influence on generations of musicians and fans. Unlike many forms of popular music, whose followers are fickle and transitory, metalheads tend to embrace their favorite bands and follow them over decades. Metal is not only a pastime, it's a lifestyle.

Written by veteran rock journalists Jon Wiederhorn and Katherine Turman, Louder Than Hell: The Definitive Oral History of Metal (It Books; May 14, 2013; Hardcover; $32.50) was assembled from more than 300 interviews with members of METALLICA, MEGADETH, KORN, PANTERA, VAN HALEN, LIMP BIZKIT and many others, conducted over a 25-year span. Turman and Wiederhorn dug deep into their extensive list of contacts to uncover never-before-heard stories, eye-opening admissions and the truth behind metal's most explosive legends. With an introduction by Scott Ian of ANTHRAX and an afterword by Rob Halford of JUDAS PRIEST, this is the book metal fans have been waiting for.

Icons of the genre offer candid and confessional commentary, including: Ronnie James Dio, Ozzy Osbourne, Bruce Dickinson, Eddie Van Halen, Vince Neil, Tommy Lee, Lita Ford, Lars Ulrich, James Hetfield, Axl Rose, Slash, Corey Taylor, Dave Mustaine, Chuck Schuldiner, King Diamond, Dave Grohl, Trent Reznor, Kerry King, Philip Anselmo, Rob Zombie and more. The many musicians interviewed offer their take on their influences, touring, the music business and songwriting, as well as their often-traumatic upbringings, battles with substance abuse and bizarre sexual exploits. Industry insiders (including managers, record label executives, family members, friends, scenesters, groupies, journalists and porn stars) provide additional insight.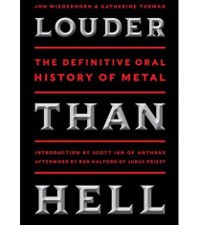 Louder Than Hell explores the transformation of metal culture, with stories and anecdotes straight from the mouths of the most infamous and successful bands. Filled with hundreds of revealing interviews representing every type and era of heavy metal, from metal progenitors such as BLUE CHEER, LED ZEPPELIN, and the MC5 to current day innovators including SLIPKNOT, MASTODON and LAMB OF GOD, Louder Than Hell is the ultimate look behind the curtain at one of our most dynamic, controversial and enduring musical genres.
About the Authors:
Katherine Turman produces the syndicated radio show Nights with Alice Cooper, and was formerly producer of Rockline. She was the editor of RIP magazine, a columnist for Metal Hammer, Guitar One and Bam, a music producer on the Sharon Osbourne Show, and has been published in the Village Voice, Los Angeles Times, Rolling Stone, Billboard, Revolver, TEEN, Guitar World, SPIN, Amazon.com and more.
Jon Wiederhorn is a senior writer for Revolver, the former editor of MTV2's HeadbangersBlog.com, and has been on staff at Rolling Stone, MTV News and Guitar Magazine. He has also contributed to SPIN, Entertainment Weekly, Stuff, Guitar World, FHM, Inked, Penthouse, RIP, Raw, AOL's Noisecreep.com, Emusic.com and numerous other publications. Jon's second book, an authorized biography of MINISTRY frontman Al Jourgensen, Ministry: The Lost Gospels According to Al Jourgensen is scheduled for release in July, 2013.
Preorder a copy of Louder Than Hell HERE in the KNAC.COM More Store!




Please log in to view RANTS

If you don't have a username, click here to create an account!