Both Worlds: An Exclusive Interview with Guitarist ORIANTHI


By Charlie Steffens aka Gnarly Charlie, Writer/Photographer
Monday, March 4, 2013 @ 4:15 PM


| | | |
| --- | --- | --- |
| | | "It came out organically" |
At the age of six, some kids are still learning the alphabet and eating Playdough. There are those, too, who, at that tender age, are already excelling academically and dreaming about what they want to be when they grow up.By six, Orianthi Panagaris had written her first song, and had set her sights on being a performer. Now, a couple decades up the road, Orianthi not only met the goal she set for herself, but is hitting more milestones as a guitarist in the Alice Cooper Band and a highly successful solo career.

Many were introduced to Orianthi when she played the 2009 Grammy Awards as part of Carrie Underwood's band, but it was when she was selected for Michael Jackson's ill-fated This Is It tour that the guitarist gained mainstream recognition. In the film, This Is It, Orianthi is featured during rehearsals for the tour and is shown with Jackson on the stage together. Her major label debut, Believe, was released in October 2009. Her second album, Heaven In This Hell, is scheduled for release on March 12th.

While many modern day rock guitarists may finger frets at amazing speed, their movements lack the breadth and soul of the sound Orianthi lays down with her guitar. She can juxtapose playing a viciously-fast solo, and then moments later, make a single note bleed emotion as she sings the blues. As a little girl in her native Australia, Ori cut her teeth on many of rock and roll's legendary artists. Hard to believe that one day she'd be playing alongside such legends as Carlos Santana and Steve Vai, not to mention countless others. "I used to strum along to Elvis or Roy Orbison and the BEATLES," she says fondly of her beginnings. "I told my parents that I wanted to get to America and play big shows. I used to play mini concerts at school and actually hand out little fliers and say 'Hey, I'm going to play a show at lunchtime on the steps.' I just thought that music was my life from when I was like six."

Smitten by what she had found in music, Orianthi focused on learning guitar. It wasn't just a phase that would fizzle out; music took precedence over everything else in her life--so much that she dropped out of high school to pursue her dream.

"I left school when I was 15 and I did a bit of home schooling. That didn't last for very long. I just found that school really wasn't for me. I was bullied a lot at school, as well. I turned to music. That was my fix. I would go to the music room at lunchtime. It was definitely my escape as well as something I'd do when I'd get home from school. I'djust put myself away and play guitar. My parents saw that I was really serious about being a musician, so they were really supportive. They didn't think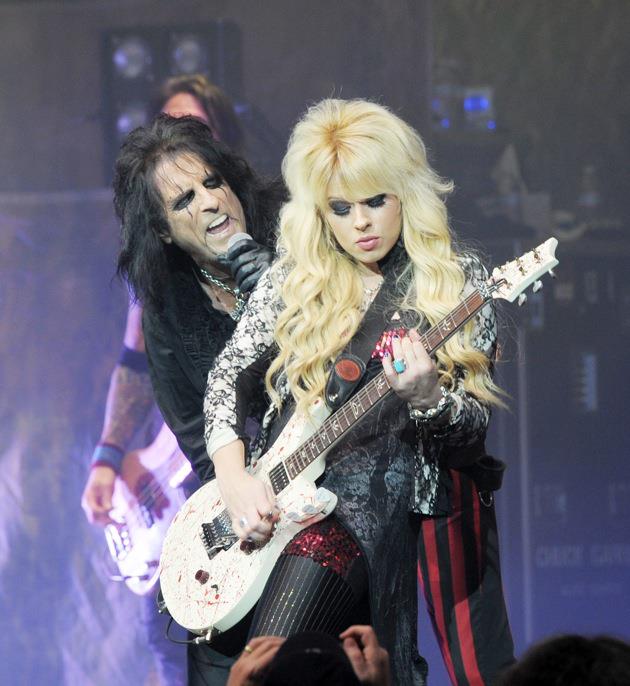 that it was just a hobby that I'd give up. I played in a cover band three nights a week till I was 20. I got a record deal in 2006."
When she was 18, the Australian native met Carlos Santana, who was largely responsible for her endorsement by Paul Reed Smith guitars. In 2006, Orianthi relocated to Los Angeles, having signed a record deal with Geffen. Having Santana's support early on in her career was huge:"I'm really grateful to him, for sure," she says.
On the song "Highly Strung", from Believe, Orianthi plays a scorching instrumental duet with longtime friend Steve Vai. The two guitarists' styles immaculately complement each other. It's apparent that there is a heavy amount of Vai influence in the wunderkind's playing.
"I've known Steve since I was 15. He's such an amazing guitar player. Just incredible--the way he plays. He's one of those players that can play so fast and then play such a beautiful melody. I would send him demos when I was 16 and he would actually write me back and tell me where I could improve and what parts he liked. He actually took the time to listen to it."
The new release, Heaven In This Hell, was recorded at Blackbird Studio in Nashville with friend/producer Dave Stewart (EURYTHMICS, SUPERHEAVY). Stewart, an incredible guitarist himself, collaborated with Orianthi to make songs that really showed off her vocal abilities as well as her guitar playing.
"It came out organically," she says of her time in Nashville making Heaven In This Hell. "I started writing this record about two years ago with Dave Stewart. It went sort of more bluesy with elements of country in it too, especially recording it at Blackbird Studios. I just had a blast making this album. It was a lot of fun. We had a good time and the band was so great, playing in this big
room. It was the way records were made back in the '70s, where everyone was in the room together. We were vibing off one another, and that's what I wanted to do."
"I find it a little uncomfortable when you go in and you're playing by yourself," she admits. Recording in an atmosphere with other musicians made for a better experience. "I like to just sort of be in a room with everybody and you're all playing together," she explains. "I really like that because it's like playing a live show, and you just sort of feel like the energy's there, the vibe's there and you can just play and not over-think. I find sometimes when I'm just playing, putting my guitar solo down and someone's pressing the record, that I'm over-thinking. So it was great to just go in there and do it that way. And then, obviously, there were overdubs and what not. We did that afterwards. So the essence of each track was there, the vibe, the feel that I wanted to capture."
As for life on the road with Alice Cooper, she notes: "It's a big, crazy family. Alice is so different offstage. When he's onstage, and he's in his sort of character, you want to get out of the way. You don't want to get stabbed by a sword (laughs). He's such an awesome performer and every night he just really inspires me up on that stage. It's an honor. It really is, because every night he gives 110 percent--all the time. I've learned so much."
The Alice Cooper discography spans over four decades. The better part of Coop's setlist is comprised of songs that were smash hits on the radio before Orianthi was born. "One of my favorites is "Billion Dollar Babies"," she says. "I think it's such a great song. I like playing "Elected". "Brutal Planet" is really heavy. And "Halo of Flies", that's a crazy song. When I first had to learn like 25 songs in a week, that song took me forever to learn, because it's 11 minutes long, it's hard to remember all the parts. It was crazy. But once I had it down--it's one of my favorite songs. There's so many good songs. And there's so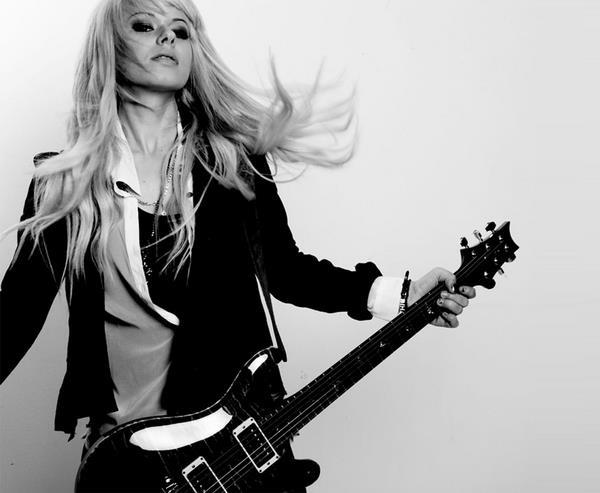 many parts to the songs as well, which I love. When you listen to the songs and you sort of get into the Alice Cooper world, you just realize that a lot of time was spent on the production of those songs and writing the songs, everything. There's so many different guitar parts. There's three guitar players. We all play different guitar parts and sort of complement each other. It's a wall of sound. It just really fits well together."
"As a performer I feel I've become so much better working with him and the guys in the band. Alice is just such a great person. He's really cool. It's been so much fun touring with him. It's a lot of fun collaborating. I really enjoy just being the guitar player. If I can do both--where I can do my own thing and tour and also join up with Alice and tour with him and collaborate with different people then that's great. I enjoy both worlds."
http://www.facebook.com/Orianthi
Check out the lyric video for the track "Frozen"!




Please log in to view RANTS

If you don't have a username, click here to create an account!