Concert Review: Y&T Live In Houston, Texas


By Larry Petro, News Monkey
Monday, March 11, 2013 @ 3:40 PM


| | | |
| --- | --- | --- |
| | | Band Celebrating 30th Anniversary of Mean Streak |
I like to get my money's worth, especially when it comes to concerts. Hell, I don't know anybody that doesn't, except for maybe that baby in the Capital One commercials that doesn't want 50% more cash back. And when it comes to getting your money's worth, there are few bands that can deliver quite like bay area rockers Y&T. Noone can accuse these guys of just mailing one in. The band rolled into town for a show on Saturday night, March 9th, at the Concert Pub North in Houston, Texas as part of a string of dates in preparation for the band's upcoming appearance on the 2013 edition of the Monsters Of rock Cruise.

I had another engagement immediately prior to this show. The local brewery here in my town just north of Houston was having their 5th anniversary party on the same night and on this occasion (as well as their Oktoberfest celebration), I work with the food vendors for these functions. So, from 6-9 pm I was busy on the grill cooking for almost 600 people! The event ran until 10, but given the fact that Y&T was going to be hitting the stage at 10, I had to jet from the brewery at 9 in order to make it on time, and i arrived at the club at 9:40.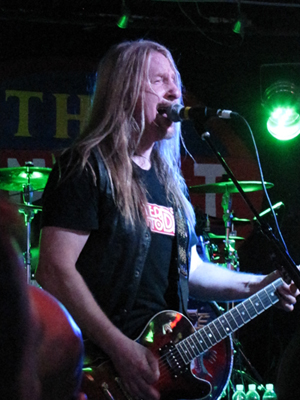 I have to give props to the promoter for this venue, John Escamilla of Jetspeed Entertainment, for his pursuit of national acts to bring to shows at this club on the north side of Houston. For someone like me who lives an hour north of Houston, the shorter I have to drive to go to a show the better. Y&T was one of quite a few that he's bringing through town in the coming weeks and months.
So I arrived and had just a little bit of time to chill out and grab a brew (as if I didn't drink enough while I was at the brewery) before it was showtime. At 10:15, the band took the stage to a packed house and launched their 2 hour set with "Black Tiger", from the 1982 album of the same name. From there the band played "Lonely Side Of Town" from their Mean Streak release, one of 4 songs from that album they played, considering that they were celebrating its 30th year anniversary on this little jaunt. I tried to be critical of the band's performance but this show was about as close to perfect as you can get. The band was as tight as a drum and flawless from what I could determine, both in musical performance and vocally as well. I wish I could have aged as gracefully as Vocalist Dave Meniketti. His voice sounds like it hasn't lost a single bit in 30 years. The guys were in great spirits throughout the night as they rolled through their set with classics like "Lipstick & Leather", "Dirty Girl", "Rhythm Or Not" and "Contagious". In fact, it seems that the bulk of the bands set from this night was from the older part of their catalog, with Dave giving up the microphone at one point to longtime guitarist John Nymann, who handled vocals on the song "Squeeze" off of Earthshaker. The band dedicated the song "I'm Coming Home", which was on their most recent release, Facemelter, to the memory of former bassist Phil Kennemore, who passed away a few years ago from lung cancer. The band closed out the pre-encore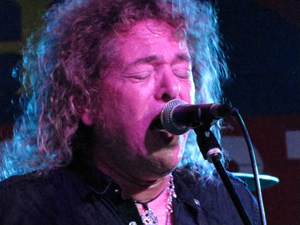 s et with "Forever", before returning for a couple of encores including "Rescue Me", which finished off the night.
The only noticeable gaffe of the night went to bassist Brad Lang, who at some point early in the show either cracked or broke out a tooth hitting the mic stand. He posted the following to his Facebook page the next morning:
"So, about 4 songs into last night's show in Houston, I miscalculate the distance on my approach to the microphone, and BAM!!! No biggie. So it stings a bunch. Whatever....
Wipe my mouth. Handful of blood.
Dude.
I must say, the night had an electric vibe on it.
Texas was burning.
Dreamland."
The whole band was out in the club area within just a few moments after the show and gladly signed autographs, took pictures and chatted it up with whoever was there. One thing I can say about Y&T is that I always get my money's worth and they never disappoint!
Y&T Setlist (In no order):
"Black Tiger"
"Lonely Side of Town"
"Mean Streak"
"Losing My Mind"
"Dirty Girl"
"She's a Liar"
"Rhythm or Not"
"Midnight in Tokyo"
"Lipstick & Leather"
"Shine On"
"Winds of Change"
"Contagious"
"I'm Coming Home"
"I'll Cry"
"Summertime Girls"
"Squeeze"
"I Believe"
"Forever"
"Eyes of a Stranger"
"Hang 'em High"
"Rescue Me"




Please log in to view RANTS

If you don't have a username, click here to create an account!