SEVENDUST/COAL CHAMBER/LACUNA COIL/STOLEN BABIES Live In Houston, Texas


By Larry Petro, News Monkey
Tuesday, May 7, 2013 @ 6:34 PM


| | | |
| --- | --- | --- |
| | | As The Band Wraps Up Their Black Out The Sun US Tour |
Georgia rockers SEVENDUST have put the wraps on their most recent US tour in support of their latest album, Black Out The Sun, with tour companions COAL CHAMBER, who reunited in 2011, Italian metal act LACUNA COIL and STLOEN BABIES, but not before making a swing through the Lone Star State to finish things off, starting with a show in Houston at Warehouse Live on Friday, April 26th.

I was really looking forward to this show for several reasons. First, the only band I had seen on this bill already was LACUNA COIL, whom I had caught for the first time on last year's Gigantour and was already a big fan of. Secondly, I was scheduled to interview either SEVENDUST vocalist Lajon Witherspoon or drummer Morgan Rose.

Well, so much for the second reason. After taking off work early from my regular day job to be at the venue in time for my 4 o'clock interview, as I was texting the tour manager to let him know that I had arrived I received a text from the production manager asking me if the interview could be rescheduled because Morgan was not going to be at the venue most of the day. Umm, okay, sure, no problem, but it would have been nice to have received that information before I took off work early. Not to mention the fact that this was my 3rd concert in 3 nights and I was dragging a little ass as it was. I could have used that extra time to take a nap or something...So, to kill the 2 hours left before the doors opened, I headed to Lucky's, a nice pub, bar & grill next door to the venue to grab some food and liquid refreshment.

First up for the evening was California experimental rock act STOLEN BABIES. These guys (and girl) kinda creeped me out. With their influence coming from 'dark cabaret', whatever that is, they came out dressed like some sinister Vaudeville outfit. Their musical style didn't impress me much, and I was certainly less impressed when lead vocalist Dominique Lenore Persi trots out with an accordian. Really? It's like the famous line from Tom Hanks in the movie A League Of Their Own when he states "There's no crying in baseball!". Sorry Dominique, but there's no accordian in metal! Luckily their set was finished by the time I had gone out to smoke a cigarette or two.
By this time the venue had filled considerably in anticipation of LACUNA COIL, who have seen their popularity really skyrocket the past few years and whose new album, Dark Adrenaline, was my personal #2 album release for all of last year. The band took the stage to a rousing response from those in attendence and launched their 9 song set with "I Don't Believe In Tomorrow", from the just mentioned Dark Adrenaline disc. The band was completely on their game and you could not have been able to tell that they had been on the road for the past 6 weeks or so because they were all very fresh, with dual vocalists Cristina Scabbia and Andrea Ferro moving all over the stage, so much so that it was very difficult to even take Andrea's picture. Of course over half of their set was songs from the new disc, which included "Kill The Light", "Upside Down", "Intoxicated" and "Trip The Darkness" before finishing up their set with "Spellbound", from their 2009 release, Shallow Life. I would have loved to see these guys on a headline tour and, alas, they did come through Houston as the headliner last year but logistics prevented me from going. Oh well, maybe next year. A great set from these guys!
After another smoke break and hooking up with my daughter and her boyfriend who had just arrived at the show, it was time for the reunited COAL CHAMBER! Heading back into the venue I discovered that the venue was now completely full! If it wasn't a sellout it was certainly close as the fans were packed in the ballroom concert area like sardines in a can. It took me almost 5 minutes just to walk acroos the width of the floor area to reach the barricade to take photos. The crowd absolutely exploded when the band came out as this was the band's first appearance in Houston (I believe) since their reunion in 2011. the band absolutely killed it, kicking off their set of 13 tracks with "Loco", from the band's self-titled 1997 debut album. The band did not let up from there, heading straight in to Big Truck", also from the first album and then "Fiend", from 2002's Dark Days release. In fact, of the 13 songs they performed, 11 of them were off of these 2 albums, with the other 2 songs, "Not Living" and "No Home" coming from the Chamber Music disc, released in 1999. The energy was electric and the center area of the floor quickly became a sea of sweating bodies slamming into each other in an incredible mosh pit throughout their performance. The only downer to their set occurred during the very first song while myslef and another photographer friend were in the barricade for the standard 'first three songs, no flash' routine. We had already been approved to shoot ALL bands at this show, but about halfway through the very first song some douchebag with COAL CHAMBER's crew came into the barricade to adjust some lights that were positioned onstage at the very front when he caught sight of me, minding my own business, shooting pics when he and his very macho Snydley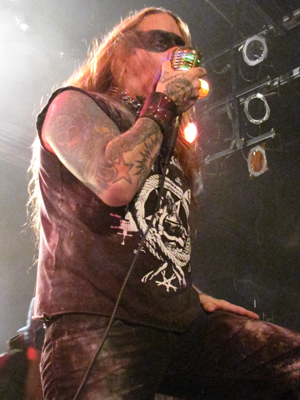 Whiplash twirly moustache starts freaking out, shouting "No Photos! No Photos!" and running us out of the barricade. Seriously? You would think that a band that had recently reunited would want as much publicity as possible, but no, he had to go and ruin it. Luckily for me, I had managed to snap a couple of photos of each band member prior to being so rudely interrupted. My fellow photographer wasn't quite so luck as he spent most of that half song taking photos of bassist Chela Harper. Tisk, tisk, too much time on the eye candy. Too bad for my daughter though, who is 25 and barely over 5 feet tall and could not see a thing that was happening onstage from her floor vantage point. At least she didn't crushed in the mayhem that ensued.
www.coalchamberofficial.com
Setlist:
"Loco"
"Big Truck"
"Fiend"
"Rowboat"
"Something Told Me"
"Clock"
"Drove"
"Not Living"
"Dark Days"
"I"
"No Home"
"Oddity"
"Maricon Puto"
"Sway"
Finally, after hours of waiting (after all, I had been at the venue since 3:30) it was time for the almighty SEVENDUST! I had been told by quite a few friends that they put on a great show and they were spot on! Vocalist Lajon Witherspoon and company took command of the evening with set opener and first single from Black Out The Sun, "Decay". You would have thought that the crowd had expended all their energy during the COAL CHAMBER set, but no, they still had plenty left in reserves and let it all loose during SEVENDUST. The band grabbed the audience by the jugular and rolled through their also 13 song set with ferocity. From "Decay", the band went straight into "Praise" and "Denial" before taking a moment to address the crowd and then slammed right back into it with "Till Death", also from the Black Out The Sun opus, then "Waffle", "Strong Arm" and "Rumble Fish", from 1999's Home, which incidentally was one of the names the band had prior to becoming SEVENDUST. The band did a superb job with their setlist, including songs spanning their entire career. From "Bitch", off their self-titled debut, to "Splinter" (Cold Day Memory, 2010), to set closer "Face To Face" (Seasons, 2004), the band was absolutely on top of their game and, once again, you got no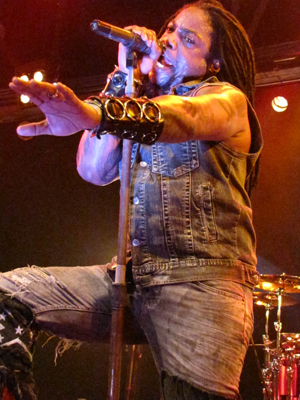 indication that the band was closing in on it's last show of the tour a couple of days later. And if my eyes did not deceive me, guitarist Clint Lowery, who had taken time off from the tour to be with his wife for the birth of a child, had rejoined the band! This was a fantastic show and certainly a band that I will go see again the next time they roll through!

www.sevendust.com

Setlist:
"Decay"
"Praise"
"Denial"
"Till Death"
"Waffle"
"Strong Arm Broken"
"Rumble Fish"
"Bitch"
"Pieces"
"Got A Feeling"
"Black Out The Sun"
"Splinter"
"Face To Face"




Please log in to view RANTS

If you don't have a username, click here to create an account!






BEAST IN BLACK Dark Connection

MASSACRE Resurgence

DREAM THEATER A View From The Top Of The World

JAY JAY FRENCH Twisted Business: Lessons from My Life in Rock 'N' Roll

BLACK LABEL SOCIETY, PRONG And OBITUARY In Portland, OR With Photos!

GEMINI SYNDROME 3rd Degree - The Raising

DORO/WARLOCK Triumph And Agony Live

BETWEEN WORLDS Between Worlds

ALCATRAZZ V

BEHEMOTH Sventevith (Storming Near the Baltic) Reissue

ALICE COOPER, ACE FREHLEY In Nashville, TN With Photos!

CARNIFEX Graveside Confessions

BLOOD RED THRONE Imperial Congregation

GUS G. Quantum Leap

BILLY IDOL The Roadside EP

AVATAR, MAGIC SWORD In Houston, TX With Photos!

APRIL WINE, MONKEYJUNK At The Ottawa Bluesfest

MINISTRY Moral Hygiene

CRYPTA Echoes Of The Soul

SKILLET In Houston, TX With Photos!

Immortal Axes: Guitars That Rock Book

IRON MAIDEN Senjutsu

GRINDER BLUES El Dos

GEORGE LYNCH Seamless Review #2

IN THIS MOMENT, BLACK VEIL BRIDES In Houston, TX With Photos!

WARLANDO Festival 2021 Photo Gallery

KISS In Ridgefield, WA With Photos!

LAURENNE/LOUHIMO The Reckoning

TREMONTI Marching In Time

ROCKLAHOMA 2021 Day 3 Photo Gallery

ROCKLAHOMA 2021 Day 2 Photo Gallery

ROCKLAHOMA 2021 Day 1 Photo Gallery

CARCASS Torn Arteries

SETH La Morsure de Christ