METAL MIKE CHLASCIAK Unleashes The Metalworker


By Larry Petro, News Monkey
Friday, May 10, 2013 @ 7:44 AM


| | | |
| --- | --- | --- |
| | | HALFORD Guitarist's New Album |
HALFORD guitarist Metal Mike Chlasciak and C.M.M. Entertainment, LLC are proud to announce the worldwide release of Metal Mike's new album The Metalworker.

Metal Mike enthuses, "Foremost, I want to say thank to you for following my metal journey and sharing the passion with me for the only style of music that simply can not be challenged as far as the presence it bestows upon a fan's life. I believe one thing as we all have in common here is that we love heavy metal - loud, pure, unbending, cranking - the voice of the gods.

It is with these thoughts that I try to approach making an album or participating in a tour. Metal for me is bigger than a CD in my collection or what's playing on the iPod while I do a task. In reality, there is no separation for me at all. It owns me and I own it. It's bigger than all of us, yet we are an integral part of keeping it strong and preserved for the next generation of metalheads.

Today is an important day for me as I'm letting you know about my new album, The Metalworker. When you do things as a solo artist it's an immense undertaking to make a record. And, since I'm a perfectionist .... well, you can put that together.

I have made The Metalworker with no compromises, no filler, no auto-tune, no crazy pro-tools or studio magic. I did it old school I suppose by today's standards. Marshalls were cranking while I went for the best takes. Same way the greatest records of all time were made by PRIEST, MAIDEN, MEGADETH and many others.

I asked the best musicians I could find to make my best album to date. Carlos Zema is a superior singer and he stands in the league of the greats. Mike LePond's bass playing drives forward SYMPHONY X, which we all know is a killer band. Drummer Kevin Talley known for his work with DAATH and SIX FEET UNDER has this wild ability to almost read my mind and provide the perfect drum parts to my riffs which is quiet rare. His double bass skills are almost machine like and I challenged him with the fastest track I ever recorded – "Hails And Horns". Let's just say, wait until you hear this! Horns Up Forever!"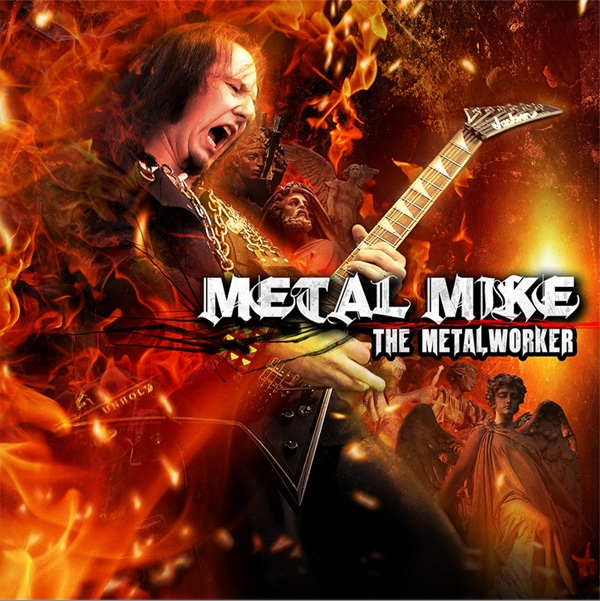 The Metalworker comes out on June 4th while iTunes pre-orders start next Tuesday on May 14th.
Official exclusive pre-sale package including a signed CD and postcard, plus a guitar pick has been launched on www.metalmike.net.
The Metalworker will be officially available via iTunes, Amazon MP3, Rhapsody, iHeartRadio, Spotify, Tradebit, My Space Music, Nokia and other major digital distributors. The album is also available in physical format across most locations that support and distribute quality metal including Century Media's CM Distro, Amazon.com, CD Universe and many others.
The Metalworker track listing:
"On Leather Wings"
"Don't Shoot The Crown"
"We Are The Cross"
"M Is For Metal"
"Hell No!"
"Tonight We Ride"
"This Is War"
"Hails And Horns"
"Weight Of The Heart"
Best known as the long standing guitarist to JUDAS PRIEST frontman Rob Halford, Metal Mike, has also recorded and/or shared stages with Bruce Dickinson, Axl Rose, Geoff Tate, Sebastian Bach, Rudolf Schenker and TESTAMENT. He has released several solo-based albums, guitar books, a metal guitar instructional DVD, and writes his own monthly column 'Metal For Life' for Guitar World Magazine.

For more information, please visit Metal Mike's Official Site www.metalmike.net




Please log in to view RANTS

If you don't have a username, click here to create an account!