It's not every Canada Day long weekend that I truly celebrate the birth of my nation in style outside of my usual foray into the annual Red Dress Run with my local Hash House Harriers chapter where we usually run into the hordes of red-clad revellers catching the annual free show on Parliament Hill. With my ninth year taking part in the event I couldn't help but notice how the live entertainment has gotten worse every year. When Carly Rae Jepsen is headlining over Lt. Chris Hadfield - better known as the Canadian astronaut who got David Bowie's attention by performing "Space Oddity" while actually in space - you know that you've made the right decision in attending another event instead.

And after a 3-hour running and drinking relay which included an unwise decision to participate in the Beer Mile I managed to sober up in time to catch the fretboard magic of legendary Canadian rock icon Pat Travers as he performed his first show in Ottawa in at least a quarter-century at the Brass Monkey - though sadly not early enough to catch the opening bands including the LEAGUE OF ROCK ALL-STAR BAND and GAMUT. I will say that if either were good enough for opening for Pat Travers, they've already piqued my interest in catching their future performances. Meanwhile, the latest PT lineup of Travers, Kirk McKim (guitars, vocals), Sandy Gennaro (drums), and Rodney O'Quinn (bass) merits everyone's undivided attention.

Opening with the boogiefied number "Rock 'N Roll Suzie" from 1977's Putting It Straight, Travers and his entourage rocked for a good 2 hours with a setlist that covered many a spectrum from an illustrious career spanning a good 4 decades. Older material, newer material, popular material, even someone else's material....the spectrum was not only completely covered but nicely balanced. And the musicianship was top-notch yet with lots of raw fury and lots of talent to go around. Not to mention lots of soloing to go around which Travers was only too generous to allow Kirk McKim to indulge in as well. Being Canadian and all, Pat Travers is generous like that and I'm sure he gets that a lot from his bandmates. I swear you could hear Pat and Kirk at one point debating over who should take the break in the lead for "If I Had Possession Over Judgement Day". "But I took the lead during 'Stevie' earlier!" "Yeah, but you totally nailed the first lead in 'Heat In The Street' like a boss!" Not that I spent the whole concert reading lips when I was busy being mesmerized by the dual guitar interlude during classics like "Snortin' Whiskey" and "Boom Boom (Out Go The Lights)" but I'm almost positive that was how the conversation went down.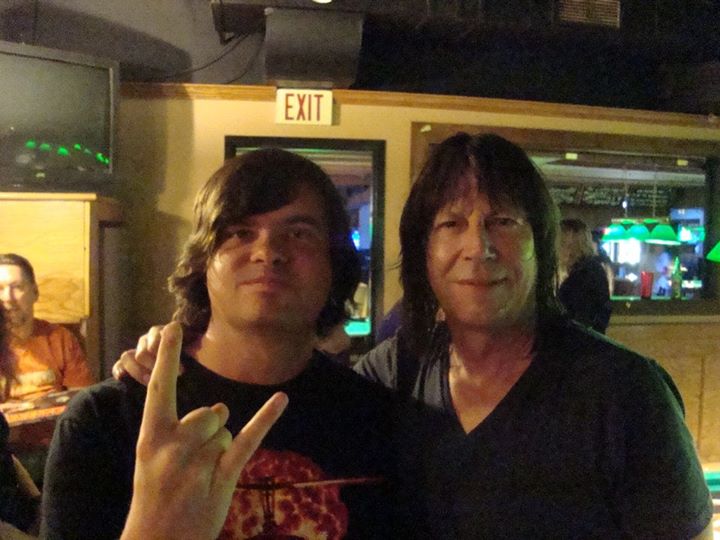 And it wasn't just the classics that gelled with the fans that night; with his neatly-titled new disc Can Do (his 23rd studio album), Pat Travers also included some choice cuts from said disc and while his magnetic fretboard magic isn't as dominant on this disc than it was on previous albums he still has the gift of writing catchy songs. "Josephine" was a laid-back rock song that was happy to flirt with pop nuances while "Diamond Girl" and the title track boasted some elements of early CHEAP TRICK with some of Travers' signature rhythm work tossed in for good measure.
Did I mention the classics like "Snortin' Whiskey" and "Boom Boom (Out Go The Lights)" were utterly awesome live and worth the past 12 years of bugging many a radio DJ to play often?
Finally, offstage, it turns out that Pat Travers has just as much play as he does onstage judging by the large women-to-men ratio in the lineup to see him after the show. And he also has a helluva a lot more fans in Ottawa than he or anyone would've estimated. Getting some face time with the Mack Daddy of Canadian hard rock did happen eventually but it took longer than expected as he did have a good 3-4 generations of fans before and after me to meet and greet - and some of those fans brought lots of memorabilia for him to sign including one woman who had a virtually intact poster of Travers in one of his first bands, RED HOT. Needless to say, her and Travers chatted for a good 30 minutes about when and where she saw the concert (mid-70's though I didn't catch the name of the venue unless someone would like to verify that story for me) and after that, it was hard to top that level of fandom though Travers said he was definitely looking forward to the KNAC review afterwards.
So while the likes of Carly Rae Jepsen are what constitutes as bonafide Canadian talent that the kids are into these days, remember that just because her "hit" song "Call Me Maybe" is the party anthem of the new millennium due to millions of YouTube hits she still couldn't master the solo on "Statesboro Blues" nor will she ever worry about losing her drummer to IRON MAIDEN.
This is now your cue to buy Pat Travers' new disc Can Do after you've caught his riveting live show.
http://www.pattravers.com/
Setlist:
"Rock 'N Roll Suzie"
"Heat In The Street"
"Crash And Burn"
"I've Got News For You" (Ray Charles cover)
"Black Betty" (RAM JAM cover)
"Josephine"
"Can Do"
"Diamond Girl"
"Stevie"
"Black Dog Blues" (BLIND BLAKE cover)
"Red House" (Jimi Hendrix cover)
"If I Had Possession Over Judgement Day" (Robert Johnson cover)
"Snortin' Whiskey"
"Boom Boom (Out Go The Lights)" (Little Walter cover)
"Statesboro Blues" (ALLMAN BROTHERS cover)
You can purchase Can Do by Pat Travers now in the KNAC.COM More Store right HERE