By Andrew Depedro, KNAC Ottawa Correspondent (And Occasional Mitch Lafon Spotter)

Sex! Action! Rock 'N Roll! Mitch Lafon mentioned in another of my reviews but for a good cause!

KISS played the day before - hence the second Mitch Lafon sighting - but it was on a work day and this show was a fraction of the price I would've paid for tickets. And you have that Bluesfest review I did for 'em from 3 years ago so I'll be reviewing a band I haven't seen before.

Starting off the show following an entertaining performance of "For Whom The Bell Tolls" during their rehearsal would be local band Anger Inc., who continue with the eclectic covers setlist. Though I'm not too sure if having a setlist of Ozzy, IRON MAIDEN, METALLICA, MEGADETH and Priest songs would qualify a band for being eclectic. With that said, at least they not only chose the better songs from each band's catalogue (even though I've seen all of those bands at least about once or twice when they've performed these songs) but they play them with pride and the segueway from one song to the next fits them well. From opening with "Bark At The Moon" (complete with an even more intimidating laugh after the first chorus) to easing into "Seek And Destroy" and "Aces High" to capping off with "Symphony Of Destruction" and "You've Got Another Thing Comin'", Anger Inc. may sound at first like a cover band becoming too comfortable with their selected material but over time they'll find their own music and voice if their musicianship is anything to go by.

https://www.facebook.com/pages/Anger-Inc/141503456031845

Taking the stage afterwards in a flurry of true grim evilness, corpse paint and black outfits were the female-fronted local Medusafied gothic shock rockers CREEPING BEAUTY who limited their covers to TWISTED SISTER's "Stay Hungry" and KISS' "I Stole Your Love" (for they too were at the concert the day before) but left the rest of their set available for their own original material. From the brooding melancholy of "Under A Blood Red Moon" and "To Take A Life" to the unbridled energy of "Nightmare" and "Bloody Witch Hunt", this local quintet made a point to stand out from much of their competition and succeeded. To their advantage they had a charismatic and sinfully hot-looking redheaded female singer who was never above showing cleavage of any sort, a lead guitarist with the energy of three other guitarists compressed into his small frame, and a drummer/complete ham who could capture a solid beat using just about every object he could get his hands on including using four drumsticks and his actual drum stool to complete a song or a solo - and without missing a cue. Now that was beauty in itself.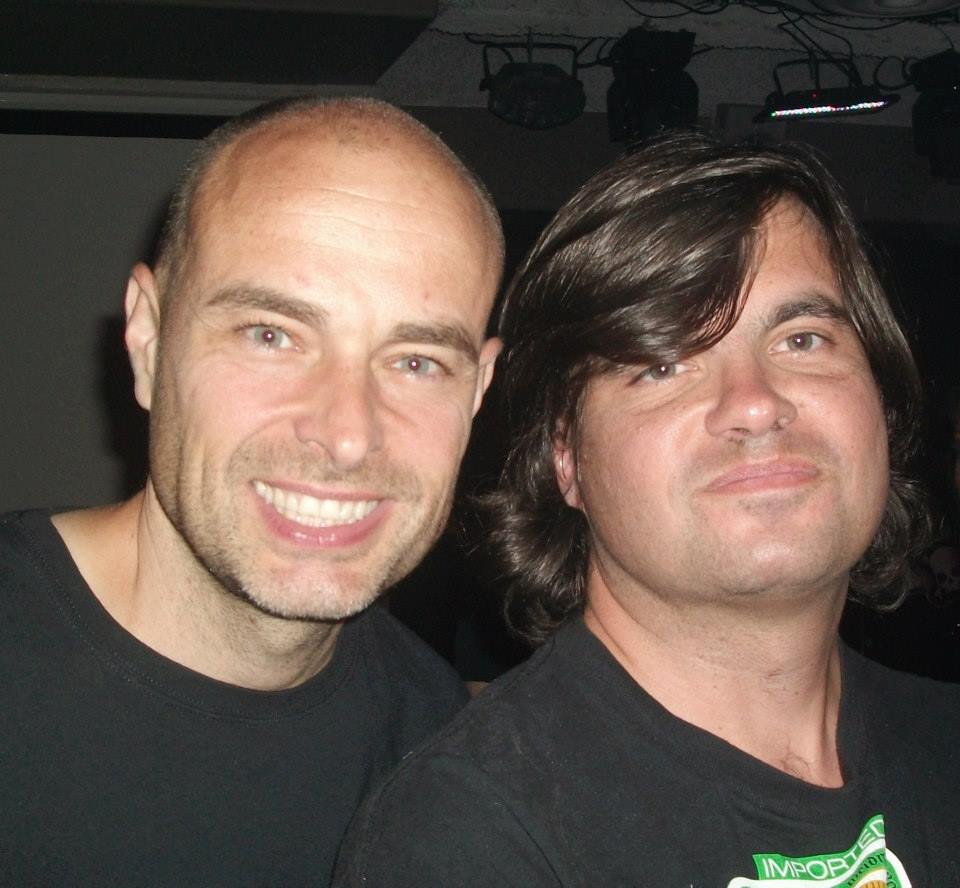 http://www.creepingbeautykills.com
While it's been too much of a daunting task to keep up with their revolving door of a lineup over the past two decades as well as with the erstwhile attempts to capitalize on the name by starting up a new band with pretty much the same name, sometimes it's often best to focus on the music rather than the drama. This bodes well in particular for headliners L.A. GUNS, who in spite of being a slimmed-down version of its classic lineup with only frontman Phil Lewis (now also handling rhythm guitar duties) and drummer Steve Riley remaining, could still bring forth an action-packed set some 25 years later after their self-titled debut took on their better-known counterparts such as GUNS 'N ROSES and MOTLEY CRUE in the quest for sleazy Hollywood glam rock debauchery and Sunset Strip supremacy. With choice cuts mostly stemming from their first three classic albums as well as their most recent opus Hollywood Forever, the band made sure that it was the songs mattered regardless of whose style was incorporated into them.
But first, some minor technical difficulties to get out of the way first; otherwise, current guitarist Michael Grant and bassist Scott Griffin absolutely nailed opening numbers "Sex Action" and "Never Enough". On the newer material such as "You Better Not Love Me", "Sweet Mystery" and "Gypsy Soul", Grant and Griffin brought forth their own signature sound on the songs which gave them more of an opportunity to branch out musically rather than feeling imposed to following the note patterns of their predecessors on the classic songs.
And while we're on the subject of faithful renditions of classic songs, the recent release of A World With Heroes not only reflected a milestone in KISS' history in which the legendary shock rock band officially celebrated 40 years of touring and recording as well as influencing many performers for generations to come, including Phil Lewis (who along with bassist Scott Griffin cut a cover of "Master And Slave" on the disc), but for its brainchild and creator Mitch Lafon, it was also a well-honored repaid debt and a tribute to his late father-in-law who passed away from cancer earlier this year. With all of the proceeds of the album going towards improving the quality of cancer care facilities such as the one where Mitch's father-in-law was looked after at, it was only fitting that the man who oversaw the whole project be given special recognition for his efforts by Phil Lewis, who invited Mitch up on stage to thank him for his hard work and encouraged everyone to get their hands on A World With Heroes wherever possible. If memory serves me correctly I think some stores in Quebec such as Bou Clair carry the album. Otherwise it's best to maybe persuade Mitch to reserve a copy or two like I've been doing.
Back to the music, L.A. GUNS close their set with another solid cover performance - a thundering rendition of SABBATH's "Fairies Wear Boots" - and the thumping closer "One More Reason". After the show a missing photo op involving both Phil Lewis and Mitch Lafon onstage culminated in my own photo op involving myself and Mitch during the post-show meetup. And I even got a few pics with Michael Grant and Scott Griffin who at that point were all hugged out from the barrage of female fans before me that got to pose in photos with them.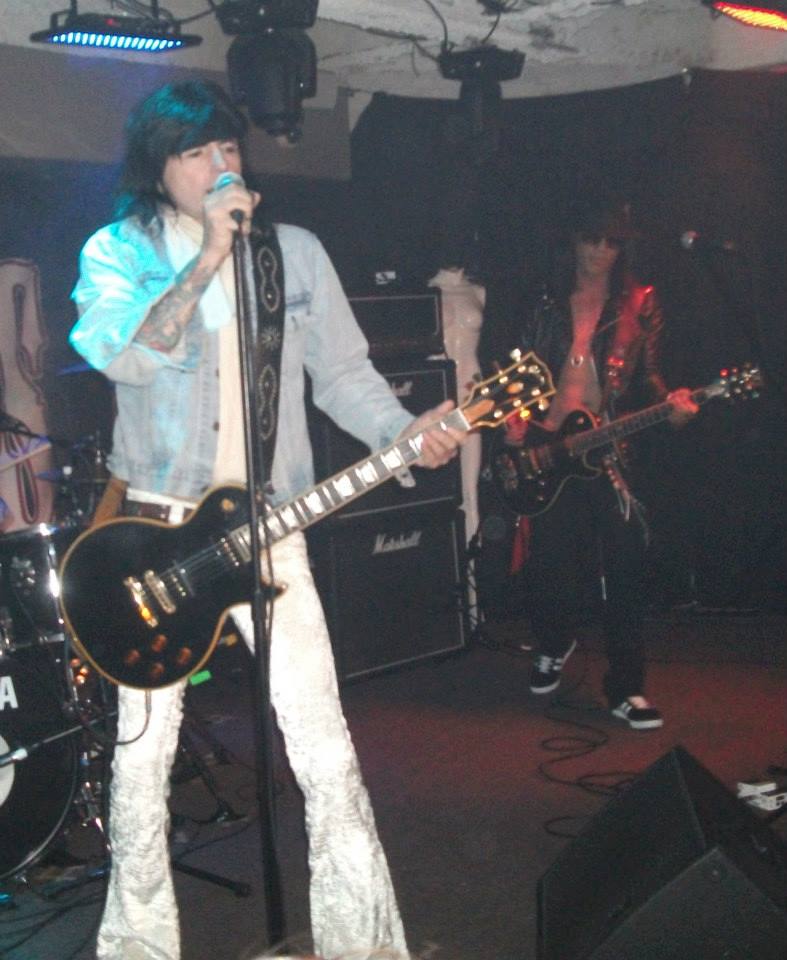 And while the L.A. GUNS lineup saga remains an enigma for some fans to deal with, any type of action is better than no action for people to talk about and that's why the band drew a favorable crowd that night since their first outing to Ottawa 25 years ago. And these are the types of shows with a legacy that'll last forever in Hollywood and beyond.
Thanks again to Dion and Obsession for making this show possible.
http://www.laguns.net
The KNAC.COM article in question about Mitch Lafon's A World With Heroes project: HERE
Setlist:
"Sex Action"
"Never Enough"
"I Wanna Be Your Man"
"Over The Edge"
"You Better Not Love Me"
"Sweet Mystery"
"Gypsy Soul"
"Kiss My Love Goodbye"
Phil Lewis gets Mitch Lafon onstage to help promote his A World With Heroes charity CD
"Vampire"
Drum solo and guitar jam
"Fairies Wear Boots" (BLACK SABBATH cover)
"Electric Gypsy"
"The Ballad Of Jayne"
"Rip 'N Tear"
Encore: