The reunited KILLER DWARFS hit the road last month in support of their latest release Start @ One. I was really excited to see that they had scheduled a date in Streetsboro at the Z-Plex inside of Stringz & Wingz. The Z-Plex is a sizeable venue with top notch lighting and ample sound that really is a fantastic place to catch a show.

Up first was the Cape Coral, FL-based MODERN SUPERSTAR. Although the crowd that had gathered was rather sparse, the band went on to perform relentlessly-leaving it all on stage and giving it their all. While touring with KILLER DWARFS their soon-to-be released EP is being reworked and should drop this fall. MODERN SUPERSTAR mixed hooks and melodies in with more of an edgy vocal. The blazing guitar solos of Lorenzo DelVeccio took edgy punk-like riffs to the next level. I was really surprised by MODERN SUPERSTAR and I am really looking forward to their new EP.

https://www.facebook.com/modernsuperstar1
http://www.officialmodernsuperstar.com/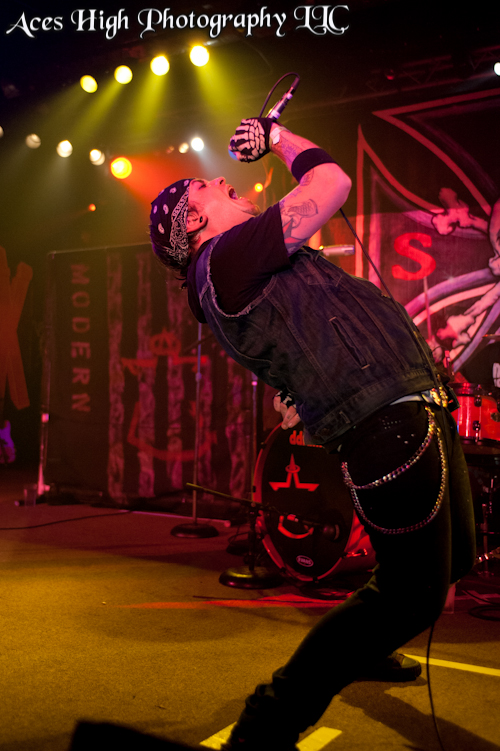 Setlist:
"Rise Above"
"Two Months"
"Want You"
"Rock Show"
"Generation Star"
"Blue"
"Love Is Crazy"
"Devil's Playground"
"Dirty Girl"
"Peace of Mind"
"Burning Pages"
"Save Me From This"
After a swift set change it was time for KILLER DWARFS to take the stage. Hailing from the great white north – KILLER DWARFS has always had a cult following of rabid fans here in the states. Drummer Darrell Dwarf refers to them as "Dwarf Nation" and although the expansive venue was only partially filled-it was filled with the most crazed KILLER DWARFS fanatics that were there to scream every lyric of every song right back at vocalist Russ Dwarf.

As far as the performance…well lets just say Doc Brown could have picked me up in the DeLorean and taken me back to 1986 and I would not have been able to tell the difference. The KILLER DWARFS were absolutely fantastic. Gerry Dwarf's guitar parts were perfect, Darrell Dwarf was steady behind the drum kit, and newest member Johnny Dwarf was solid on bass. It was frontman-extraordinaire Russ Dwarf that stole the spotlight.

Russ Dwarf was non-stop entertaining as he flipped, spun, and did head stands to the audience's delight. At one point he ran out into the crowd and continued to sing while he mingled with fans. Russ was nothing but pure, uninhibited, energy. He demanded more from the crowd and the crowd provided it. But he wasn't a one-trick pony - his voice was pitch-perfect. I would have never expected after all of these years that Russ would still be able to hit those notes, but I was proven wrong. Between the stage antics, the tightness of the band, and the incredible vocal performance, it was an amazing show put on by professional entertainers. KILLER DWARFS

played "Start @ One" – the title track off of their new release, to give us a taste of the new material. Russ Dwarf went into further detail about the new album in our post-show interview which can be read in its entirety HERE.

After the show the entire band hung out, signed autographs, and posed for pictures. Russ, Darrell, Johnny, and Gerry are some of the nicest, most humble people you will ever meet. They don't take their fans for granted and they proved it by hanging with all of the "Dwarf Nation" that was present long into the night.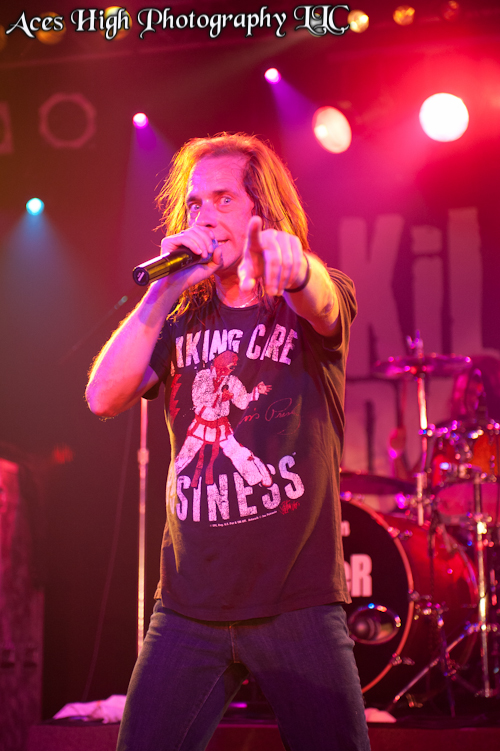 https://www.facebook.com/russdwarf
https://www.russdwarf.com

"Stand Tall"
"Hard Luck Town"
"Believe In Me"
"Last Laugh"
"Driftin' Back"
"Union of Pride"
"Startin' to Shine"
"All That We Dream"
"Doesn't Matter" (Acoustic)
"Nothin' Gets Nothin'"
"Just as Well"
"Start @ One"
"Heavy Mental Breakdown"
"Comin' Through"
"Keep That Spirit Alive"
Encore: Check out some photos from the show!

All Photos By Geoff Ketler/Aces High Photography