AVENGED SEVENFOLD, DEFTONES And GHOST B.C. Live In Cincinnati With Photos!

By Geoff Ketler, Cleveland Contributor
Thursday, October 10, 2013 @ 7:09 PM

| | | |
| --- | --- | --- |
| | | The Hail To The King Tour Wrecks A Packed US Bank Arena |
It was a soggy October day along the banks of the Ohio River where AVENGED SEVENFOLD's Hail to the King Tour was about to make a stop at the US Bank Arena. The line to get in started gathering several hours in advance. By show time, the arena was packed to the gills as the anticipation grew.

Up first was the Swedish doom metal group GHOST (GHOST B.C. in the United States). The band is comprised of several nameless ghouls and the vocalist, Papa Emeritus. The ghouls adorn hooded robes and masks in order to preserve their anonymity and of course to add shock value, while Papa Emeritus wears a papal-related costume, but with a more sinister twist.

As the arena went dark, the nameless ghouls took their positions on stage. Papa Emeritus was last to take his place on stage to a huge roar from the audience. The image the band portrays on stage is quite a sight to see. Musically they remind me almost of psychedelic rock – like BLUE OYSTER CULT or something. They take heavy progressions, add a little worship-like organ, and top it off with a very beautiful and haunting vocal. The show had its horror film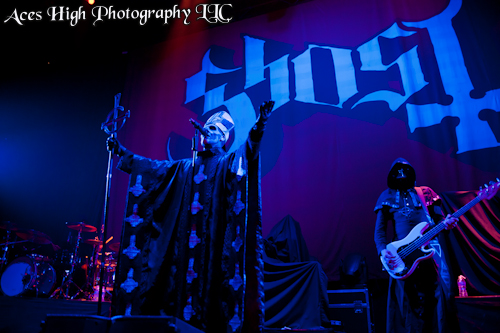 likeness to it and musically the band was sound. GHOST B.C. was definitely one of the most peculiar acts I had seen open a show, but I think by flying into the face of everything that is popular and trending in music today they have dug out their own niche with a growing fanbase.
Setlist:
"Infestissumam"
"Per Aspera ad Inferi"
"Con Clavi Con Dio"
"Stand by Him"
"Year Zero"
"Ritual"
"Monstrance Clock"
After a quick set change it was time for DEFTONES to take over the arena. From the first note on, the band was just full of energy. Vocalist Chino Moreno never stopped moving. At one point he jumped off stage, climbed the barricade and dove into the crowd. This was my first live encounter with DEFTONES and they did not disappoint.

Highlight of the set was not only hearing "Tempest" but hearing the crowd's reaction to the DEFTONES when they began playing "Tempest". The fans collectively screamed as the recognizable chords were played. Chino Moreno really knows how to work the audience and the intensity that DEFTONES brought to their live performance really re-energized the crowd after being basically stunned by the shock value of GHOST B.C.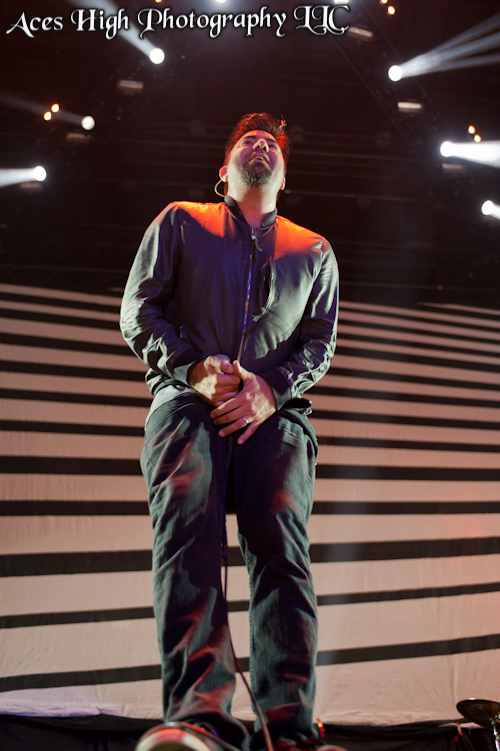 Setlist:
"Diamond Eyes"
"Rocket Skates"
"Be Quiet and Drive (Far Away)"
"My Own Summer (Shove It)"
"Rosemary"
"Poltergeist"
"Tempest"
"Swerve City"
"Change (In the House of Flies)"
"Birthmark"
"Engine No. 9"
There was no shortage of fire as AVENGED SEVENFOLD opened their headlining set with "Shepard of Fire", off of their latest release Hail to the King. The big production show included a massive three dimensional castle complete with video monitors in the windows and a wide staircase leading to the drum riser which sat right in front of the castle gates. During the title track off of their new album the gates to the castle opened revealing a massive crowned deathbat sitting on a throne of skulls, a recreation of the album artwork. The head moved back and forth as if it was looking out over the packed house. I knew ahead of time that this was going to be revealed at some point during the set and waiting for it was kind of like waiting for Eddie to appear during an IRON MAIDEN show.

AVENGED SEVENFOLD went on to perform a near-flawless set highlighted by a ridiculous pyrotechnic masterpiece of a show. The band spared no expense when it came to fire, flash pods, fireworks, and explosions. It seemed like nearly every song had something that burned or went pop in the middle of it. The only hiccup came late in the set when I heard a lot of static over the PA and looked down to see roadies and sound guys scrambling to find a solution. This went on for about half of "Bat Country" but was eventually resolved.

AVENGED SEVENFOLD mixed in a handful of new songs off of Hail to the King along with the typical fan favorites like "Critical Acclaim", "Welcome to the Family", and "Nightmare". The band dedicated "Fiction", a piano-driven ballad of sorts, to their fallen band mate, Jimmy "The Rev" Sullivan. Vocalist Matt Shadows introduced the song as being the last song The Rev ever wrote or sang on. The video monitors in the castle windows displayed a loop of pictures of The Rev during the song. AVENGED SEVENFOLD ended their set with their breakout hit "Bat Country" and encored with two oldies but goodies, "Chapter Four" and "Unholy Confessions", off of the Waking the Fallen album.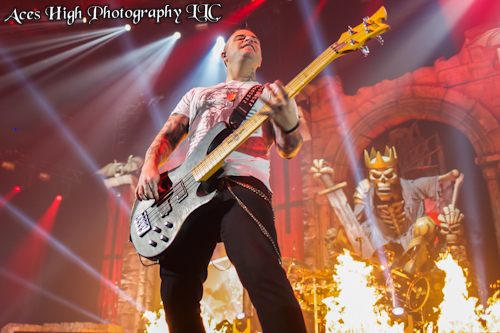 It was a solid night of metal performances by an interesting mix of bands that all just seemed to fit well together. I was also really pleased to see a packed house at a rock show. Way too often I feel disappointed by the attendance at some of these shows I attend here in Ohio, but my fellow metal heads in Cincinnati turned out in droves to see a fantastic show from one of metal's current biggest bands. Do not miss this tour when it rolls into your city.
Setlist:
"Shepard of Fire"
"Critical Acclaim"
"Welcome to the Family"
"Hail to the King"
"Doing Time"
"Buried Alive"
"Fiction"
"Nightmare"
"This Means War"
"After Life"
Synyster Gates Guitar Solo & Band Jam
"Requiem"
"Bat Country"
Encore:
"Chapter Four"
"Unholy Confessions"
Check out photos from the show!
All Photos By Geoff Ketler And Steve Keller of Aces High Photography