SAXON
Sacrifice
UDR Music





The New Wave Of British Heavy Metal. One of the greatest genre's of music (in this humble scribes opinion) that ever came out. It spawned legends like DIAMOND HEAD, IRON MAIDEN, HOLOCAUST, GASKIN, RAVEN, (early) DEF LEPPARD, and SAXON. Their 1st album (self-titled) came out in 1979. 'Where were you in '79 when the damn began to break'? as the legendary "Denim and Leather" song so prophetically says. Unfortunately not the full-on original band as Steve Dawson and Graham Oliver have been replaced years ago by Nibbs Carter (bass) & Doug Scarratt (guitar). The band have been churning out albums and touring pretty much non-stop, flying the Union Jack high for classic British Metal.

The latest release is Sacrifice and it's one of the best they've done since the glorious 80's IMO. But what makes it better than Lionheart or Call To Arms? It's the songs. Just a more NWOBHM sound and great songs, instead of sounding more like a Euro Power Metal band. (Not that there's anything wrong with that mind you).

All SAXON albums pretty much have had mostly similar styled covers, kinda low-key with the SAXON logo and an illustration of the album title. This one (Sacrifice) is no different, with the cover a Mayan-type shield.

The first song, "Procession", fits that cover very well, an intro instrumental with tribal drums and almost movie soundtrack music to accompany it. That leads into the title track, "Sacrifice", with a killer riff to kick things into gear nicely. Biff Byford (vocals) sounds better than ever. Another thing about SAXON I've always loved is Biff's lyrics, a great storyteller he is. Lyrically tying into the cover about the city of gold and giving your life to appease the Gods. Great melody that goes great with the heaviness of Paul Quinn's riff.

"Made in Belfast" is about the glory days of the sea, building the great ships that sailed so long ago. Starting with some subtle Irish acoustic guitar leads into a grand mid-paced tune with Biff melody lines keeping it all together. And it transferred well to the live stage as well.

"Warriors of the Road" starts off with the scream of a Formula 1 car racing by. This song is all about the love of the biggest Motorsport in the world. A very uptempo number, it has some great soloing from Doug as well. Just a cracking song from top to bottom and one of my faves on the album.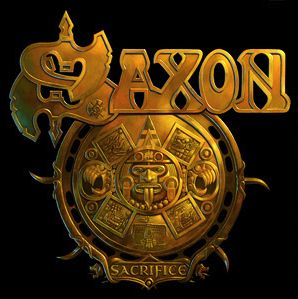 "Guardians of the Tomb" slows things down a bit initially before kicking into a driving riff that will surely make that head bang!! Biff really shines on this song as the chorus is just brilliant, sending shivers up my spine. Dealing with the Warriors who were buried to always serve their leader, this is another fave and a standout track.
"Stand Up and Fight" is next, much like "Stand Up and Be Counted" from Wheels of Steel, tells you to keep fighting the good fight, and never to give in to the bastards that try to bring you down. The heavy riff is perfect to get that fist in the air and shouting out those lyrics! I'll say there's not a daft track on here, and multiple listens gives a different fave track to enjoy. A great track here.
"Walking the Steel" is an ode to the Twin Towers and the rebirth of them in NYC. Something that I'll never forget as long as I breathe, SAXON let us know that they too will never forget. As powerful as the legendary "Dallas 1pm" lyrically but not on par musically as that epic track. Still, a grand effort nonetheless.
"Night of the Wolf" is about beast hunting man instead of the reverse. A slower tempo fits the song well, as the chorus will stick in your dome guaranteed!! I've had it pop in my head the last few nights at work and I wasn't even listening to it that day.
"Wheels of Terror" brings the tanks of war into the forefront, an almost forgotten tool in modern warfare. A driving uptempo part in the middle makes a surprising visit bringing a swift kick in the arse to this track. Well done indeed.
"Standing in A Queue" is one of those tracks that everyone can relate to. With a total 80's beat behind it, Biff tells the tale we all know about waiting in lines for everything. I can't stand lines myself so I feel a special bond with this track and it's the perfect ending to a superb album buy these UK Legends!

If your fortunate enough to grab yourself a digi-book of this album, it comes with a 2nd bonus cd of alternate takes on older but still great tracks. Acoustic versions of "Requiem" and classic "Frozen Rainbow", re-recorded versions of "Forever Free" and "Just Let Me Rock" and an orchestrated version of "Crusader" is what's in store for you, and giving you more bang for your hard earned dollars. In addition, this release is also available in vinyl format, something that seems to be making a comeback with a lot of bands of late.

All-in-all an outstanding album that I'll be curious to see where it rates in the hallowed history of the mighty SAXON in years to come.

****1/2 out of 5 horns up! \\m//