PAPA ROACH & POP EVIL Live in Youngstown, Ohio With Photos!


By Geoff Ketler, Cleveland Contributor
Sunday, October 27, 2013 @ 1:58 PM


| | | |
| --- | --- | --- |
| | | PAPA ROACH & POP EVIL Leave It All On Stage |
The Rodeo Music Hall outside of Youngstown hosted a stellar rock show to treat the droves of fans that lined up on a rainy Wednesday evening. This place is obviously more of a country-western geared venue, but I was more than happy to walk through those doors to see one of my favorite live acts and to my surprise the roomy concert hall was at or near capacity. Often times these back-woods clubs that are off of the normal concert trail will not draw huge crowds because of the lack of promotion from Livenation and radio stations, but this was not the case. I tip my cap to the venue for getting the word out there.

POP EVIL took the stage to "Deal with the Devil", off of their latest release, Onyx. This was my first live experience with POP EVIL and they would go on to impress. The setlist focused on their latest release Onyx, but the highlight of the set was hearing "Boss's Daughter", off of their 2011 release, War of Angels. It's just such a great song that they co-wrote with Mick Mars, very crunchy and up-tempo. POP EVIL was really tight and very animated on stage. I have to give kudos to drummer Chachi Riot (AKA Josh Marunde) for being one of the most animated drummers I have ever seen. It wasn't just the stick spins and tosses, but the facial expressions and demeanor that really got my attention.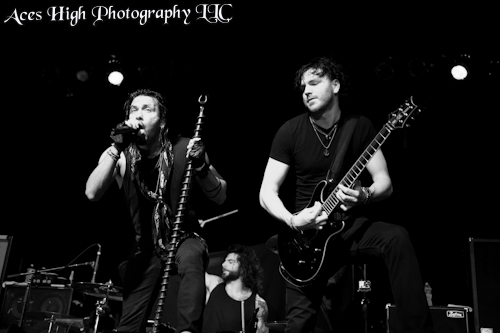 POP EVIL wrapped up their set with "Trenches". Their hit "Trenches" has been inescapable. Whether it is radio airplay, spinning on KNAC.COM, or during Monday Night Football, "Trenches" had been reaching audiences everywhere. Vocalist Leigh Kakaty made his way to a bar in the center of the floor and stood up on it to get everyone's attention in the back as he belted the chorus line. It was a great show all around.
https://www.facebook.com/popevil
www.popevil.com
Setlist:
"Deal With the Devil"
"Hero"
"Torn to Pieces"
"Sick Sense"
"Goodbye My Friend"
"Breathe"
"Monster You Made"
"Boss's Daughter"
"Last Man Standing"
"Eye of the Tiger" (SURVIVOR Cover)
"Trenches"
After the set change it was time for PAPA ROACH to hit the stage. Touring in support of their latest release The Connection, PAPA ROACH brought with them their energetic stage show that demanded crowd participation. The quartet blasted through a massive set with effortless precision and vocalist Jacoby Shaddix sounded great considering his past vocal issues. One thing that has always been a constant in PAPA ROACH shows is the fact that Jacoby always finds a way to excite the crowd. He is the quintessential front man-always moving and entertaining. Jacoby probably spent as much time mingling in the crowd and jumping on the bar in the center of the floor as he did on stage. It was all part of his nonstop, pedal to the metal effort.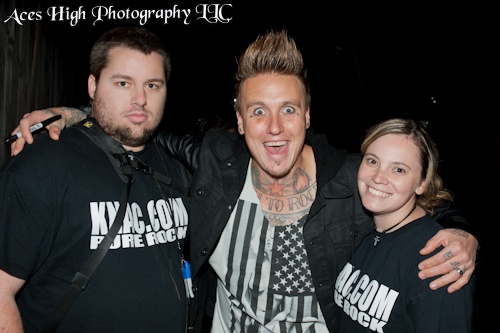 During "Hollywood Whore" Jacoby was lying on the bar when one of the bartenders brought him a shot. He responded by saying; "My name is Jacoby Shaddix and I am an alcoholic." He went on to explain to the audience how he is just about two years sober now which drew cheers. I think it is also worth mentioning that Jacoby wore a black vest on stage with a giant white cross on the back. There is no doubt that some aspect of spiritualism has played a role in his recovery over the past couple of years.
After the blazing set from PAPA ROACH, Jacoby Shaddix and drummer Tony Palermo mingled with fans in the parking lot; taking pictures and signing autographs. I always like seeing this. Way too often a band will blow off their hard core fans once they make it big. This is not the case with PAPA ROACH and I have even more respect for them because of this. The tour wraps towards the end of this month and PAPA ROACH will be spending the majority of the rest of the year in Europe.
www.paparoach.com
www.facebook.com/paparoach
Setlist
"Burn"
"Silence is the Enemy"
"Blood Brothers"
"Give Me Back My Life"
"Between Angels and Insects"
"Where Did the Angels Go?"
"Forever"
"Leader of the Broken Hearts"
"Still Swingin'"
"Born With Nothing, Die With Everything"
"Before I Die"
"Scars"
"Lifeline"
"Hollywood Whore"
"…to be Loved"
"Getting Away With Murder"
"Dead Cell"
"Last Resort"
Check out more photos from the show!
All Photos By Geoff KEtler/Aces High Photography

Please log in to view RANTS


ACID KING Beyond Vision

STEEL PANTHER On The Prowl

NIGHT DEMON Outsider

YNGWIE MALMSTEEN In Ottawa, Canada

THEORY OF A DEADMAN, SKILLET, SAINT ASONIA In Houston, TX With Photos!

OFFICER X Hell Is Coming

PERIPHERY Periphery V: Djent Is Not A Genre

INSOMNIUM Anno 1696

STEEL PANTHER, CROBOT, TRAGEDY In Houston, TX With Photos!

BABYLON A.D. Live Lightning

ROTTING CHRIST, CARACH ANGREN, UADA, GAEREA In Houston, TX With Photos!

MOTÖRHEAD Bad Magic: Seriously Bad Magic

TRAGEDY I Am Woman

ROXANNE Stereo Typical

ANTHRAX, BLACK LABEL SOCIETY, EXODUS In Houston, TX With Photos!