SLAYER Live In Silver Spring, Maryland


By Peter Atkinson, Contributor
Thursday, November 21, 2013 @ 3:41 PM


| | | |
| --- | --- | --- |
| | | At The Fillmore On November 19, 2013 |
If this is indeed the last hoorah for SLAYER, then they certainly are going out with a bang. If not, then reports of their demise are being greatly exaggerated, to paraphrase Mark Twain.

SLAYER put on an absolute barn burner of a show at a jam-packed Fillmore that harked back to their Decade of Aggression live album era of 1991 – and had all the urgency and fire to match, despite the tumult and tragedy the band have endured this year with the death of founding guitarist Jeff Hanneman and the dismissal, once again, of original drummer Dave Lombardo. Their ferocious 20-song set was a rather awesome 90-minute trip down memory, showcasing material from Seasons In The Abyss and before – as well as a curveball cover of EXODUS' "Strike of the Beast" as a nod to guitarist Gary Holt, who has done double duty filling Hanneman's spot for nearly three years while continuing on with EXODUS.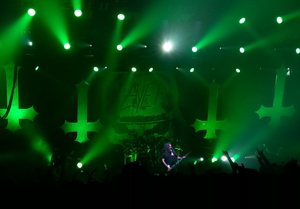 The old-school set was a fitting tribute to Hanneman's legacy, if nothing else, as the music for every song – save, of course, "Strike" - was written, or at least co-written, by the late guitarist. And though no mention of his passing was made by frontman/bassist Tom Araya, a Hanneman/Heineken label banner was lowered in his honor as the monumental "South of Heaven" and "Angel of Death" brought the show to a close.
Going into this tour, much was being made as to what the future may hold for SLAYER once it was over – now that Hanneman is gone and Lombardo has been replaced by Paul Bostaph, in his third stint with the band – and if it might be their last. And though the "classics" set easily could be seen as SLAYER taking a victory lap, along with offering a final salute to Hanneman, before packing it in, they certainly didn't perform like a band playing out the string after a 30-plus year run.
SLAYER were their usual business-like, murderously efficient, eminently formidable selves. Holt has really given SLAYER a lift during his time with the band, and that certainly shows no sign of ebbing if the Fillmore show was any indication. His natural energy and animated presence make for the perfect contrast to Araya's stoic visage – now that his surgically repaired neck precludes him from headbanging or hair twirling – and guitarist Kerry King's menacing posture, and bring a looseness that makes the band's performance all the more intense.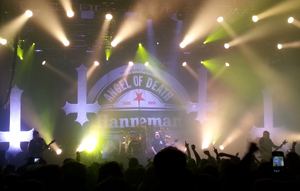 After opening with "Hell Awaits", SLAYER ripped through old nuggets like "The Anti-Christ", "Altar of Sacrifice/Jesus Saves", "Black Magic" and "Captor of Sin" and revered staples "War Ensemble", "Mandatory Suicide", "Dead Skin Mask" and "Raining Blood" with equal and unbridled authority, driven by Bostaph who seemed more relaxed and less rigid than he sometimes did in the past. The inverted crosses that dangled over the stage made for a blasphemous counter to the chandeliers on the Fillmore's ceiling above, and were the perfect accoutrement to the proceedings.
SLAYER killed it at the Fillmore, plain and simple. They were as vicious and viscerally satisfying as any of the 30-some other times I've seen them, and seem like they've got plenty left in the tank despite being down to two original members. Their tour T-shirts boasted of "World Domination 2013-2014", so let's hope that's not an idle threat and we'll be seeing more of the band down the road.
France's GOJIRA, had a pretty rough go of it on this night as SLAYER's main support. The band have been on tour almost constantly this year, and it showed. They were uncharacteristically sluggish and off their game during the first half of their 45-minute set, and an irksome mix that muffled Joe Duplantier's vocals and bassist Jean- Michel Labadie's typically quaking bottom end, not to mention some technical problems, certainly didn't help matters.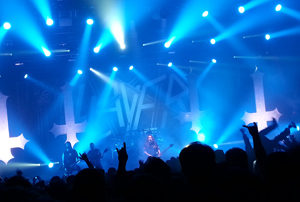 GOJIRA finally found their fastball, so to speak, with "Flying Whales" midway through and ? "L'Enfant Sauvage" bristled with their usual moxie and oomph. But much of the set seemed like a struggle for the band, who look like they really could use some well-deserved rest.
Australia's relatively unknown 4ARM had the unenviable task of opening the show. And though they certainly could have served as so much cannon fodder, the band held their own during a no-bullshit half-hour set. They got up, shut up, rocked out and got out as the growing crowd filed in, and their Bay Area-influenced thrash 'n roll, sort of a mix of HEATHEN – given Danny Tombs' clean, clear vocals – TESTAMENT and PANTERA, went over quite well. They left to generous applause, instead of the dreaded "Slay-er! Slay-er!" so a "good on ya" to them for that.
Photos By Peter Atkinson

Please log in to view RANTS