WITHIN TEMPTATION Hydra


By Damian J. Cousins aka "The Maestro", Dallas Contributor
Thursday, January 30, 2014 @ 5:56 PM


| | | |
| --- | --- | --- |
| | | |
WITHIN TEMPTATION
Hydra
Nuclear Blast Records





I'm no authority on WITHIN TEMPTATION, nor do I profess to be. I'm just a fan. My good buddy Keith brought them to my attention about three years ago with The Unforgiving, and I really liked them right away. In the years since I have acquired and listened to all the other albums, but that one is still my favorite. So you can imagine how excited I was to get my grubby little mitts on an advance copy of newest offering, Hydra, from Nuclear Blast Records during the holidays. Talk about a great Christmas gift, right? Plus, this record is rife with guest stars: Howard Jones (ex-KILLSWITCH ENGAGE, current singer for DEVIL YOU KNOW), Tarja Turunen (do I even need to?), Dave Pirner (SOUL ASYLUM), and ummm…XHIBIT. Nope, that's not a misprint. Don't worry. We'll come back to that.

"Let Us Burn" gets things off to a fine start, the guitars and keyboards blended together with neither one overpowering the other, something that really sets this band apart from its peers. "Dangerous" features Jones singing in just his clean voice, which may turn some heads but I loved it. This is definitely one of my favorites on the disc. And of course, what else is there to say about the one and only Tarja? Anyone who is a symphonic metal fan is likely to have a small heart attack at the prospect of Sharon Den Adel and Tarja singing together as they do beautifully on "Paradise" making it another fantastic cut. Well, that and some furious guitar work.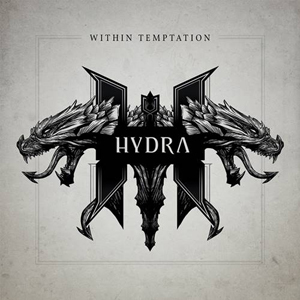 And now we come to the painful portion of the evening. "And We Run" could have, SHOULD have been a great song. Then at the 1:30 mark that rapper comes into the picture. I have no idea WHAT they were thinking when they decided on this horrible course of action. I can't even write any more about it lest I throw up again. Sorry, but the word "Muthafuckin'" has no business being on a WITHIN TEMPTATION album. Oy. Just awful. Thankfully we can put that squarely in our rearview as the haunting slow number "Edge of the World" and very heavy "Silver Moonlight" quickly right the ship and remind us why they are such a great band.
"Dog Days" opts for more of a slow buildup before it takes us on a journey across its hills and valleys. I also have to say that the riff on "Roses" is not only hard-edged, but I find myself humming it often, even when I haven't listened to it in a few days. Speaking of hard and heavy, "Tell Me Why" is definitely one of the fiercest tracks on Hydra serving notice that this band can rock your rolls off anytime they see fit. And yet, with closer "The Whole World Is Watching" they opt to go with a more subdued mid-tempo feel making for one of the more elegant and moving pieces of music so far in 2014. I could see this one being used in the closing credits of a movie. It has that broad, sweeping feel. I didn't know Pirner had it in him. When you hear it chances are you'll see what I mean.
So really, aside from one GLARING misstep, Hydra is a very, very good album, and one that will have me playing nine of its ten songs over and over. WITHIN TEMPTATION are still very much a force to be reckoned with nearly two decades after their formation and I can only hope Sharon Den Adel and Co. are still putting out records for another twenty years. For now though, I'm gonna go listen to Hydra again!
STANDOUT TRACKS: "Tell Me Why", "Dangerous", "Paradise", "Silver Moonlight", "The Whole World Is Watching", "Roses"
4.0 Out Of 5.0
Check out Damian's page at www.ampsandgreenscreens.com!

Please log in to view RANTS