AMON AMARTH, ENSLAVED, SKELETONWITCH Live In Houston, Texas With Photos!


By Becky Dorsett, Houston Contributor
Saturday, February 8, 2014 @ 10:52 AM


| | | |
| --- | --- | --- |
| | | Scandinavian Group Rocks The House Of Blues With SKELETONWITCH And ENSLAVED |
It was a Wednesday night and a chilly winter breeze saw me journeying to House of Blues Houston where I would do the "pre birthday" celebration with friends and GREAT music! Nothing like celebrating my birthday with the great Odinists AMON AMARTH, supported by the excellent choices of fellow Scandinavians ENSLAVED, and U.S. retro-thrashers SKELETONWITCH.

I was one of the smart ones and purchased the "Pass the Line" option so that I didn't have to stand in the unbearably long wait of the line. Those of us who paid for this option were released to go inside before the rest of the crowd. We all systematically got drinks and found our way to where we planned to spend the rest of our evening. Many went to the front while I chose to stand by the sound board and await the festivities. The place was pretty packed for a Wednesday night, with a good audience turnout that I immediately knew was going to make for a great show.

I had never seen SKELETONWITCH before but had heard their music. I was happy to see that they delivered a strong set of fun thrash that created large amounts of moshing and headbanging.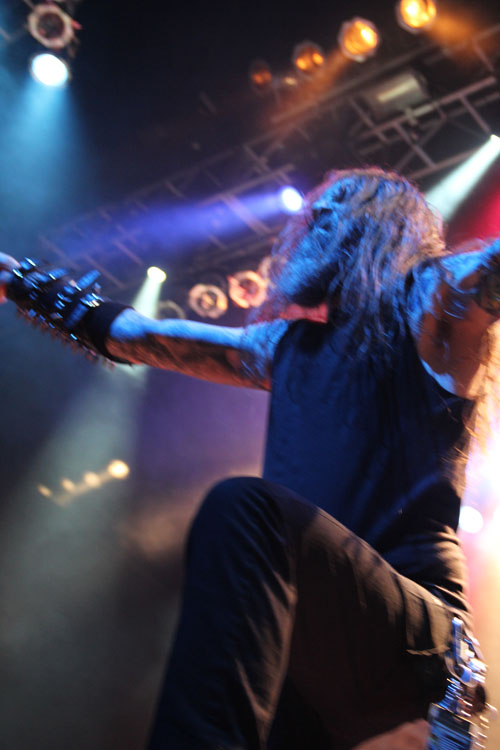 The Ohio guys kicked off with "This Horrifying Force (The Desire To Kill)", and the chaos erupted like a volcano. The pit opened up and raged throughout the band's entire set, there was plenty of crowd surfing, and the usual cases of security people having to remove people from the photographer's pit. Chance Garnette belted out his trademark high energy shrieks in full force, with Nate and Scott carving riffs alongside and Evan and Dustin holding down and steadily pulsating rhythm throughout. Most of the songs in the set were taken from the two most recent albums (Serpents Unleashed and Forever Abomination), but later on SKELETONWITCH also threw out some of their older material, such as "Crushed Beyond Dust" and "Beyond The Permafrost". They closed out with the near decade old "Within My Blood" and Chance bid us farewell with his trademark reminder to "drink beer, smoke weed, and eat some fucking pussy!"
Then came the band many were most excited to see, ENSLAVED. I had never heard their music before so I was going in "blind" for their set. They were definitely a contrast of sound: from an aggressive blackened thrash band to some more mellow, progressive-tinged black metal. The lights again began to dim, the sweat and testosterone from earlier subsided, and a new mood took over.
To put it simply, ENSLAVED are pretty phenomenal live. Ivar, Grutle and company started off with the recent "Death In The Eyes Of Dawn", from their latest RIITIIR album, and the atmosphere was set immediately. A mesmerizing prog vibe coupled with some extreme vocals and smooth riffs had the audience hypnotized throughout. The headbanging and moshing pretty much died down, and not much crowd surfing was happening. After ending with the epic "Isa", the band members all got together and bowed several times before departing, with thunderous applause from the crowd.
Now it was time for the main band of the evening, the Viking warlords themselves, AMON AMARTH. I had heard many things about their live performances, both good and bad, but it's pretty safe to say that these Swedes totally brought the party for this performance, and left an excellent first impression on me.
The pit was packed to the brim with people, to the point of being so tight that you could barely move your arms. With Johan Hegg at the helm, the band began their slaughter with "Father Of The Wolf" from last year's Deceiver Of The Gods, and then gradually eased their way into some older, more familiar territory with stuff like "Guardians Of Asgard" and "Cry Of The Blackbirds".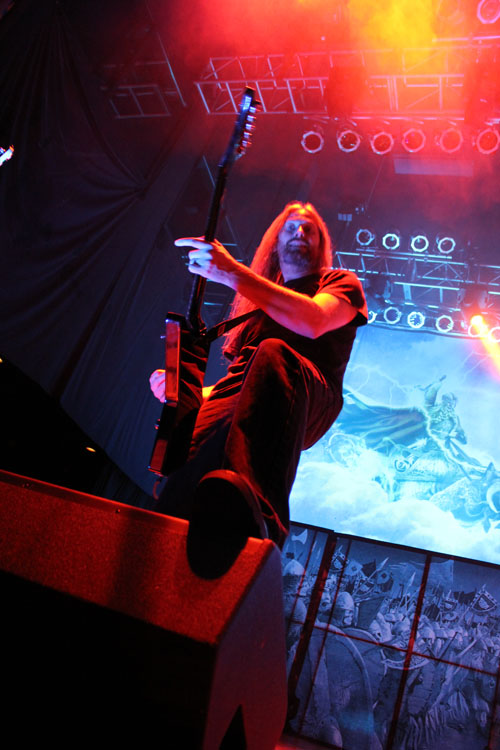 Expectedly, the energy level was sky high, and there was a huge degree of crowd enthusiasm for these guys: tons of singing along, clapping, and chanting to choruses, with Johan motioning for us to join in on a good number of occasions. AMON AMARTH had seemingly finished with "War Of The Gods", but after much crowd persistence, came back for the encores of "Twilight Of The Gods" and "In Pursuit Of Vikings". For the latter, the band extended the chorus for an extra minute or two, with Johan abandoning vocal duty for a moment and having us all chant it repeatedly ourselves before moving on to a climactic finish and lengthy cheering from the audience. If these guys didn't wear everyone out that night, I don't know what did.
All in all, this was one of the best shows I've been to in quite a while. It should really be noted that part of what made it so excellent was the diversity of the bands. There were only three, but between blackened thrash, progressive black, and melodic death metal the evening was chock full of a wide array of emotions and audience reactions, and it was a far cry from all the local shows with one cookie cutter thrash band after another that happens quite often. If this tour happens to be stopping in any city you live in or close to, I don't care what you have to do. Skip school, call in some bullshit excuse to your employer, hire a babysitter, whatever. Just get your asses to it!
Setlist
"Father of the Wolf"
"Deceiver of the Gods"
"Death in Fire"
"Free Will Sacrifice"
"As Loke Falls"
"We Shall Destroy"
"Runes to My Memory"
"Varyags of Miklagaard"
"The Last Stand of Frej"
"Guardians of Asgaard"
"Shape Shifter"
"Warriors of the North"
"Destroyer of the Universe"
"Cry of the Black Birds"
"War of the Gods"
Encore:
"Twilight of the Thunder God"
"The Pursuit of Vikings"
Check out more photos from the show!

All Photos By Becky Dorsett

Please log in to view RANTS