HATRIOT Dawn of the New Centurion


By Damian J. Cousins aka "The Maestro", Dallas Contributor
Monday, February 10, 2014 @ 5:13 PM


| | | |
| --- | --- | --- |
| | | |
HATRIOT
Dawn of the New Centurion
Massacre Records





Exactly one year and one month after the release of their debut Heroes of Origin, the mighty HATRIOT return with their sophomore effort, Dawn of the New Centurion, and man, oh man, shit just got real. The take-no-prisoners attitude of the first album is there in spades and if it's possible the boys have ramped up the aggression this time out. Steve "Zetro" Souza is at the top of his game vocally throughout and guitar wunderkind Kosta V knocks it out of the park with just a sea of face-melting riffs and solos across these nine tracks. Add new member Justin Cole to the mix and you've got a triple decker riff-burger that will satisfy shred-heads from coast to coast to go with the sonic boom of Zetro's sons Nick and Cody on drums and bass, respectively. In fact, Nick was actually much more involved in the writing this time around.

We open up with Charlton Heston's famous "From my cold dead hands!" speech to start the song of the same name, an ode to the Second Amendment among our other basic inalienable rights. It's a vicious stab at politicians and the like, but the venom isn't reserved just for them. Zetro turns on the death metal growls for parts of this one and it sounds absolutely badass! Cody's bass gets things going for "Your Worst Enemy" before the rest of the band delivers a sonic piledriver that slams from start to finish. First single is the updated "The Fear Within" which was on the original demo for Heroes and this reworded version is even better. The haunting guitar work only serves as a warning that something bad is headed this way, lumbering along like a giant, Nick's double-bass attack serving as his great footfalls. When things kick in you can almost see this behemoth punching holes in buildings and swatting aside military helicopters in some disaster movie. And then out of nowhere the song stops, the guitars go clean and we survey the damage before Kosta plays us one of his finest solos yet, leading to the end bludgeoning.

From here we go to my triumvirate of favorites: "Honor In the Rise and Fall", "Superkillafragsadisticactsaresoatrocious", and "Silence in the House of the Lord". The first one is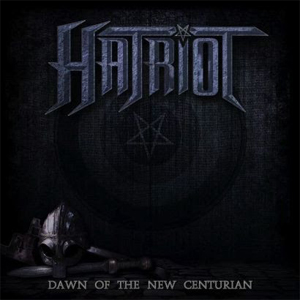 all about gladiators and their journey from slavery to combat and eventually death. That crazy-assed word that Zetro created deals with abuse of power and censorship and even manages to work in a "Free PUSSY RIOT!" chant at the end, which I loved. Another thing that made this a favorite is that it's very bottom heavy. Nick and Cody really own it and have come into their own as players, and Kosta does what Kosta does: rip it up across the fretboard. Not to mention you'll probably be singing the friggin' title to this one all day long like I was! "Silence" addresses the all-too-real topic of sexual abuse at the hands of priests and the victims they leave behind, something that has always sickened me. HATRIOT is here to remind you that ignoring it won't make it go away, and that Zetro is NOT afraid to tackle the shit most people are afraid to.
"World Funeral" is an all-out face-puncher about our planet's diminishing resources and corporate greed. At 3:44 it's the shortest song on the record but it's got one of the biggest bites, trust me. Title track "Dawn of the New Centurion" is actually one of three that clock in at over seven minutes and it is simply punishing from start to finish, there's really no other way to describe it. You ready to go home yet? Because Zetro and co. have one more for you in closer "Consolation for the Insane", the final neck-snapping commentary on the state of our crazy world today, even going so far as to say "Let all the insane go free!" Hey, they can't do any worse, right?
Is Dawn Of The New Centurion angry? You bet your ass it is. Is it brutally heavy and lyrically spot-on about the state of this fucked-up world we live in today, in 2014? Absolutely. HATRIOT have outdone themselves this time around. I loved Heroes of Origin, but this monster blows its goddamn doors off! The album comes out on February 25 via Massacre Records, and if you buy ONE thrash metal record this year, then this should be it, metalheads!
STANDOUT TRACKS: ALL OF THEM
4.5 Out of 5.0
Check out Damian's website at www.ampsandgreenscreens.com!

Please log in to view RANTS