MONTE PITTMAN Live In Dallas


By Damian J. Cousins aka "The Maestro", Dallas Contributor
Wednesday, March 19, 2014 @ 4:41 PM


| | | |
| --- | --- | --- |
| | | |
So on Friday, March 14 I got to experience the one and only MONTE PITTMAN live in his home state of Texas at Three Links in Dallas for the Delusions Of Grand Tour. It was a beautiful night, and the garage door was wide open, allowing the sounds of rock to spill out onto Elm Street. I arrived a few minutes before MONTE was set to go on and found a nice spot up front. Without a trusty photographer by my side the burden fell on me to get the shots. Challenge accepted!

There was a good crowd for this one; not too packed but not empty either. One thing's for sure, those who were there were good and rowdy. They were anxious to see the Texas Boy, as was I, having interviewed MONTE earlier this year. Next thing I knew it was time!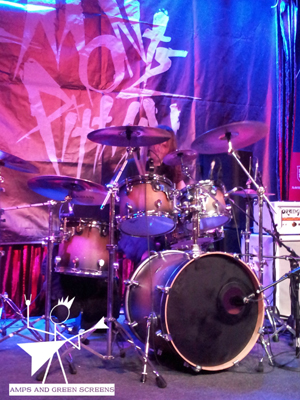 First, drummer Scott Fuller (of ABYSMAL DAWN, stepping in last-minute) got behind the kit, and then long-dreaded bassist Max Whipple claimed his spot. With a can of Shiner beer in tow, next came MONTE. Wasting no time on the bullshit, all three ripped into "A Dark Horse" and then "Delusions Of Grandeur", from new record The Power of Three. After a brief hello and a question of, "So, I gotta book a show to get you people to come hang out with me??" the place got real loud real quick! With a wry grin he gave us "Everything's Undone" next, one of my favorites because of its FOO FIGHTERS sound and the crushing grooves of "Blood Hungry Thirst".
Two things about MONTE: First, he doesn't play guitar like anyone I've ever seen. To watch his fingers is to really see a master at work, and not because he's playing 10,000 notes a second like some angry bee, thank the Gods. Secondly, his tone is also outrageously unique. I can't even describe the thick and rich sound of it. It wraps you up and just envelops the whole room. I mean, I thought the sound was thick on disc, but live it's on a whole different level. Something else that caught my eye was the number of real and true MONTE PITTMAN fans there singing along word for word. And the fact that he's so gracious about it, smiling and genuinely having a great time up there just makes me like him even more.
Now, back to the songs! "On My Mind" has a stalking melody that's coming to get you, and Mr. Whipple's five-string massive bass lines kick off "Away From Here". I still can't believe how tight this band was live, especially since Scott only came in a week ago and had to learn all these songs on the fly. He didn't miss a beat, and I got to hang with him and MONTE for a bit after the show. Be sure to check out ABYSMAL DAWN; bone-crushing shit, guys!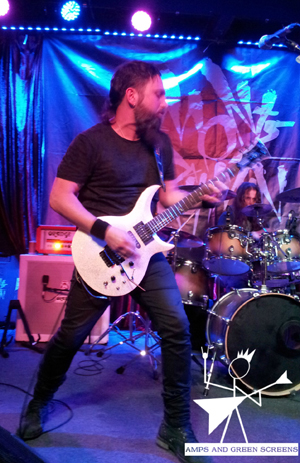 Of course the tune that got the loudest response from me and those around me had to be "Before The Mourning Son". With that intro, OMIGOD that intro! And then the twists and turns it takes will have your head spinning. It takes a crackerjack band to keep up with this one, and Whipple and Fuller proved more than up to the task. Another standout of the evening was the softer "End of the World". MONTE'S voice was terrific and this is a great one live. One last heavy number from the new album in seven-minute epic "Missing" was played before he ended things with "Close Your Eyes", off of Love, Pain, & Destiny. The three women in front of me absolutely lost their minds to that one, as did a long-bearded fellow nearby, obviously big fans.
After the show, MONTE had a drink with those of us who stayed for a while, and while talking to me he made sure to let me know about Scott's band AND introduce me to Nathan Grady, guitarist from OH, SLEEPER so we could exchange info. Look for a feature on them in the future. But that's the kind of guy he is. It's HIS night, yet he's running around trying to help out other bands. MONTE PITTMAN is not only a tremendous talent and great performer, but he is as real as they come and a class act. This was a great night, and I am so glad I was able to catch them. If the Delusions Of Grand Tour is rolling through your town, do yourself a favor and go!
Photos By Damian Cousins
Check out Damian's website at www.ampsandgreenscreens.com!

Please log in to view RANTS