A PALE HORSE NAMED DEATH
Lay My Soul To Waste
Steamhammer/SPV





Sal Abruscato and Johnny Kelly might've suspected Peter Steele and TYPE O NEGATIVE fans would automatically flock to A PALE HORSE NAMED DEATH, yet it's quickly become more than that. Abruscato's associations with TYPE O and LIFE OF AGONY as well as Johnny Kelly's associations with TYPE O and DANZIG makes them both the star attraction in A PALE HORSE NAMED DEATH, but now two albums in with their newest effort, Lay My Soul To Waste, this band has become its own force to be reckoned with and one yielding its own army of diehard fans wanting more and more of the band.

If there are any improvements to Lay My Soul to Waste over what was an already impressive debut with And Hell Will Follow Me from 2011, it's in the crispness of the songwriting this round and a frequent tunefulness that breaks through the album's presiding overtures. By the time Lay My Soul To Waste reaches "Killer By Night" five tracks in, there's an upgrade in tempo beyond the album's primary dirge-drag and crazy enough, it's near radio-friendly without compromising what A PALE HORSE NAMED DEATH is all about. While "DMSLT" later in the album likewise carries a stepped-up melodic groove, its call for death might be too much for mainstream, but then again with all that is out there now on mainstream radio this song just might make it into rotation.

Containing influences of TYPE O NEGATIVE, SISTERS OF MERCY and even MARILYN MANSON, the early number "Shallow Grave" is sinister yet affecting, dark yet harmonious. "Shallow Grave" flows with seamless transition and it kicks out a memorable chorus despite its awesome gruesome lyrics.

Subsequently, "The Needle In You" and "In The Sleeping Death" are even more morose and heavier, malevolent rhythms and guitar shrieks overtop the choruses in each song.

The doomy solo and breakdown in "The Needle In You" represents one of the more nervy sections of music conjured within A PALE HORSE NAMED DEATH and yet Abruscato's enthralling pipes are sheer glue, as are the effervescent vibrato of his and Eddie Heedles' guitar lines. "In The Sleeping Death" is thus layered beautifully with note extensions and echo effects.

It's nearly a surprise that "Killer By Night" is such a rocker since it's followed by funereal organs orchestrating the deafening despair of the following track, "Growing Old". "Growing Old" is the most stellar track on this album, a winding and loud tribute to both TYPE O NEGATIVE and BLACK SABBATH. The song carries such a ply for empathy it's hard not to surrender to it. The structure and layering of "Growing Old" makes it a self-contained mini-epic that deserves candidacy for Metal Performance Of The Year.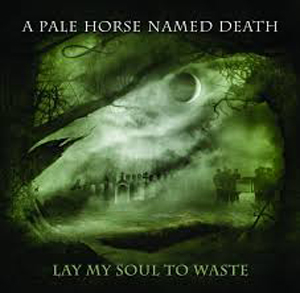 The acoustic lines, music box chimes, triangle taps and synthetic crunches of "Dead Of Winter" keeps things rudimentary yet hauntingly effective, the perfect lead-in to the grimy shimmy of "Devil Came With A Smile". The latter track is what hardcore metal heads have been begging from Rob Zombie for years. It's slick only to the point it carries a nifty bob, hellish riffs and terrific choruses, yet it's still one meaty mother to chomp into.
The near eight-minute "Day Of The Storm" is the most challenging and soul-scraping composition Abruscato and company have attempted to this point. Johnny Kelly slowly rolls a jagged beat pattern amidst torrential sound effects while the rest of the band methodically escorts "Day Of The Storm" into lavish arrangements of distortion and a near-erotic guitars.
No sophomore jinx for these guys. Goth metal continues to ride proudly upon the shoulders of these guys and many other bands. Lay My Soul To Waste and A PALE HORSE NAMED DEATH are the real deal and while there's no getting away from an overall TYPE O NEGATIVE feel to it all, Sal Abruscato and Johnny Kelly have engineered two masterful swan song salutes to their fallen comrade. One can safely assume the bass-heavy album closer "Cold Dark Mourning" is sent directly to Peter Steele in the afterlife, and it's likewise a fair supposition Steele is hearing it loud and clear wherever he's gone to.
5.0 Out Of 5.0
Pick up a copy of Lay My Soul To Waste in the KNAC.COM More Store right HERE.