BLACK LABEL SOCIETY Catacombs Of The Black Vatican


By Damian J. Cousins aka "The Maestro", Dallas Contributor
Wednesday, April 9, 2014 @ 4:17 PM


| | | |
| --- | --- | --- |
| | | |
BLACK LABEL SOCIETY
Catacombs Of The Black Vatican
eOne Music





Four years is a long time. Especially when it's the length of time between BLACK LABEL SOCIETY albums. 2010's Order Of The Black was a hellacious powerhouse pretty much from front to back and one that I played the shit out of for about a month straight. This new record Catacombs Of The Black Vatican is very different. Not bad different, just a change in attitude and approach, I think. Factor in that longtime partner Nick Catanese is gone and replaced by Dario Lorina (ex-LIZZY BORDEN) and you had to wonder how the band would sound. There is a distinct retro feel permeating much of the disc. Some of you may scratch your heads upon first pressing PLAY. My advice to you is this: give it a few minutes, willya? Don't go rushing into judgment. Zakk Wylde knows what he's doing.

Opting to go with a much slower opening track than is his usual wont, "Fields Of Unforgiveness" nonetheless is a rocker with balls that quickly ushers in "My Dying Time", similar in tempo, but a bit heavier on the riffs. And vocally this is very reminiscent of ALICE IN CHAINS. And next song "Believe" reeks of OZZY-era BLACK SABBATH. Zakk Wylde has always been very adept at putting together softer songs that emotionally connect ("In This River", "Darkest Days"), and "Angel Of Mercy" this time around is no exception. It's one of the songs I first gravitated to for that reason.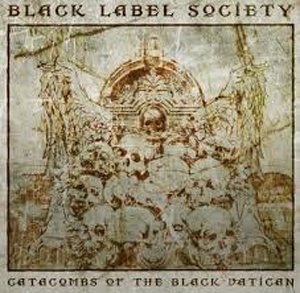 Personally I think "Heart Of Darkness" or "Damn The Flood" would have been the perfect way to start this album rather than placing them in the second half, just because the first three tracks are all eerily similar in tempo. I think that having those hills and valleys is very important, something I've said here before. So I guess if there is a knock on Catacombs, that's my only one. Both of these songs rip, but "Flood" has one of the best solos and reminds us EXACTLY what a motherfucking shredder Zakk is in case any of you were silly enough to question or forget it. "Beyond The Down" takes us back to the classic 70's feel, and the harmonized vocals on the chorus (yes, I know it's Zakk with Zakk!) really make this one a standout. John DeServio on bass and Jeff Fabb on the drums are solid and steady no matter what they're asked to play.
We slow it down again for the acoustic number "Scars" that has a nice Southern Rock sound as well. I got a bit of an ALLMAN BROTHERS vibe from it. And from here we go doom troopin' through the sludge for "I've Gone Away". Fabb is all over "Empty Promises", combining metronomic precision with hard hits as the sonic backdrop. Now, to finish things off it is 1976 all over again on "Shades Of Gray", the kind of song you'd expect to hear at a late-night party like in the movie Dazed And Confused. You know, just sittin' on the hood of a Camaro or the tailgate of a pickup truck, drinkin' some cold beers. All told, I really dug this record. I think Zakk wanted to get out of his comfort zone a little and if that's the case, good for him. I also think these songs will fit in nicely with the older stuff on the upcoming Revolver Golden Gods Tour. And you best believe I'll be there on May 23. SDMF!
STANDOUT TRACKS: "Beyond The Down", "Damn The Flood", "Angel Of Mercy", "Shades Of Gray", "Empty Promises"
4.0 Out Of 5.0
You can purchase Catacombs Of The Black Vatican in the KNAC.COM More Store right HERE.
Check out Damian's website at www.ampsandgreenscreens.com!

Please log in to view RANTS