Brofest UK #2 - Day 2


By Larry Petro, News Monkey
Thursday, April 10, 2014 @ 5:10 PM


| | | |
| --- | --- | --- |
| | | Day 2 Of The NWOBHM Festival |
Day 2 - I have to admit, this day really kicked my ass, literally & figuratively. Doors opened @11, first band at noon. Since we had stayed up late at The Head of Steam Pub and gotten in at 3ish, the 9:30 alarm clock was not so welcome. A hot shower made the hangover a bit better. Since I needed to exchange some cash I brought along to feed my Vinyl addiction, I needed to head to town. Our room was on the other side of the Tyne River, across from Newcastle, so after getting directions I headed off. With map in hand, it was a brisk 45 min. walk to the heart of Newcastle. Yes, I said 45 min. Walking is a way of life over here, something that most of us who are so spread out just don't do. Now, I could have taken a bus (great public transportation here) or cab, but since I wasn't for sure exactly where I needed to go, the map and my Doc's were the way to go. I found a travel agency (who I was told give a better exchange rate than the banks) and thanx to the piss poor dollar, my exchange netted me about half of what I had given them. Hangover now back, I headed to a nice restaurant for my only meal of the day. Frankie & Bennies is modeled after an 50's styled diner, with great English food and very nice (and cute) waitresses. Stomach full, head less throbbing, it was a short walk to the University where Brofest was at.

Since I had scouted the vendors the night before, I already had an idea of what I was looking for. With High Roller Records and Iron Pages Mag selling their wares, and Jess Cox (he of Neat Records & TYGERS OF PAN TANG fame) manning a booth as well, it didn't take long to plunder my hard earned cash into Turntable magic!! Also just about all bands had their own swag, so money needed to be kept back to help support these Legends and the up & comers here as well. And all of this was done before the music started!!

First band out was ASCALON, formed in 2011 and named after the sword of St. George. The Brits fly the flag of British Metal proudly, and a brilliant set which featured their originals "Red Leather", "Daylight Robbery" and self-titled "Ascalon" also featured "Princess Of The Night", a cover of NWOBHM legends SAXON! Fans of traditional British Metal should search these lads out.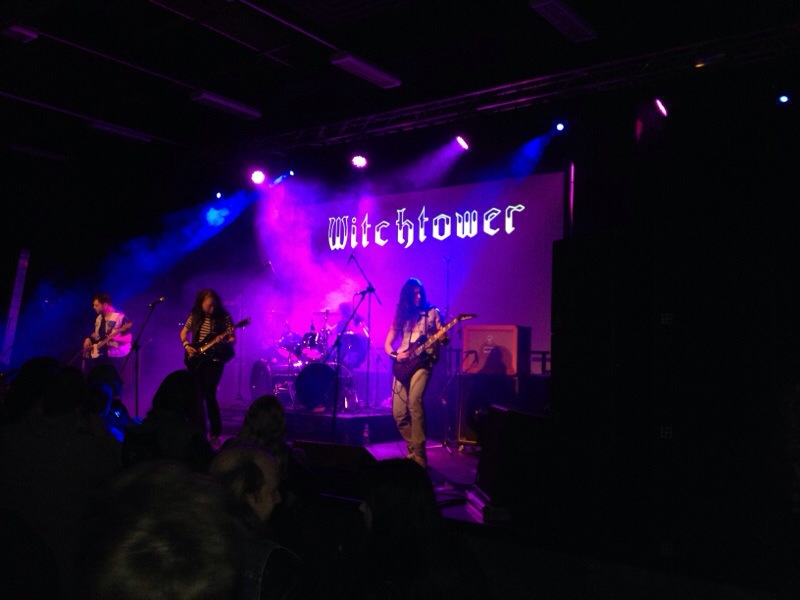 Up next was WITCHTOWER from Spain. Interestingly enough, this was originally a solo project by Victor De La Chica, who recorded the whole Return To The Witches Castle release playing all instruments ala Joel Grind and early TOXIC HOLOCAUST. Now with a full band behind him they are able to play live. Playing a mixture of their originals, "Wrecking Ball", "One Way" and "Shoot The Bomb" with killer covers of the Masters, "Phantom Of The Opera" by IRON MAIDEN and "Angelwitch" by ANGEL WITCH which even featured audience participation, a well received set was over much to quickly.
DARK FOREST were formed in 2002 in Dudley, West Midlands, England and have just released their new studio album The Awakening. I did purchase the Vinyl from the band after the show, but haven't yet had the time to spin it. On the live front, new singer Josh Winnard had a few issues hitting those higher registers (nerves maybe?) but all in all I heard a solid set. I was chatting with Karl Reders, vocalist with NWOBHM SPARTA during the D.F. set so I missed the photo op and song titles. Sorry lads. But I did buy the new album!!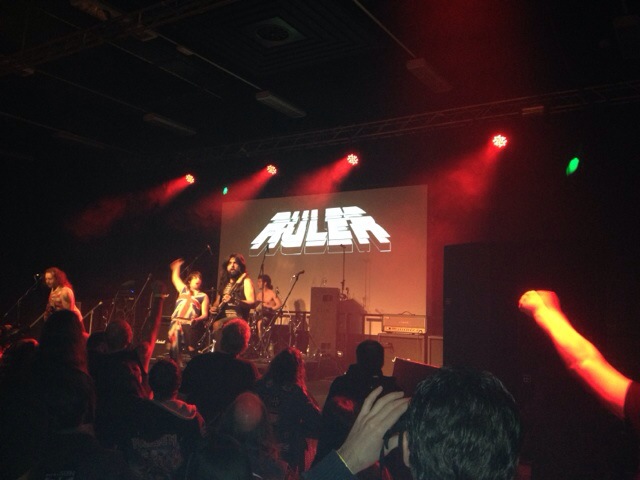 The international flavor of Brofest continued with Italy's RULER, formed in 2009 in Milan. Vocalist Daniele Valentini voice is up on the higher register of things, and the band have a great stage presence. Their set of European Heavy Metal went over well, featuring "Rise To Power", "Highway Blues" and "Limpieza de Sangre". RULER are playing several festivals in 2014 so be sure to search them out.
From here on out it was time for the legends and some of the lesser known bands of the NWOBHM to shine. First up was BERLYN. Now B>BERLYN are odd in the fact they never released any Vinyl back in the heyday of the NWOBHM. They did record a demo in mid-82' however and gigged frequently in the day. The band did/does include Alan Levett, who for IRON MAIDEN completists, played in URCHIN with Adrian Smith, his band before MAIDEN. Thanx to High Roller Records, both the demo and a live gig were pressed onto separate releases (Berlyn in 2005 and the live This One Bites a year later). Playing cuts from both, the set included "Nightmares", "Maniac", "Gonna Be Somebody", "Don't Ever Laugh In My Face" and a new track "Judas", off a recently released 7", also on High Roller Records. Singer Tony Thurlow's voice had an uncanny resemblance to Brian Johnson of AC/DC - GEORDIE fame to these ears. It was great to get to see the band really enjoying the 40 minute set. Good stuff!!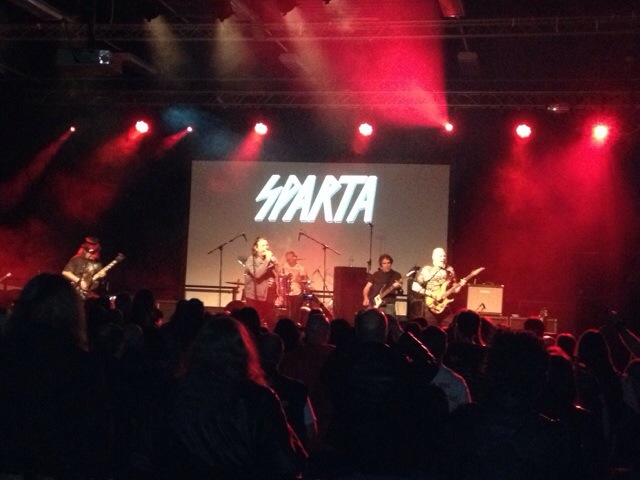 SPARTA was formed in late '79 in Mansfield, UK and unlike BERLYN, did get some Vinyl out to the masses. In fact, the compilation album Scene Of The Crime, a 3 band split LP with fellow Mansfield'ers SAVAGE & TYRANT is a NWOBHM creeper that garners ridiculous amounts of money from collectors IF you can actually find one. They also released the killer 7" "Fast Lane" w/ "Fighting To Be Free" on Nottinghamshire's Suspect Records. 1000 copies were pressed. A year later "Angel Of Death" w/ "Tonight" 7", another raging slab of Wax, was released. And again 1000 copies were pressed. Thanx (again) to High Roller Records, a compilation of these and other demo and radio broadcast songs called Use Your Weapons Well in 2011 on Vinyl and cd. A brand new album was just released called Welcome To Hell. SPARTA opened their live set with "Tonight" as the crowd really got into it. Also classics "Fast Lane" & "Fighting To Be Free" in the 40 min. set. Great stuff.
Next up was a band I was truly chuffed to see, DAMASCUS. From Merseyside UK, their only output was a brilliant self-titled 12" EP from 1984. Just 4 songs, but they have stood the test of time. A rarity to say the least, the cover alone has to be seen. A lime-green cover with a then long haired singer Billy Downs, whose eyes were white-ed out like a zombie. For '84, it was eye catching. In 2012, an album and cd was released by, you guessed it, High Roller Records, that included said EP plus a demo from June of 1984. And the cover is the same I described before except red instead of lime green. Live, the band were spot-on, and Billy sounded just like the EP. Songs included the classic "Midnight Train" & "Open Your Eyes" from the EP and "Goodbye Harry", "Women In Black" and "Cold Horizon" which incidentally is the name of the 2012 release. An amazing set for myself and the punters as well. Added bonus: getting my EP signed by Billy himself!!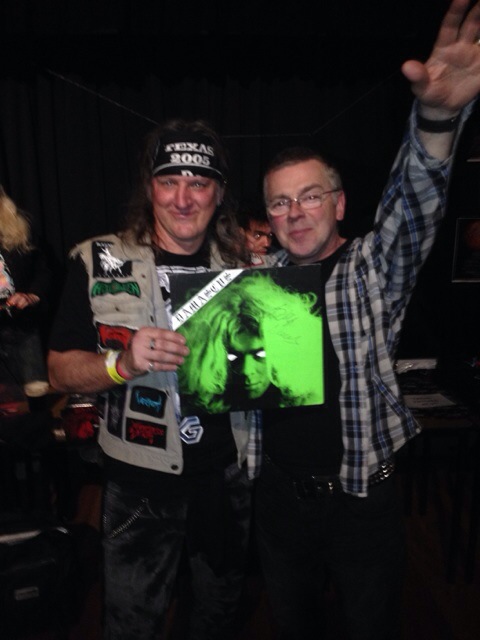 Following that would be an enviable task, but well up to it was HOLLOW GROUND. Even tho they only released one 7" and 4 tracks on the Roksnax compilation, both on the Guardian Record Label. While the comp is itself rare, the "Flying High" single is highly collectable, and if said single has the picture sleeve, it goes for insane amounts of money. Being from Newcastle, the 'home team' pulled no punches, opening their set with "Flying High" from the single, "Rock On" and "Fight With The Devil" from Roksnax. Also "Easy Action" and "Promised Land" from the Demo '81. And the set would not be complete without my favorite HG tune, "Don't Chase The Dragon". I was Flying High indeed! A great set.
After HOLLOW GROUND came a band I wasn't too familiar with, TRUFFLE. They put out an extremely rare 7", "Round Tower" w/ "If you Really Want" in 1981. So rare in fact that I don't own it. Or "The Bacon Slicer Strikes Again", their album that was released in 1985. But thanx to, yes, High Roller Records, I was able to pick up a compilation of their early tracks called If You Really Want. A couple of the tracks they played live included "Street Fighter" and also "God Of War". Looking forward to being able to really check these guys out. Salty!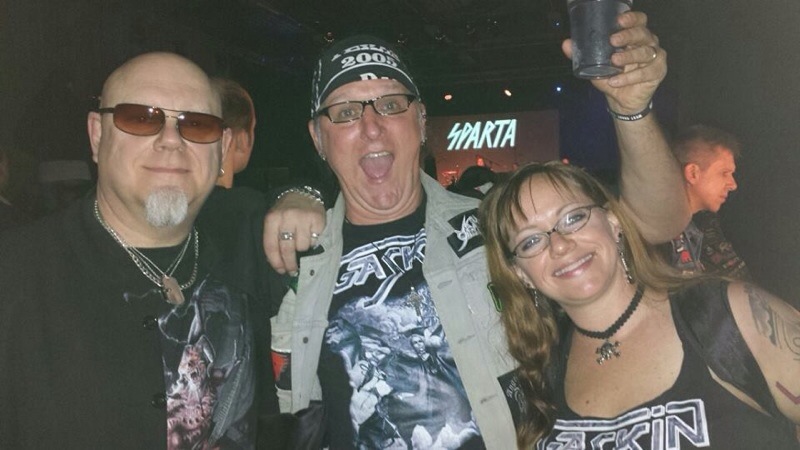 One of the original reasons we chose to hit Brofest was to get to see GASKIN live. Paul had retired last year and I feared I might not ever see the band. But fear not as he (thankfully) had a change of heart. I was lucky to get ahold of the 1st GASKIN album End Of The World when it was released in 1981. An absolute classic of the genre to be sure. The follow up, No Way Out in 1982, is no slouch either, seeing GASKIN become a 4-piece with the addition of Bren Spencer on vocals instead of Paul. While this partnership didn't last, the partnership between Paul and drummer David Norman has been there since the beginnings in sunny Scunthorpe. Props have to be given to Dave since he suffered a pretty bad car wreck a few weeks earlier, but soldiered on with the show as to not disappoint the fans from all over the world @ Brofest. Well done man!! So now it was time and GASKIN the band (rounded out by Mick Cross on Bass and Andy Solomon on Guitar) pulled no punches, opening with "Sweet Dream Maker", the B-side to the legendary "I'm No Fool" 7". GASKIN has a newer album out, Edge Of Madness, which was released in 2012 (and on Vinyl thanx to the saviors High Roller Records) and the track "The Contract", also from a cd-EP of the same name from '12 as well was aired. "Tomorrow Today" was featured, off 2000's Stand Or Fall, as was the title track of the 1st album End Of The World. The set closed with the stand-out (and 1st single) "I'm No Fool". It was over before I knew it but it was an epic set.....EXCEPT that MY favorite track, the crushing "Despiser" was NOT played!! I cry foul Paul Gaskin!!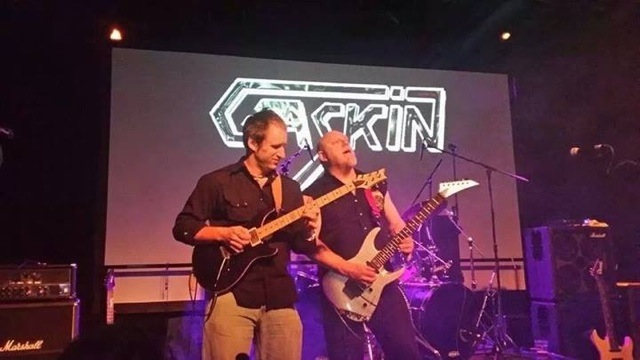 By now, it was 10:00, and I'd been at it non-stop. With no food, but plenty of Ale, I'll admit I was starting to run down a bit. Not too mention my feet in my Doc M's were screaming bloody murder since I had not sat down since breakfast, a mere 12 hours earlier. So as last band, FAST KUTZ takes the stage, I'm fading fast. For starters, their lone release was the album Burnin', released in 1986 on the classic Ebony Records. Secondly, it's very hard to come by as I don't own it nor had I heard it, save for the title track which was a stormer. Also played was "Midnight Love" and "Play With Fire". FAST KUTZ were definitely on the heavy side of the NWOBHM, a bit late as well, but to be fair, guitarist Kenny Nicholson had 2 other bands before this one, namely HOLLAND, who released Early Warning in 1984, then HAMMER, who released Contract With Hell in 1985, both with Ebony as well. So sorry lads, I'll be looking for your Vinyl releases as they deserve a second listen.
So ended Day Two of Brofest, with still another full day to go. Will I make it? Will I get back to our room even?? Stay tuned for Part 3!

Please log in to view RANTS