GAMMA RAY Empire Of The Undead


By Damian J. Cousins aka "The Maestro", Dallas Contributor
Monday, April 21, 2014 @ 4:27 PM


| | | |
| --- | --- | --- |
| | | |
GAMMA RAY
Empire Of The Undead
Armoury Records





Truth be told I haven't listened to anything from GAMMA RAY in a long time. Nothing against them or anything, I just lost touch with a lot of the great German metal over the years. I'm happy to say that I got my brains back and reconnected with a ton of it late last year, PRIMAL FEAR being my favorite hands down. Through it all I've gotten to hear some great records, and some not-so-great. But my re-entry into the world of Power Metal has been overwhelmingly positive. This brings me back to GAMMA RAY and their latest album Empire Of The Undead, out now via Armoury Records. I was always a fan of Kai Hansen so I went into this with a good attitude and a readiness to rock.

Majestic is the best word to describe leadoff song "Avalon". It's nine minutes long, plants its feet in IRON MAIDEN territory and Hansen's vocals are outstanding. I wasn't sure how I felt about "Hellbent" at first. I'll be honest, I found the chorus a bit jarring. But then, after a while I found myself humming it throughout the day, so it won me over. Plus the potent combo of speed and riffs makes for great driving music. "Pale Rider" certainly had my attention right from jump. This is one I could totally envision The Metal God Rob Halford singing, minus the "motherfucker" parts, since I've never heard a single profanity on anything he's done. Still, it's a tasty slice of metal, as is "Born To Fly", which is also another speedy job.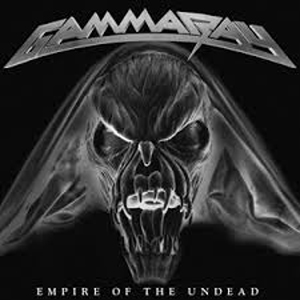 Musically "Master Of Confusion" sounds like something in days of yore from Hansen's time in HELLOWEEN and the solo is very fluid. Guitar-wise he and Henjo Richter tear it up on just about every track, most notably on "Empire Of The Undead". Fuck me, this one is a goddamn barn-burner and my runaway favorite on this disc. After this is a pair of missteps in "Time For Deliverance", which sounds waaaaay to much like QUEEN on the hook, and "Demonseed" is vastly underwhelming. But fear not, all is well again with the mighty "Seven", another MAIDEN-esque number that will have you hitting REPEAT as much as I did. This has arguably the best solo on the album as well; it's just a killer song!
The album closes in strong fashion with "I Will Return", which puts a nice exclamation point on the whole affair. In the interest of full disclosure I didn't know WHAT the hell to think after my first listen to Empire Of The Undead. This is yet another example of everything clicking on that fateful third go 'round. Everything just fell into place for me, and this is one album I would easily recommend to all my fellow Power Metal fans. So great to see GAMMA RAY come back strong with this one.
STANDOUT TRACKS: "Avalon", "Pale Rider", "Empire Of The Undead", "Seven", "Master Of Confusion"
3.5 Out Of 5.0
Pick up your copy of Empire Of The Undead in the KNAC.COM More Store right HERE.
Check out Damian's website at www.ampsandgreenscreens.com!

Please log in to view RANTS