ANVIL Live In Dallas, TX


By Damian J. Cousins aka "The Maestro", Dallas Contributor
Monday, April 21, 2014 @ 4:32 PM


| | | |
| --- | --- | --- |
| | | Canadian Legends Light Up The Gas Monkey Bar N' Grill |
ANVIL…The name is synonymous with struggle and heartbreak. Anyone who saw The Story Of Anvil! knows that this band kind of got left by the wayside while some of their peers simply exploded and soared to lofty heights. I'm not gonna bullshit you and try to act like I've been a fan from day one or anything like that. The movie did make me go back and listen to some of the older stuff and develop an appreciation for it. Suffice to say I now own every single record and have been enjoying them, particularly the last two Juggernaut Of Justice and Hope In Hell. It's great to make discoveries like this, it really is. So when I found out that ANVIL was playing at the Gas Monkey Bar N' Grill here in Dallas you best believe I was locked in.

It was a bit chilly as Ronnie and I stood there waiting for them to come on, but by the time the show started I wasn't even worried about it. I was just excited to get rockin'. "March Of The Crabs" and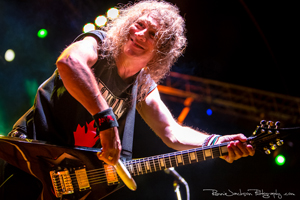 "666" from their landmark Metal On Metal album got the party started and the faithful were in full swing, singing along and pumping their fists. I was pleasantly surprised by the number of ANVIL shirts I saw around me. "School Love" is more of a straight-ahead rocker and not quite as heavy as other songs, but live it certainly had that "oomph" and segued nicely into "Badass Rock N Roll" from Hope In Hell. Then they went and played "Winged Assassins" from Forged In Fire! The more I hear that one the more I'm convinced Dave Mustaine is an ANVIL fan, bigtime, judging by some of his songs. One of the best things about this show was Lips and his onstage demeanor. He's just a really happy guy who loves playing in a band with his best friend Robb Reiner on drums. He alternated between telling cool stories from the old days and coming up with funny ways to introduce each song. Just a genuine guy having a good time.
Two newer songs, "On Fire" a hard and heavy number, and "This Is Thirteen" a slow potboiler were next and then it was time for "Mothra". Oh man, I was NOT prepared for what went on here! In the middle of the song Lips whips out a vibrator, YIS, a vibrator and proceeds to play his guitar with it. I'm not lying, look at the photo. Full disclosure, it sounded good!! After that madness things got somewhat back to normal (as normal as a metal show can be!) and he dedicated next song "Thumb Hang" to the late, great Ronnie James Dio (R.I.P.). Moments like these are always very tough for me and I find it very hard to keep my emotions in check whenever a band does this, simply because I miss him every day and hate that he's gone.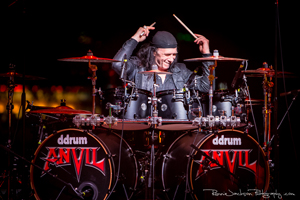 The jazz-influenced "Swing Thing" gave way to another pair from Hope In Hell with the title track flowing right into "Eat Your Words", one of my favorites from the record. I was a boppin' groovin' fool for the whole set, but especially to this one. Of course we all knew what time it was when Lips told us they were only playing one more. It was "Metal On Metal" time, son!! The place erupted, fists everywhere, and I really thought that was it. Hey, 13 killer cuts from ANVIL? I'll take that any day. But lo and behold the stage lights didn't come on…could it be? Why, yis!! ENCORE TIME!!!
We started with the lumbering evil of "Forged In Fire" and then went off to the races with "Running", the perfect way to end things here in Dallas. I really had a great time at this show, and I know my buddy Ronnie did, too. I'm glad to see ANVIL out there touring the States, and I'm even happier seeing all the fans showing up to get their faces rocked off by one of the pioneers of Heavy Fucking Metal. I would go see these guys again in a heartbeat and I advise you to do the same.
Pick up your copy of Hope In Hell in the KNAC.COM More Store right HERE.
Check out Damian's website at www.ampsandgreenscreens.com!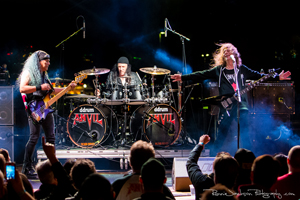 Please log in to view RANTS


ACID KING Beyond Vision

STEEL PANTHER On The Prowl

NIGHT DEMON Outsider

YNGWIE MALMSTEEN In Ottawa, Canada

THEORY OF A DEADMAN, SKILLET, SAINT ASONIA In Houston, TX With Photos!

OFFICER X Hell Is Coming

PERIPHERY Periphery V: Djent Is Not A Genre

INSOMNIUM Anno 1696

STEEL PANTHER, CROBOT, TRAGEDY In Houston, TX With Photos!

BABYLON A.D. Live Lightning

ROTTING CHRIST, CARACH ANGREN, UADA, GAEREA In Houston, TX With Photos!

MOTÖRHEAD Bad Magic: Seriously Bad Magic

TRAGEDY I Am Woman

ROXANNE Stereo Typical

ANTHRAX, BLACK LABEL SOCIETY, EXODUS In Houston, TX With Photos!