WINGER Better Days Comin'


By Damian J. Cousins aka "The Maestro", Dallas Contributor
Friday, April 25, 2014 @ 4:17 PM


| | | |
| --- | --- | --- |
| | | |
WINGER
Better Days Comin'
Frontiers Records





It's been four-and-a-half years since we last had a WINGER album. I dunno about you but I loved 2009's Karma and played the fuck out of it. It still gets frequent spins over here. So I was definitely one of the excited ones when I heard that this new record Better Days Comin' was being released this year. Even more exciting was the album showing up in my mailbox, which has been going virtually non-stop since it arrived. And in a double-whammy I was able to interview Kip Winger recently, too. Look for that to be here soon guys, promise. Alright, so let's check this baby out, whaddaya say?

First song "Midnight Driver Of A Love Machine" sounds like the stepbrother of "Deal With The Devil" from the previous album, which is a good thing. That song is even featured on a car stereo in the intro. "Queen Babylon" is a bit slower, but it still rocks hard, with a watery, chorus-like effect on the guitars. Then all of a sudden there's this monster of a tune, "Rat Race", that's doing 80 miles an hour from beginning to end. When this video was first released I stopped dead in my tracks. It's not like WINGER didn't have it in them; they're ALL world class musicians. This one just comes out swingin' is all.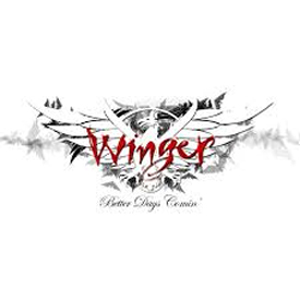 The title track is simply an uplifting anthem to buoy the listener's spirits and let us all know that better days are in fact comin'. It's got a 60's feel to it, almost like hippies at a love-in. The band decides to get proggy with "Tin Soldier" and the results are just amazing. From the guitar work of Reb Beach (his solo in particular) and John Roth to Rod Morganstein's clockwork drumming and Winger's bass patterns, we go from off-beats to a jazz break to a sped up rock section and back again, all while making it sound easy to do. It has always pissed me off how misunderstood this band is/was. When I saw them live in 1989 I knew these guys could play leagues better than a lot of so-called musical icons from that time, but whatever; water under the bridge.
On an album full of winners my two favorites are up next. First, the ballad "Ever Wonder" is one that I had to play again and again, with a solo that just rips your heart out, and when I finally could get past it, lo and behold…"So Long China", THE best song on this record, PERIOD. When I'm in my truck this one gets played no less than six times before I can move on. The roughness of the verses combined with the melodic hooks one hundred percent makes this my favorite WINGER song of all-time now. With my luck it probably won't be in the setlist when they play here on their just-announced June 5 show at Trees Dallas! Still a man can hope, right?
The slow and steady pounding groove of "Storm In Me" was something that also caught my ears right away. Much like the last two albums, there's a bit of a chip on the band's collective shoulders, and it's nice to see them bringing it. Things slow down again for the reflective "Be Who You Are, Now", which is very moody and deep, also one I loved from the very first listen. Closing us out is a rather introspective number, "Out Of This World", that turns into something grand as the song progresses. As much as I love this whole album it's the songs at the tail end that I keep coming back to over and over. Maybe the music on some level is trying to tell me what I need to take stock of in my own life, who knows?
What I can say is this: WINGER hit a home run with Better Days Comin'. I can't wait till they come to Dallas in a few months. The album is out now via Frontiers Records. I highly recommend it.
STANDOUT TRACKS: ALL OF THEM
4.5 Out Of 5.0
Pick up your copy of Better Days Comin' in the KNAC.COM More Store right HERE.
Check out Damian's website at www.ampsandgreenscreens.com!

Please log in to view RANTS