INSOMNIUM
Shadows Of The Dying Sun
Century Media Records





Melodic Death Metal! And from Finland! Enough said.

Seriously though, I've been a fan of INSOMNIUM for just a couple years now and this latest release is nothing short of perfection for this genre of metal. From the opening instrumental to the first song "While We Sleep", it draws you in for a musical journey like none other. I love albums that I can just lose myself in, and this is one of those. Start from the beginning and don't stop until the end. The range of dark and light throughout the album just creates a unique atmosphere all its own. I would have to say that I really enjoy what I would call the "interludes" in most of the songs that take completely dark and brutal melodies and turn them into surreal dreams in the mind.

"While We Sleep" shows just how talented these guys are at bringing a dynamic range of melody and brutality together into a composition to set the tone for the rest of the album.

"Black Heart Rebellion" is probably the most brutal and dark song on the album, but in context of the whole set, it seems right. Who am I kidding? The song fuckin' rocks regardless.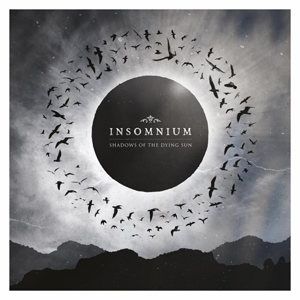 Noteworthy songs on this album are "Collapsing Words", "While We Sleep", "Shadows Of The Dying Sun" and "Revelation".
Shadows Of The Dying Sun marks the sixth studio album from the band and these guys just keep getting better with each release and I can't wait to see them live soon in the US.
The production of this album is phenomenal. The blend of melodic guitar work and the driving drum rhythms are second to none. The mix of dark growling and clean vocals really sets the mood for the entire album. If you're looking for a musical journey you will not soon forget, then this is a definitely a worthwhile choice for your collection.
Track Listing:
"The Primeval Dark"
"While We Sleep"
"Revelation"
"Black Heart Rebellion"
"Lose To Night"
"Collapsing Words"
"The River"
"Ephemeral"
"The Promethean Song"
"Shadows Of The Dying Sun"
Rating: 4.0 Out Of 5.0

Get you copy of Shadows Of The Dying Sun in the KNAC.COM More Store right HERE.