Nergal's statement to Ghost Cult Magazine somewhat contradicted his own band's show. Since the article stated that Nergal was saying that US Death Metal bands were too predictable and yet BEHEMOTH are masters of arena-aspiring extreme metal — one of its best practitioners, in fact. Their work since Demigod is about as raw and off-putting as an Underworld flick: it's pristine in both performance and production, clearly the product of a sizable budget, and quite accessible by extreme metal standards. On top of that, a lot of the bland American death metal he's criticizing draws directly on those albums for inspiration. So despite the resonant substance of Nergal's remark, it reflects a deficit in self-awareness.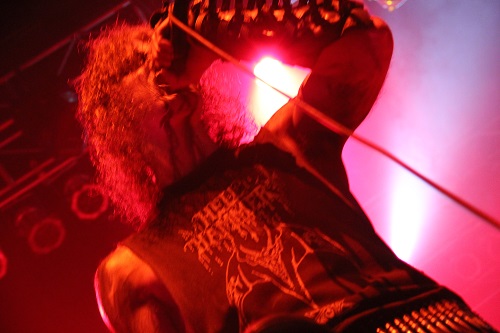 It also highlights one of underground metal's many idiosyncratic cultural tensions: its fans are preoccupied with authenticity and trueness, even though the genre itself is fundamentally artificial. Nergal's interest in being "driven by intuition and not just concerned with shredding on your guitar" comes from a powerful strain of thought in the underground metal community that associates grit (and sometimes amateurishness) with genuine emotion. The same attitude holds that professionalism and precision betray artistic impotence. Nergal got his start as an underground black metal guy, so it makes sense that he still harbors some of these suspicions.
In reality, though, many metal bands go the polished route and still deliver their music with undeniable conviction — a notion that BEHEMOTH and their tour mates on this year's stacked Metal Alliance lineup ironically provided powerful evidence for.
BLACK CROWN INITIATE as well as every band on this bill were both ungodly tight and steeped in lovably familiar theatricality. INQUISITION and 1349 both opted for the classic Scandinavian corpse paint-'n'-spikes look; the latter's bassist bizarrely chose to wear a robe. Ben Falgoust of GOATWHORE might be better at metal-front man posturing than anyone I've seen — he strikes badass pose after badass pose for the entire set every time they play, all without his powerful voice ever faltering. I do have to give extreme props to INQUISITION for being insanely bad ass as a two piece band. The drummer was kicking ass while the guitarist/vocalist went from microphone stage right to microphone stage left.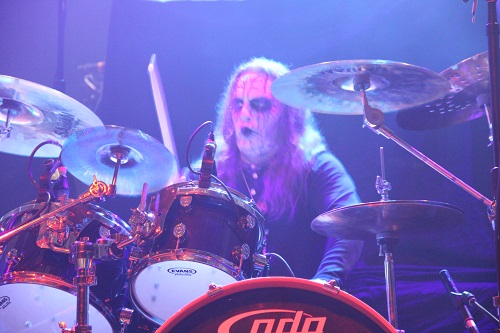 BEHEMOTH are on a different level, though. Their live show is as flashy and elaborate as a Broadway production. The musicians wear elaborate costumes and perform choreographed moves together. Their stage rig features a complex prefabricated backdrop, a synced light show, and various platforms to facilitate posturing. At the beginning of the show Nergal came out with an offering to the fire gods and performed a bit of a ritual (not everyone would have picked up on that) which started the show off with a great energy! There was even a costume change, of sorts — the band briefly donned masks during closer "O Father O Satan O Sun!"
The crowd went wild over every move BEHEMOTH made and even started crowd surfing to get closer to the band. There was even one moment when I got kicked in the back of the neck by one of those surfers. It was an exciting moment and I have to say it created a different energy every time one came across the crowd.
Even though Nergal lashed out at Death Metal bands from the U.S.A. back in February, he showed everyone that BEHEMOTH was here to stay and planned on leading the way for as long as they are able.
What a way to spend Palm Sunday! Experiencing the energy of 5 amazing metal bands that energized the entire House of Blues Houston from the restaurant where I ate dinner before the show and BEHEMOTH was only a couple tables over eating dinner on up to the actual stage where the band took on their stage personas and kicked everyone's ASS!
Check out more photos from the show!
All photos by Becky Dorsett