EDGUY
Space Police: Defenders Of The Crown
Nuclear Blast Records





By Peter Atkinson, Contributor I've always considered Germany's EDGUY something of a curiosity, but not much else – yet another slick European power metal band with an odd name and an inexplicably large audience across the pond. But they've obviously been doing something right, since they've been around for more than 20 years and have nine albums under their belts.

Still, right off the bat, their new 10th studio album didn't do much to ease my puzzlement. The cartoon cover art, pure sci-fi cheese. And not the good kind. And the title smacks of some ridiculous concept album - or a campy Z-grade movie you might stumble upon in the wee hours on the SyFy Network, as it's known now, alongside Ice Spiders or Sharknado. And a cover version of FALCO's schmaltz-pop smash "Rock Me Amadeus"? Hmmm.

But sometimes you really can't judge a book – or in this case, album – by its cover. Get past that and "Rock Me Amadeus", which is every bit as dreadful as it would seem – no metallic sheen can polish that turd of a song, and if it's meant as comic relief the joke just ain't funny – and Space Police is a somewhat pleasant and worthwhile surprise.

Played with HELLOWEEN-like gusto, Space Police brings the "power" back to EDGUY's metal after several more hard rock-oriented outings. The riffs are huge, the melodies brash and infectious and the choruses grand as all get out and sure to get fists pumping as everyone sings along when the band plays them live – especially the monumental, and rather awesome, nine-minute closing track "The Eternal Wayfayer".

Space Police gets off to a rollicking start with "Sabre & Torch" a ballsy, uptempo rocker that offers plenty of guitar bite and boisterous gang-sung choruses. "Defenders Of The Crown" and "Shadow Eaters" take largely the same approach and provide the album's heaviest moments.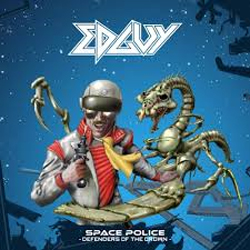 The cheeky "Do Me Like A Caveman", "The Realms Of Baba Yaga" and "Space Police" are hookier and more epic, with "Baba Yaga" delivering some flashy leadwork and "Police" offering a fitting dose of otherwordly keyboard splashes. "Love Tyger", by contrast, is a full-on '80s style hair- metal anthem that would do RATT or DOKKEN proud – now or then. It's catchy as all hell, even if it sounds a bit too reverential and calculating. "Alone In Myself" goes the power ballad route, but isn't nearly as obvious, sounding way more ELTON JOHN with its ample piano/organ strains and almost R&B backing vocals than POISON – which certainly is not such a bad thing.
Yet for all of Space Police's relative campiness, EDGUY are far less indulgent or over the top than a lot of their power metal brethren. There is very little in the way of instrumental wankiness and air-raid siren frontman Tobias Sammet rarely goes overboard with his yowling. Something of a hard rock foundation certainly remains here, and that's just as well, because without it Space Police easily could have ended up the cheesefest its cover and title promise – or threaten.
Rating: 3.5 out of 5
Order your copy of Space Police: Defenders Of The Crown in the KNAC.COM More Store right HERE.