ICED EARTH / SABATON Live In Los Angeles

By Junkman, On-Air Personality
Monday, May 5, 2014 @ 6:15 PM

| | | |
| --- | --- | --- |
| | | At The House Of Blues Hollywood 5-2-14 |
I try to catch as many heavy rock shows as I can. The adrenaline rush is addicting to me as well as many others. Recently, I witnessed a great bill, featuring ICED EARTH and SABATON. The HOB in Hollywood on the Sunset Strip, was the perfect venue for the show. Great sound, great lighting and fans packed together to worship their heroes in a place built like a temple. Still, for over 20 years, one of my favorite places for live music.

Unfortunately, I got there kind of late as it was a Friday night and traffic and parking is a nightmare in this area. I thereby missed opening act, Dutch group RE VAMP, who I have been dying to see. It was their first show in LA, and from all accounts, I missed a very tight 30 minute set. Oh well, next time...

I DID, however get there in time to see SABATON. These Swedish rockers were greeted by a very enthusiastic crowd who chanted their name in unison, over and over, before the house lights even dimmed. Fists pumping throughout, it was what I would imagine it would be like at a European rock festival. All adrenaline, anticipation, everything I like in a psyched-up rock audience. This crowd was ready!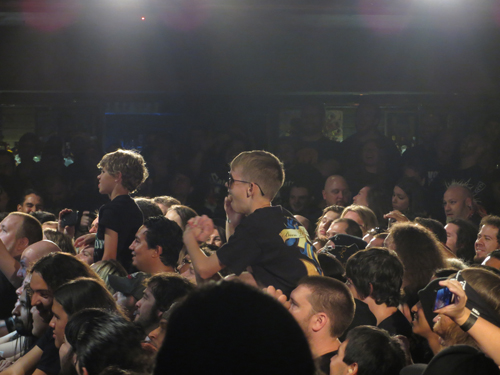 The band was also ready, as these "Viking Warriors" gave the sold out crowd exactly what they wanted with a killer 50 minute set. Singer Joakim Broden, is quite the cheerleader. He instantly bonds with the crowd, giving shout outs to all, including the photographers, all of us grouped in the photo pit for the first 3 songs like lambs before the slaughter.
Their set included a perfect blend of old an newer material. Opening with "Ghost Division" from 2008's "Art Of War" release, the military inspired songs, again, mobilized this crowd as one. Some new material was played from their upcoming Nuclear Blast records release Heroes (which will be released mid-May...) and after a brief explanation by singer Broden, of the meaning behind the lyrics to one such cut "To Hell And Back", the crowd reacted favorably, as the band blasted their latest offering.
Speaking of the crowd, the last time I saw SABATON, they pulled an 8 year old kid onstage and let him rock out with the band. Well, low and behold, perched on his dad's shoulders not 5 feet from the stage, and still sporting the mirrored aviator sunglasses that Broden had given him last year, was the same kid. He was acknowledged by the band, and later during the set closing "Metal Crue", their 2006 tribute to classic metal bands, another 7 year old was pulled up onstage and got to rock out, throwing his metal horns in the air, and again rewarded with the singers sunglasses, no doubt something he and his family will treasure for a long time.
It is this kind of connection with their audience that has made me a fan. That, and of course, the blistering , thundering riffs from guitarists Thobbe Englund and Chris Rorland that set the tone for their material. I look forward to getting their new CD when it comes out, and blasting it on my way to yet another rock show in the future. As for this night, the audience cheered their approval as though they were the headliner. I did as well. Don't miss them.
www.sabaton.net
SETLIST:
(Intro) "The March To War"
"Ghost Division"
"Gott Mit Uns"
"Carolus Rex"
"Swedish Pagans"
"To Hell and Black"
"White Death"
"40:1"
"Art Of War"
"Primo Victoria"
"Metal Crue"
After a brief intermission, and a view of both the bar and packed merch stand, it was time for the headliners. By now, the HOB was at capacity, and as always, I eyed the exits, as is my habit at packed shows. After the tragedy of the "Station Nightclub Fire" a number of years back, I always plan my "escape route" before drawing may attention to what is happening onstage. You should as well.

ICED EARTH hit the stage, opening with the title track to their latest release "Plagues Of Babylon". Now fronted by former INTO ETERNITY singer Stu Block, they commanded the already pumped up crowd on an 80 minute journey into the darker, introspective realm of their brand of American metal. Block is a great front man, and he was on his game this night. While putting his spin on older established songs like "The Hunter", "Burning Times" and an interesting "Red Baron/Blue Max", he sang with conviction, and even though he is the latest in a line of great IE vocalists like Gene Adam, Matt Barlow and Tim "Ripper" Owens, he was clearly in charge.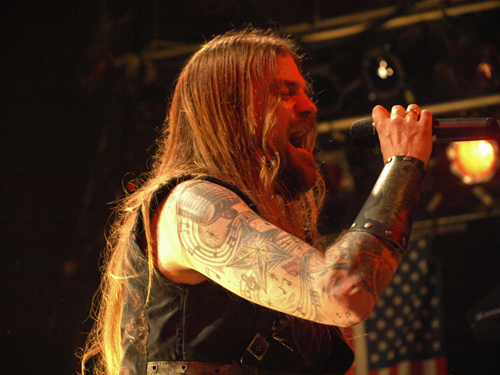 In addition to the title track, "Democide", "Cthulhu" and the ballad "If I Could See You", the latest release "Plagues Of Babylon" was well represented in the set. Guitarist and IE mastermind Jon Shaffer has really hit a "home run" with this album, and it translates very well in a live atmosphere. A great mix, and a spooky stage set added to the delight, and the packed house loved it. Shaffer and guitarist Troy Seele are a great 1-2 punch, and really shined on their various solos throughout. The title track of "Dystopia", as well as "V" off that release spotlighted the kind of power these guys can produce. Not undermine in any way the killer low end of the rhythm section of bassist Luke Appleton, and touring drummer Jon Dette. They kept heads banging all through the show, again, in unison, eventually closing the set with, "Iced Earth" from their 1991 debut.
This was truly one of the best shows that I have seen so far this year, and to keep in mind, I missed the opening act! Catch this tour when it comes to your town, you will literally march out of the venue, ready to conquer anything that gets in your way, via a true, metal inspired adrenaline rush.
www.icedearth.com
SETLIST:
"Plagues Of Babylon"
"Apocalypse Segue"
"Democide"
"Burning Times"
"V"
"The Hunter"
"Red Baron/Blue Max"
"If I Could See You"
"Boiling Point"
"Vengeance Is Mine"
"Cthulhu"
"My Own Savior"
"Coming Curse"
"Dystopia"
"Watching Over Me"
"Iced Earth"
Check out some more pics from the show!

All photos by Junkman