PRIMAL FEAR Live In Dallas, Texas


By Damian J. Cousins aka "The Maestro", Dallas Contributor
Wednesday, May 28, 2014 @ 8:46 AM


| | | |
| --- | --- | --- |
| | | At Trees, Dallas |
Photos By Ronnie Jackson Photography

I go to a lot of shows. THAT'S not news. But there was an announcement made back in December that prompted me to make a big-assed circle on my calendar, and said announcement was the mighty PRIMAL FEAR coming to Dallas on May 18, to Trees of all places!!! Sweet Mother of Metal, slap me now! I told everyone and anyone in my blast radius that nothing would stop me from this show, NOTHING! All the other tickets (save for KISS/DEF LEPPARD) you could set on fire, but THIS is the show I wasn't missing. Well, here we are a few days later and I am still basking in the Power Metal afterglow. I also got a one-on-one with bassist Mat Sinner before the show, and found him to be very, very cool (You'll see that soon, promise).

At precisely 10:40 the intro of "Countdown To Insanity" washed over the room, signaling that the time was at hand. Opening with "Final Embrace" off the Jaws Of Death album, Ralf Scheepers' voice was loud and powerful. He cuts an impressive figure up there and ya can't help but notice the man is JACKED. Made a doughboy like me seriously consider the gym for all of five seconds. Two from newest album Delivering The Black followed in "Alive & On Fire" and the title track. It was at this point that I had to really take a step back and realize that I was watching guitarists Tom Naumann and Alex Beyrodt, drummer Randy Black, Mat Sinner and Scheepers onstage in my favorite venue of all-time and I'm sure it looked like someone stapled a smile to my face. "Nuclear Fire" was next, from the record of the same name and it was yet another stop on the Speed and Power Train before things slowed down for a bit with "Seven Seals".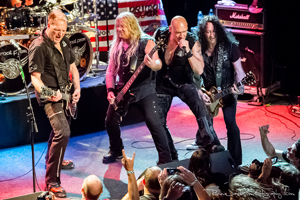 But the highlight of my night, hell maybe even my year, was "One Night In December", 9:19 of pure awesome, and my runaway favorite from Delivering The Black. Who am I kidding; it's my favorite PRIMAL FEAR track, period! When I peeked at the setlist and saw this on it I very nearly exploded like a scene out of Scanners. And when Ralf let fly with that chorus I was in absolute heaven. The roof could have caved in on me after that song and I wouldn't have cared, quite frankly. It was back to Nuclear Fire for some "Angel In Black" and some killer dueling solos from Beyrodt and Naumann. But the engine that really drives this train is the duo of Sinner and Black. Randy hits the drums with such a vengeance and is so versatile and Mat holds down the thick basslines all while making it look easy. "When Death Comes Knocking" was up next, Mini-Amps' favorite song, and Dad made sure to rock just a little harder in his honor!
As someone who only discovered PRIMAL FEAR last year getting to hear so many different albums represented in one set was an absolute treat. The band tore into "Chainbreaker" from the self-titled record and followed that with the mesmerizing three-part suite "Fighting The Darkness" off of 2007's New Religion before finally visiting the Unbreakable album with the galloping "Bad Guys Wear Black". Admittedly, this was the disc that started it all for me so I was like a kid in a candy store. Closing out the regular set was "Metal Is Forever" and HOW Scheepers is able to wail on this one so late into a set is beyond me, but the guy didn't drop a fucking note, not ONE!
For the encore first came "Unbreakable (Part 2)", another favorite for when I'm driving, and finally "Battalions Of Hate", which was a total surprise to me, albeit an awesome one. The band bid us adieu, and when it was all over I was sad. Yes, I had an amazing time, but I selfishly wanted more PRIMAL FEAR. One of the best bands/vocalists I have ever had the privilege, and you best believe it was a privilege, of seeing live. I am eternally grateful for getting to do what I do with A&GS, KNAC.COM and others, and nights like this make it more than I could ever have dreamed of. I want to give a special thank you to Jan, PRIMAL FEAR's tour manager for letting me join the pre-show meet and greet so I could have the guys pose for pictures and sign CDs for Mini-Amps, and to Dustin at Frontiers Records for setting me up with such an awesome night. Thanks again, guys!! ~dc
Check out Damian's website at www.ampsandgreenscreens.com!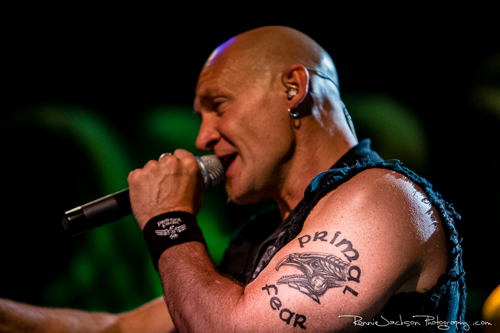 Please log in to view RANTS