BLACK LABEL SOCIETY, DEVIL YOU KNOW, BUTCHER BABIES Live In Dallas, Texas


By Damian J. Cousins aka "The Maestro", Dallas Contributor
Wednesday, May 28, 2014 @ 8:57 AM


| | | |
| --- | --- | --- |
| | | At Verizon Theater In Grand Prairie |
Photos By Dark House Image

Friday was one hell of a crazy day that turned into an awesome night. Had to race home from work, get out of the corporate duds and metal up, then haul ass on over to Verizon Theater at Grand Prairie for the Revolver Golden Gods Tour ft. BLACK LABEL SOCIETY, DEVIL YOU KNOW and BUTCHER BABIES for what I THOUGHT was a 7:30 start time. I met up with my photo buddies from Darkhouse Image, Paul Wilkins Photography and Joe Guzman and was just kind of relaxing for a minute when OMIGOD-WHAT-THE-FUCK-ARE-THE-BUTCHER BABIES-DOING-ON-NOW?!?!? An employee informed us that they just went on so I missed all of ten seconds as I sprinted to my seat and the boys ran down to the photo pit.

Being a big fan of this band and having seen them destroy the crowds at last summer's Mayhem Fest I knew I was in for a treat, and they certainly did not disappoint. Carla Harvey and recently redheaded Heidi Shepherd were a whirling dervish of energy, running, jumping and whipping their hair around during "I Smell A Massacre", and "The Mirror Never Lies", their screams ripping through the auditorium and sharp enough to cut glass. Then Henry tore into the riff from "Goliath", which is a great song, but live it's on a completely different level! Especially with the thunderous rhythm section of Jason Klein (bass) and Chris Warner (drums) providing the backbone of this apocalypse.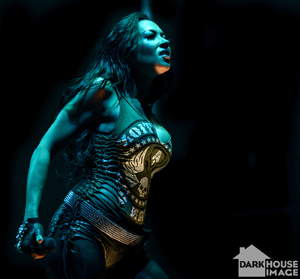 The crowd may not have been huge yet but those of us who were there made our voices heard, especially during "Ch818 (Gasoline)", Carla and Heidi's harmonies on the chorus ringing sweetly in this guy's ears. Next thing I know, out comes the sonic sledgehammer for "Jesus Needs More Babies For His War Machine", one of my personal favorites from the first EP but goddammit the same thing always happens! Whenever I hear it that's all I can sing for the next few days. Clearly BUTCHER BABIES have infected my brain! The brutalizing assault of "Mr. Slowdeath" was next followed by closer, and one of their best tunes in "Magnolia Blvd." Combining gorgeous singing on the hooks with unholy screams and guttural growls during the verses, this song, as well as this band, is not for the faint of heart.
An awesome set, but if I don't get to see a BUTCHER BABIES headlining gig soon I may do something drastic!!
Next up was another band whose music I've been hungrily devouring in DEVIL YOU KNOW. As I've said before I'm a big fan of Howard Jones, so to see him back out there was fantastic. And the sound of this band is fucking tight, tight, tight! Ryan Wombacher's bass was thicker than toxic sludge and coupled with John Sankey's drumming I felt my chest pounding with every beat. Wombacher also provides the perfect vocals, both lead and harmony, that complement Jones' voice. I wasn't aware of how much singing he does until I saw them live and it sounded fucking great! The guitar duo of Francesco Artusato and Roy Lev-Ari showed they meant business right away on "A New Beginning" and "My Own" and the pit that formed in seconds clearly showed the results. This was also one of my favorite moments of the set.
"Embracing The Torture" and first single/video "Seven Years Alone" were next, the latter once again showcasing the Jones/Wombacher harmonies to perfection, and the former an impressive display of brutality. I knew from the first time I heard "Alone" that this band was gonna be something special, and after seeing them live that theory has only been proven in spades. The guitar work in "A Mind Insane" coupled with Jones' screams make for yet another slice from the cake of absolute heaviness, and on this one the band seemed to go into overdrive. As I said in my album review I love the evil-sounding intro and overall song structure of "The Killer" and live it really conveys that sentiment before the all-out war of closer "Shut It Down" gave us one more old-fashioned beating for the road. Welcome to the party, DEVIL YOU KNOW. I really can't wait to check them out again.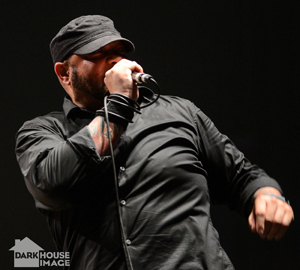 After a nice long bit of relaxation in the media area it was finally time for the Grand Prairie Chapter of BLACK LABEL SOCIETY to represent. Just for the hell of it I was down in the photo pit for the first two songs and that is one hell of a goddamn wall of sound comin' atcha, let me just tell you. Opening with new one "My Dying Time", a riff-laden dark song, this was our first look both guitar-wise and vocally at newest member Dario Lorina (ex-LIZZY BORDEN). Gotta tell ya…this kid fits like a glove. An absolute phenom, he has more heart, soul, and feel than some guys twice his age and is perfect for BLS. One of my favorites from 2010's Order Of The Black, "Godspeed Hellbound" came out swinging like a ten ton hammer and the place went nuts, which continued for "Destruction Overdrive". As a longtime fan who only got to see this band once I was shocked to see them pull out an oldie like "The Rose Petalled Garden", but pleasantly so.
One of my other favorites from 2010, "Overlord" was sandwiched between new cuts "Heart Of Darkness" and absolute ripper "Damn The Flood", a jumpin' jack of a tune that combines the best of yesterday and today and is one of the best songs AND solos off of Catacombs Of The Black Vatican. At this point Zakk Wylde did a guitar solo. And not that he's not a fucking guitar GOD, because he is, but 25 minutes or so was just too long. However that would prove to be the only blemish on an otherwise flawless set, which resumed with "Parade Of The Dead", a hard and fast number that had everyone in my section up and moving, John DeServio on bass and Jeff Fabb on drums leading the charge. I love being among the die-hards all wearing their BLACK LABEL colors; it's a family, not a fanbase.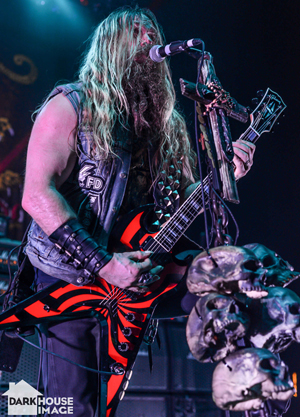 Zakk slowed it down for a bit, first with "Angel Of Mercy", another standout from Catacombs, and then the moment many of us were waiting for, "In This River". Featuring Dario on guitar who totally nailed it and Zakk at the piano, and of course two beautiful shots of the late Darrell Abbott, it was a very moving tribute here in the late guitar-shredder's home base. Love or hate his former band, there is no denying that he was a true innovator and a phenomenal player. Now it was time for MY song, the song that is my one true favorite in the entire BLACK LABEL SOCIETY universe…"Suicide Messiah". Sore throat be damned, I screamed my fuckin' balls off during this one, just like last summer!
The show could have ended there and I wouldn't have cared, but alas, there was more to come. You just KNOW when you hear that start to "Concrete Jungle" that you're in for some shit now. I've always felt that the live rendition buries the studio version and this night was no exception. And you know what they ended with, don't you? "Stillborn" of course! This is definitely a top 5 BLS song for me and live it's got teeth that would put a great white's to shame. And just when we thought it was safe to head for the exits, out comes Phil Anselmo and Rex Brown (in town for the KILL DEVIL HILL show later that night at Trees Dallas) to do some song "I'm Broken" by some band I can't stand. This had 99% of the crowd there going buckwild. You can guess who the other 1% was. Still, I'm glad all these DFW-area peeps got to see that; happy for them. All told I had an awesome night. BLACK LABEL SOCIETY, DEVIL YOU KNOW and BUTCHER BABIES came, saw, and kicked ass!!
Check out Damian's website at www.ampsandgreenscreens.com!

Please log in to view RANTS