MONUMENTS The Amanuensis


By Peter Atkinson, Contributor
Wednesday, July 23, 2014 @ 11:07 AM


| | | |
| --- | --- | --- |
| | | |
MONUMENTS
The Amanuensis
Century Media Records





U.S.-U.K. hybrid MONUMENTS I guess might best be described as "middle of the road djent." More muscular than their British brethren TESSERACT, less wanky and weird than American cousins PERIPHERY, and not nearly as rigid or fearsome as Swedish pioneers MESHUGGAH, they fill their own little niche betwixt and between. Which is not such a bad place to be, really.

The band's second album, The Amanuensis, further establishes this position – even as they add ex-PERIPHERY frontman Chris Barretto to their ranks. Hooky, thunderous and occasionally quite brutal, yet rich with melody; complex and involved, yet rarely showy or indulgent, it offers catchiness and concussiveness in equal measures. It's also a cleverly conceived concept album that doesn't in any way seem like a concept album, as the band forgo the usual intros, interludes and obvious connective tissue or thematic devices and let the lyrics about the Samsara cycle – the continuous circle of birth, life, death and reincarnation in Eastern religions – tie together the threads and provide a narrative flow behind the music.

The real story here anyway is the gut-punch groove – or, more precisely, grooves, since there are lots of them - that power The Amanuensis almost from start to finish, save for the meditative closing track "Samsara". Riding the thick, surging rhythms of bassist Adam Swan and drummer Mike Maylan, guitarists John Browne and Olly Steele rain haymaker riff after haymaker riff here. The bottom-heavy seven/eight-string tone and angular, jagged edges gives it all some added shudder and shake, and occasionally threaten to loosen the bowels, especially when Barretto busts out the lion's roar side of his elastic vocals, as on the opener "The Alchemist" "Horcrux" and "I, The Destroyer", which is essentially the album's denouement.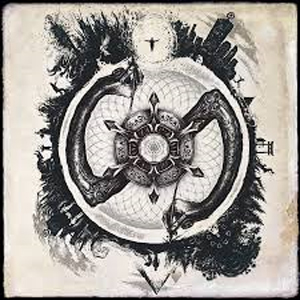 But The Amanuensis is hardly just so much bombast. MONUMENTS channel this heaving mass through surprisingly inviting songs - with "Atlas" or "Garden Of Sankhara" boasting an almost pop-like feel - that emphasizes melody and structure and deftly counter the progressive flourishes bobbing and weaving along the fringes. The band streamline some of the technical indulgences of their 2012 debut Gnosis, making the new album more instantaneous and easier to grasp, yet retain the heft that still lets it hit hard. And heavy though the material may be, it rarely feels intimidating or ominous.
Barretto's silky, soulful clean singing certainly helps in this regard. He's got more range and finesse than former frontman Matt Rose, who sang on Gnosis, and the band take full advantage of it on The Amanuensis. Instead of merely being relegated to the choruses, probably about 70 percent of the vocals are sung instead of screamed. And while there are a few metalcore-style good cop/bad cop tradeoffs, they are but a minor distraction here.
Let's just hope Barretto can stick around for a while. He's already the band's fourth vocalist – for a stretch Neema Askari and Greg Pope tag-teamed - in four years. But the rest of the lineup seems to have solidified nicely, so knock wood. MONUMENTS really have coalesced around Barretto on The Amanuensis, and deliver a dynamite outing that not only makes djent/tech/prog metal accessible, it makes it awesome.
4.5 Out Of 5.0
Grab a copy of The Amanuensis in the KNAC.COM More Store right HERE.

Please log in to view RANTS