Steve Harris' BRITISH LION/THE RAVEN AGE Live In Brighton, England UK


By Shelly Harris, Chicago Contributor
Wednesday, August 6, 2014 @ 5:33 PM


| | | |
| --- | --- | --- |
| | | At Concorde 2 On July 9, 2014 |
Photos by Marcia Pefley

Brighton, located as it is in the south of England on the Channel, and with a reputation for having seaside recreational charm, was already a target for a London day trip destination when we arrived in the UK pre-Sonisphere Festival.

However, when it was soon discovered that BRITISH LION (IRON MAIDEN's Steve Harris's side project) would be doing a rare 10 date mini-tour right after MAIDEN's (three year) tour ended and that it would actually hit Brighton's Concorde 2 venue just prior to our departure, well, then, it was a done deal to make the 1½ hour trip out there from London on that afternoon of July 9.

Now, the Concorde 2 is about a half mile down from the tourist attractions on the Pier and boardwalk, and tucked into the breakwater columns that hold up a road above. It appears to be an old Victorian trolley station or café, later turned pub and eventually turned to a hip-decadent club. From the outside, it appears remote and nearly abandoned, but on the inside it has a large vintage front bar (some of the original ornate woodwork still seems intact), that leads to a back bar and high elevated stage area, which, combined with a professional lighting and sound-system, made it an idyllic rock showcase setting, not only for Steve Harris's BRITISH LION, but also for THE RAVEN AGE, the brainchild of guitarist George Harris, Steve Harris's oldest son.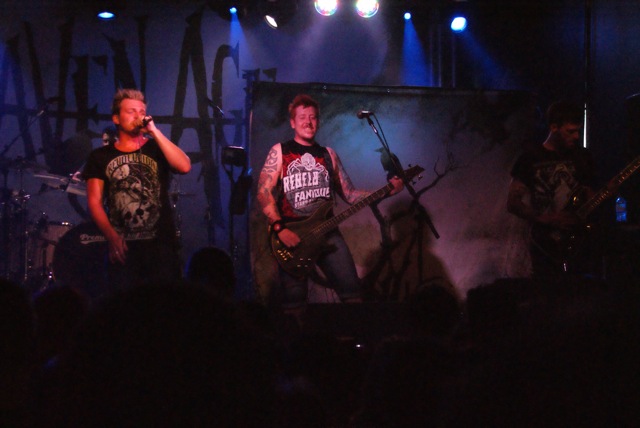 When the doors opened, several things were evident, the first being that the crowd that had the place filled to apparent capacity was an unusual mixture of equal parts millenials and baby-boomers, with most of the former staking out space on the floor in front of the stage, and the latter hanging back to the elevated bar and bannister areas by the sound desk.
When THE RAVEN AGE (Matt Cox, bass; Michael Burrough, vocals; Jai Patel, drums; Dan Wright, guitar; along with George Harris, guitar) came on, they notched up the infectious and dynamic exuberance exhibited a few days earlier when they opened the Satellite stage at Sonisphere. This time they also performed all four songs from their newly released EP ("Eye Among The Blind", "The Death March", "Winds Of Change" and "Angel In Disgrace"), but also added several more power epics ("Uprising", "Trapped Within The Shadows", "Missing/Captured" and "Salem's Fate") in a performance that confirms that not only is their original material ready for prime time, but the band itself is also running as a sharp and charismatic unit that performance-wise is unquestionably at the early stages of what promises to be a sharply escalating career trajectory. There's simply no doubt about that at all considering the trifecta of high level talent, ambition, and the best connections possible.
THE RAVEN AGE's self-described "melodic metal" sound includes the time changes and deep-thinking subject matter that is not far removed from that of the early IRON MAIDEN, and also features a majestic and multi-layered sound delivered by highly competent musicians and includes th the "clean" and powerful vocals of Burrough soaring above it all. (Though Burrough was being treated for a respiratory infection, there was no sign at all of it during the set.)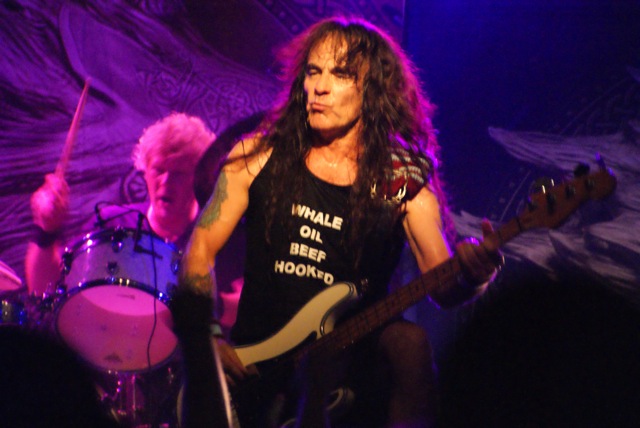 At any rate, THE RAVEN AGE, naturally compatible openers for BRITISH LION in more ways than one (and would-be equally compatible openers for IRON MAIDEN, with or without the family ties), had the crowd as revved upas possible before all five members packed up their gear and enthusiasticallydid sales duty in the merch area at the front of the venue for the remainder of the night. (Perhaps the entire band's accessibility and great PR flair is a contributing factor to the fact that the THE RAVEN AGE EP has skipped up to the #1 on Amazon's Hot New Releases recently.)
As for BRITISH LION – the band and side project Steve Harris has been working with for a number of years in between the many demands of MAIDEN – they delivered exactly as expected – if you knew what to expect, including Steve Harris's classic bass riffs and stage persona.
Though undoubtedly many were there just to see Steve play in such an intimate venue, regardless of the quality of the material or the rest of the band, the bonus we all received was a major dose of pure, authentic, unadulterated classic British hard-driving rock, the very essence of the genre that most fans would know as Harris's long professed seminal influence. There were shades of WISHBONE ASH, GOLDEN EARRING, maybe FREE and, of course, UFO … And the sound was not vastly different from earlier, pre-Prog MAIDEN.
Most of the material was straight off the first – and so far only - BRITISH LION album, released two years ago, with a couple of added covers, including UFO's "Let It Roll". (Set list follows.) This was only the second show on the tour, with a seeming lack of time to rehearse with Harris previously, but there were no detectible glitches on that account. In fact, the entire band seemed energized andwowed to be there - and almost humbled by the crowd enthusiasm, maybe since touring for the BRITISH LION project is so unfortunately rare. (Of course, the fact that there were several giant, 6'4" plus metallers up front going completely apeshit for the entire show didn't hurt. )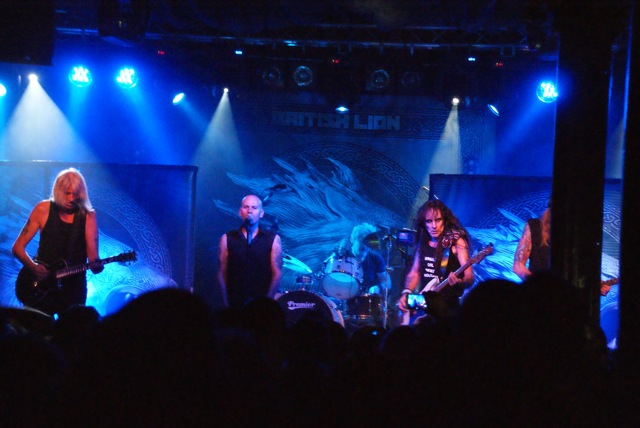 Standout features, other than Steve's always dominant stage presence, were the melodicism , the classic dynamic and succinct song structure, the surprisingly strong and powerful vocals of Richard Taylor and the dueling guitar work of Grahame Leslie and David Hawkins. (Drummer Simon Dawson rounds out the band.)
This project seems to be one way Steve Harris works to keep things "real," and also an avenue for keeping in touch with his own roots, in a way that IRON MAIDEN, mighty machine that it is, no longer permits. As such, it was simply a must-see show and worth a long trek for any and all in attendance. The only cloud hanging out there, when all was said and done, is where BRITISH LION can actually go or will go from here, considering IRON MAIDEN's continuing, perpetual recording and touring cycle…
BRITISH LION Set List:
"This Is My God"
"Lost Worlds"
"Karma Killer"
"Father Lucifer"
"The Burning"
"The Chosen Ones"
"These Are The Hands"
"Guineas And Crowns"
"Last Chance"
"Us Against The World"
"A World Without Heaven"
"Do Ya Do Ya Want Me" (Trevor Rabin cover)
"Judas"
Encore:
"Let It Roll" (UFO cover)
"Eyes of the Young"

Please log in to view RANTS