NOVEMBERS DOOM Live in Chicago, Illinois With Photos!


By Metal Mark Mihalo, Tulsa Contributor
Sunday, August 17, 2014 @ 12:30 AM


| | | |
| --- | --- | --- |
| | | August 9th, 2014 Performing Bled White In Its Entireity At Reggie's |
Normally I would never think of driving 10 hours to see a concert, but I've always wanted to see NOVEMBERS DOOM since I became a fan many years ago, and what better way to see them than to see their CD release show where they would play the entire Bled White album. This was a once in a lifetime opportunity that I couldn't pass up! So the wife and I decided to take off on an adventure to the great city of Chicago, Illinois to see them at Reggie's on State St. just about a half mile from Soldier Field.

We arrived at Reggie's a little early to grab some dinner before the show and still had about 30 minutes until the doors opened after we ate, so we went and sat outside on the front patio to get cool. We were enjoying the cool Chicago air, when out of restaurant walks Paul Kuhr, vocalist for NOVEMBERS DOOM. Well shit! So I hopped my ear-to-ear grinnin' ass up and introduced myself. What a nice guy in person he is. I mean I chatted with him on the phone recently, but that doesn't compare to meeting one of your favorite vocalists of all time in person. We shot the shit for a few minutes talking about the long drive up and looking forward to the show that night. He was kind enough to let me get a pic with him and autograph my cd too. Then he says, "Hey Mike's [Bass Player] right here, he can sign it too. And I think Larry [Guitarist] should be out in a minute." So Mike and Larry both signed my cd and thanked me for driving all the way up for the show. I need to add here that at this point we heard the air conditioning was not functioning in the event venue. Luckily it was a fairly cool evening, but we were thinking that it might get kinda warm in there with all those people and no A/C. We finally go inside and there's Vito [Guitarist] at the merch table. Chatted with Vito for a few and got an autograph and a ND sticker! Way cool Vito! Thanks!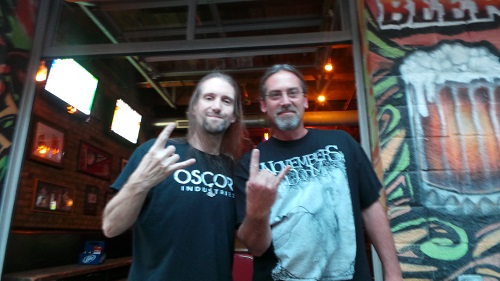 Starting the lineup for the evening was SCAR INC. They are a very solid band that was enjoyed immensely. They are labeled as a melodic death metal band, but to me they seemed more speed/thrash metal in style. Closing out their set was a cover of Ronnie James Dio's "We Rock". They did great job on vocals and guitar work and had the crowd shouting the "We Rock" portions of the song.
Next on stage we have DISINTER. I'm gonna have to admit that I was not a huge fan of this band. Don't bash me for saying that, but the style of music is just not for me. Ultra-fast guitars and blast beat drumsfilled my sense of time for the next 40 minutes. I thought my ears were going to start bleeding at one point. They were so fucking loud and the repetitiveness just got to be a little much after about 15 minutes.
Finally, the main event! By this point in the evening one would expect the venue to be full or close to full for the main show of the night (Reggie's holds about 450 people). Regretfully, this was not the case tonight. I don't think numbers need to be put in here, but it was lower than expected. I cannot for the life of me understand that in a city as large as Chicago, that more fans and metalheads didn't turn out for this show. I understand there were other bands playing at other venues. But shit, it's Chicago! How many million people live there? And 400 metalheads couldn't make it out to the show? That's bullshit! Shame on you Chicago! This band has been a part of your city for 25 years and they have fans all over the world. Yet the crowds weren't there. Well, sucks for you all that missed it. It was just that much more personal for those of us that did go; not to mention keep the heat down since the A/C was out.
NOVEMBERS DOOM hits the stage. The sound of rain can be heard as the show starts and that could only mean one thing: The song "Rain" off of Novella Reservoir is the opener for the set. What a great way to start the show. Not only do we get the whole Bled White album, but we get bonus songs too! "Rain" is one of my favorite songs and its chugging rhythm gets the blood pumping in preparation for what's to come. Next up was "Harvest Scythe" from their last album, Aphotic, which is a piece of creative genius all its own.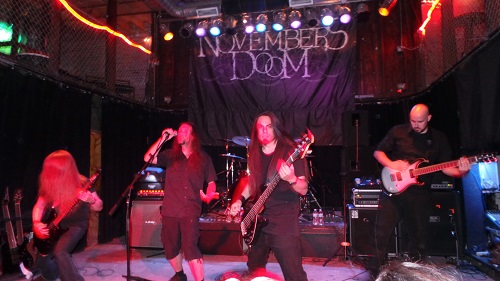 Now that we are pumped up from the intro songs, we are all ready for what we came here for: Bled White. What comes next is nothing short of auditory overload. From the opening track "Bled White" to the closing track "The Silent Dark", the creatively sculpted architecture of the album draws in the audience song after song. The album clocks in at 1:08:15 and with the additional songs, puts them playing for over an hour and thirty minutes, which is their longest set to date. Finishing out their setlist is title track of the 2007 release, "The Pale Haunt Departure".
What appears to be the end of the setlist and a close to the evening show is only temporary as Larry starts the opening riffs of SLAYER's "Angel Of Death". Hell Yeah! Larry nails Tom Araya's scream at the start of the song and the crowd is going crazy when all of a sudden…Larry is down on the stage. At first everyone thought it was part of the show, but it was not. With no air conditioning in the building the heat got to him and he was out for a few seconds. Luckily he was standingup in a few minutes and was ok, but needless to say it was quite the scare for everyone and also the end of the show.
This was a once in a lifetime performance and I'm glad to have been a part of it. It was worth every hour of driving time to Chicago to see one of my favorite bands of all time. This concert was everything I hoped it would be: phenomenal!
As of this writing, no tour dates were available, but look for NOVEMBERS DOOM to be touring in the coming months. They will be playing NYDM Milwaukee Spring Bash 2015 April 23rd – 25th too.
Setlist:
"Rain"
"Harvest Scythe"
"Bled White"
"Just Breathe"
"Scorpius"
"Unrest"
"The Memory Room"
"The Brave Pawn"
"Clear"
"The Grand Circle"
"Animus"
"The Silent Dark"
"The Pale Haunt Departure"
Check out a few more pics from the show!
All Photos By Mark/Andrea Mihalo

Please log in to view RANTS