EVERGREY
Hymns For The Broken
AFM Records





I've been listening to Heavy Music for well over 30 years now. And I can say my taste has somewhat mellowed in the last decade. I don't listen to much death metal now, I loathe grindcore and most black metal as well. I'm really about a great, well written Heavy song. I still love Thrash & Speed Metal, so I haven't totally wussed out. Which brings me to EVERGREY. They have a style and sound all their own to me, much like the great NEVERMORE (RIP). They have a knack for writing these epic, well-written, melancholy Metal songs that just hit you on a different level then just a party metal anthem. Lyrically and musically, their take on Metal is a breath of fresh aire in a sometime stale genre.

Being a Vinyl junkie, their last album, 2011's Glorious Collision was the first of their extensive 16 year career that was released on my precious Wax. In fact, after turning my lovely Bride into EVERGREY, seeing them live on 2013's 70000 Tons Of Metal Cruise was indeed a highlight for both of us.

It was rather surprising to read that Mastermind and main songwriter Tom S. Englund was thinking of calling it quits as the passion for the band was waning for a myriad of reasons up to and including the revolving door of members syndrome, which befalls just about every band around now it seems. Worth noting is the last drummer, Hannes Van Dahl, is the newest drummer for SABATON for example.

Due to that and a couple of other lucky strokes, the G.C. line-up (including Henrik Danhage (guitars), Jonas Exdahl (drums) and Jari Kainulainen (bass) was asked to fill in for various missing members and the lot realized that the fun factor together for playing and creating music was in fact, stronger then ever. With the juices flowing freely, the latest album Hymns For The Broken was created.

Starting out with the intro, "The Awakening", a distorted voice let's you know that' 'you were never right'. This leads us straight into the 1st single, "King Of Errors". Check out the video HERE as the band rocks out on a huge, and I mean HUGE rolling crane in their hometown of Gothenburg, Sweden. The song itself has that haunting melody that Tom is known for, along with piano and some symphonic elements in the background that give it a truly epic feel. A strong opener to be sure.

"A New Dawn" starts with a haunting beginning before kicking into a riff guaranteed to make that head bang! It even features a short Thrash drumbeat and some electronic elements as well. Tom really doesn't get the credit he deserves as he has an exceptional voice, one of the most underrated in Metal IMO. EVERGREY do not write formula-type songs, so if you want chorus-verse-chorus type music you should probably look elsewhere.

"Wake A Change" starts off slowly, again with piano and synths and stays that course. A ballad you might say, although when EVERGREY writes one, it's much more epic & grandiose in nature than the typical hair-rock weakness your probably used to hearing.

"Archaic Rage" takes up right where "Wake" left off, a slow moody song that is progressive but yet maintains it's dark edge thru-out. EVERGREY do NOT write what I would call happy music. I think of winter and grey skies, a chill in the air when I listen to them.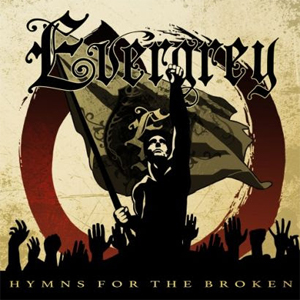 "Barricades" has some great guitar soloing in it, and reminds me a bit of the much later era of SAVATAGE, after Jon no longer sang and the band had changed direction to a much more progressive, epic style.
"Black Undertow" actually hit me with the thought of TOOL right at the start for a sec, before setting off on its melancholy way. Slow with a very memorable chorus, it's almost depressing style is one of my more favorite tracks. Even though they are much more complex musically, I think even fans of doom metal would really dig EVERGREY.
"The Fire" has children's voices in the beginning along with a heavy staccato riff that reminds one of Loomis & NEVERMORE. And that's never a bad thing.
The title track, "Hymns For The Broken" is again, slow, dark and foreboding. 'Reach out, show me that you feel the same'. I know everyone has a point where life just makes you weary and you question your very existence. At least I do. This song is for us.
"Missing You" is not the John Waite song in case you were wondering, but a song with Tom's voice and a piano. This song is emotional and stirring, with no frills and no other instruments wanted or needed.
"The Grand Collapse" starts with a heavy riff and those haunting synths in the background, and becomes a mid-paced headbanger, with a spot in-the-middle that I guarantee crowds will be singing live! I'd love to see the band write a soundtrack to some of the dark, edgy movies that are abound nowdays. The production on the album is crisp, and thankfully let's you hear the multiple complexities of everything going on. The man to thank for that was Jacob Hansen, he of VOLBEAT, PRIMAL FEAR fame.
The album closer, "The Aftermath" is a perfect closer for this album, with a slide guitar crying in the background of a song recalling times in the past.
I really think very highly of EVERGREY, and the melancholy style of Metal that they play. That being said, I'll say that EVERGREY won't be everyone's cup of tea. I would tell you to be adventurous and seek them out and give them a try. I'll bet your pleasantly surprised. In a grey kinda way.
And this is available in limited quantities for my Vinyl loving brethren.
4.6 Out Of 5.0 Skulls
Grab your copy of Hymns For The Broken in the KNAC.COM More Store right HERE