LITA FORD Live In Houston, Texas With Photos!


By Larry Petro, News Monkey
Saturday, November 1, 2014 @ 5:09 PM


| | | |
| --- | --- | --- |
| | | Sound Issues, Attitudes Mar Performance At The Concert Pub North |
Sometimes writing a show review turns out to be a painful experience, especially when the show was attended with such high hopes and expectations. Lita Ford's performance at the Concert Pub North in Houston, Texas on October 12th was one of those instances that should have been far better, and could have been, but sadly wasn't.

The day started off nicely enough. I had an interview scheduled with Lita at the venue at 4:15 that afternoon and after making contact with the Tour Manager, all seemed well and good to go. Because I live about 45 minutes from the venue and due to construction along the normally traveled route, I made the decision to leave a bit early to ensure I arrived on time. About halfway there I received another email from said Tour Manager stating that our interview was going to have to be pushed back to 9:30 that evening. Fair enough, but it would have been nice to receive that information prior to leaving the house. As it was, I arrived at the club at 4 pm and spent the next couple of idle hours grabbing a bite in the club restaurant, having a few beers and watching some football games that happened to be on (it was a Sunday after all).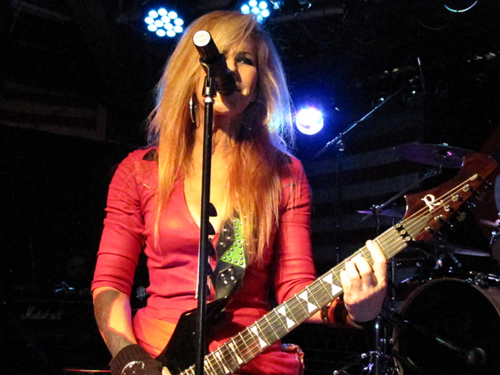 It was just prior to the announced door time of 7:30 that word started to trickle down that they were having sound issues during sound check and as a result were running way behind. True enough, as the doors didn't eventually open until nearly 8:30, with Lita herself never even making a sound check appearance, an omission that would probably come back to bite someone in the ass later on in the evening.
There were two local openers for the show, the first being a band called HIPPIE CHICK. A curious choice to open for Lita Ford because the 80's cover music they played was more of the pop variety like Pat Benatar and HEART than it was hard rock. The second was Kat James and TROUBLEMAKER and they fit a little better. I didn't get to catch too much of their set as shortly after they began it was time for my interview with Lita, but I did hear some AC/DC being played, among some other harder rock cover tunes.
At last it was time for the Queen of American Metal to take her stage throne. She had a great backing band with her this time around, consisting of bassist Marty O'Brien, who has toured and recorded with a wide range of artists from DISTURBED to Celine Dion, phenomenal, world renowned drummer Bobby Rock, and the newest addition to her band, guitarist Patrick Kennison. Lita kicked off her set with her version of the Elton John classic "The Bitch Is Back" from her real comeback album, 2012's Living Like A Runaway. Almost immediately sound issues began to rear their ugly head and by the time they got into their second number, "Hungry", a loud low pitched hum became very prevalent in the monitors. An obivously annoyed Ford stopped mid-song and declared that they were going to leave the stage and giving the sound guys just 10 minutes to get things figured out because they could not perform under those conditions and that they would start the whole set over from the beginning. They did leave and return as promised but the damage had already been done. I turned around from my spot at the front of the stage to see that approximately half the crowd had seen enough and left.
The band started things over and the hum was gone, as was Lita's voice at the start of the set. Whatever the reason, it just wasn't there at the beginning, sounding more DOKKEN-esque than that of the Lita Ford I remembered. The band was on fire and had it not been for them, more of the crowd probably would have left. The set included a nice mix of her entire career, with songs like "Relentless", "Gotta Let Go", "Larger Than Life" and "Back To The Cave" among those played. She even dug back into the catalog for a couple of RUNAWAYS tracks, "Cherry Bomb" and "Black Leather". Her voice seemed to get better as the show went on but sadly, feedback issues continued to crop up and even at one point a brand new mic went dead, causing her to just toss it defiantly over her shoulder, letting it fall to the stage. Whether it was because of all these issues or just a bad day, Lita really didn't seem to be a happy camper during the show, a very stark contrast to the apologetic, sweetheart doll Lita Ford I had interviewed just an hour prior. They all stuck it out til the end though and for her it probably didn't end fast enough. Maybe an appearance at sound check might have made a difference, or having a sound guy that knows the difference between a club and an arena would have changed things, but I'll guess we'll never know.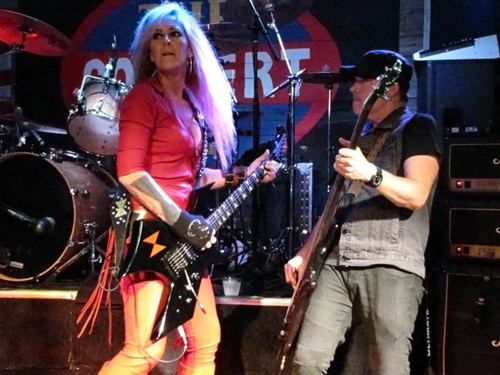 It was a bit of a bummer to see a show like this, especially with all the great concerts I have attended at The Concert Pub North over the past 2-3 years, but sooner or later you're going to have a bad apple in the bunch, and this show was it. Having covered shows in this area for the past 12 years or so, you get to know people, from promoters to bands and the fans themselves and people talk. Almost from my initial arrival at the show there were rumblings of how rude and unfriendly Lita was to the staff at the club. Evidently, the angelic attitude demonstrated to me during our interview was the sole exception to the evening. Needless to say, it is doubtful that she'll ever be welcomed back to this club and that's just a damn shame. Hopefully things will improve for her in the future. We did have a fantastic interview though, and you can check it out right HERE.
Setlist:
"The Bitch Is Back"
"Hungry"
"Relentless"
"Living Like A Runaway"
"Gotta Let Go"
"Larger Than Life"
"Devil In My Head"
"Back To The Cave"
Guitar Jam
"Can't Catch Me"
Drum Solo
"Out For Blood"
"Cherry Bomb"
"Black Leather"
"Close My Eyes Forever"
"Kiss Me Deadly"
As a side note, word of this show reached the ears of the infamous website Metal Sludge very quickly, because they made a phone call to the promoter the following day. The inetrview they did is up now and you can read it HERE.

Check out some more photos from the show!
All Photos By Larry Petro

Please log in to view RANTS