TAME FURY Taste Of Fury


By Larry Petro, News Monkey
Thursday, November 13, 2014 @ 8:37 AM


| | | |
| --- | --- | --- |
| | | |
Local Spotlight: Houston's TAME FURY
TAME FURY
Taste Of Fury
Self- Released




In the first of a new feature on KNAC.COM, we review a CD from a local area band, and in this case, Houston's own TAME FURY.
TAME FURY has been playing the circuit for a year or two now and has been chosen as one of the local opening bands for quite a number of national acts that have played H-town including RED DRAGON CARTEL, ACE FREHLEY, STRYPER, BUCKCHERRY and STEELHEART, to name but just a small few. TAME FURY's first release is the aptly-titled Taste Of Fury, a 5 song EP that is designed to give the listener a preview of what their music is all about in preparation for their first full length album, and the band is off to a solid start. And even though the band in its current incarnation has only been around for a relatively short period of time, each of its members has a quite extensive background of past musical endeavors and are certainly not rookies to the scene.
The 5 tracks contained on Taste Of Fury have been played live by the band for some time now but it's nice to finally have them out in official form to listen to whenever you like. Comprised of vocalist Michael McVey, guitarist Mark Bankston, bassist Troy Cummins and drummer Phred Williams, the band has a hard rock sound with a nice touch of southern flair thrown in for good measure. Each member brings his own set of influences to the group and vary widely, from the thrash of PANTERA to the Southern sound of ZZ TOP and the classic rock sound of bands like CHEAP TRICK and KISS.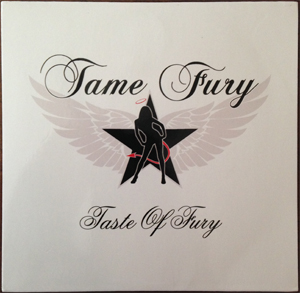 The CD kicks off with "Leave It All Behind", a groove-laden tune that sets the tone for what follows. Bankston's riff grabs the listener and doesn't let go as Cummins' bass joins in the fray and they're finally joined by Williams on the skins. The soulful vocals of frontman McVey fit very nicely with this style of music and you can certainly hear influences of KISS in his singing, almost like a lower octave Paul Stanley. And Bankston's solo on the very first track lets you know these guys are for real and you'd better take them seriously, dammit!
The rest of the EP is more of the same, with each song having its own catchy groove and style. They're all good in their own way, from the head-bobbing start to "Sex, Blood, Love" to the straight ahead jam that is the closing track "Time To Rock". At first glance you might not think that these guys are capable of kicking your ass onstage, but once the music starts, all doubt is erased.
The EP is self-released and at least co-produced by TAME FURY and the production and mix here is top notch. No equalizer adjustments necessary, just put it in and crank it up! And that's what you want as a listener, in this case to be able to hear every scream of Bankston's solos, all the nuances of Williams' drumming and each note of the crunching, low-end groove from Cummins' bass. But be forewarned, I take no responsibility for any headbanging, foot-stomping, air musicianship that may occur while listening to this record. Go on, get a Taste Of Fury, you know you want to....
4.7 Out Of 5.0
www.facebook.com/tamefurymusic
www.reverbnation.com/tamefury9

Please log in to view RANTS