JUDAS PRIEST/AMON AMARTH Live At FFF FEST In Austin, TX With Photos!


By Larry Petro, News Monkey
Monday, December 1, 2014 @ 6:30 PM


| | | |
| --- | --- | --- |
| | | Festival's Disorganization, Unpreparedness Ruin First Day For Many |
Fun Fun Fun Fest is a three day music festival held in Austin, Texas, that features several different stages, much like other music festivals you hear of, but the biggest difference is that as opposed to most other festivals that are specific to a certain genre (metal, classic rock, etc), FFF Fest incorporates several different genres into one festival. In this case, there are 4 stages, one of them being the Black Stage that focused on, you guessed it, metal. And for all intents and purposes that is the only one we will discuss here because, well, anything but hard rock and metal just plain sucks, right?

This year's Fest is actually #9, meaning that they've evidently done this before. Keep this in mind because we'll come back to that in a minute. The festival is held at Auditorium Shores at Town Lake Metropolitan Park along the banks of the Colorado River in downtown Austin. I had arranged to meet up with my brother and his wife to attend the first day of the festival to catch performances by AMON AMARTH and JUDAS PRIEST. The festival began at 11 that Friday morning, though we didn't arrive at our hotel until around 1 or so. AMON AMARTH was scheduled to play at 4 and JUDAS PRIEST at 8:10. There were other bands in between obviously, but there were of little consequence to us. In fact, there were bands playing all day long on all of the stages, though we personally only saw 2 of them.

The first issue we ran into was parking, or the complete lack thereof. According to some news articles, they have had a project going on to renovate parking at the park, a project that should have been finished a year ago but for whatever reasons it kept getting pushed back. It was finally supposed to open just prior to this festival but a week beforehand another article appeared stating that the project had been delayed yet again and now they had no timetable for its reopening. So, no parking meant a nearly $30 cab ride from our hotel in North Austin down to the festival location.

I truly hope that what we witnessed on this first day was an anomaly, because it really should have been called Cluster FFF Fest. Just substitute the F's for another less happy word and you'll get the idea. To say that the planning for the crowd was a failure of epic proportions would be an understatement. If you purchased tickets for this event, whether it be for one day or the whole weekend, after October 16th the only option you had was to take your receipt (with a QR code on it) to the Will Call 'window' at the venue. There were allegedly 2 'early will call' locations where you could pick up your stuff ahead of time, but for those of us coming in from out of town it was completely useless. I was on the media/press list, with my brother as my +1, and his wife had purchased a ticket and had one of those nice receipts I just spoke of.
We arrived at the venue at 3 PM, a full four hours after the festival kicked off. What we observed immediately upon exiting the cab was a line for the will call that stretched nearly a half mile! The line came down the full length of the main drive into Auditorium Shores, turned the corner and was nearly all the way across the bridge over the river! My sister-in-law decided to go ahead and get in the will call line while we headed up to the media/guest list area. We ended up standing in that line for a full 30 minutes before getting our credentials. We headed into the festival grounds to catch AMON AMARTH as they were just minutes away from taking the stage.
AMON AMARTH took the stage at precisely 4 pm and kicked off their daytime set with "War Of The Gods" from the 2011 Album Surtur Rising. The band kept thing rolling with tracks "For Victory Or Death" and "Death In Fire". This band is great to see live. They have lots of energy and have a way of getting the crowd into their performance. They've been out on the road for most of this year already in support of their latest release, Deceiver Of The Gods, and the middle of their 9 song set showcased several tunes from it, starting with the title track, then "Father Of The Wolf" and "As Loke Falls". The mosh pit in the center area in front of the stage was active throughout most of the band's performance, becoming a wave of sweating, slamming bodies rocking out to their heroes. The band then rounded out their brief set with "Twilight Of The Thunder God" and "Guardians Of Asgard". If you get a chance to see them live in your town, do not pass it up, especially if they're the headliner because they just tear it up!
Setlist
"War Of The Gods"
?
"For Victory Or Death"
"Death In Fire"
"Deceiver Of The Gods"
"Father Of The Wolf"
"As Loke Falls"
"Twilight Of The Thunder God"
"Guardians Of Asgaard"
Following their performance, my brother and I headed back out to the will call line to find his wife as she had not yet made it in to the festival yet. At the point we found her she had just managed to turn the corner onto the main drive into the festival. We decided to wait with her even though we already had our wristbands because JUDAS PRIEST wasn't scheduled to go on until 8:10. When we got about 20 yards from the will call area two event staffers came down the line and stated that anyone just needing a Friday wristband could come to them instead of going through the rest of the will call mess. Why weren't they going down this massive line all day doing this? Most of the people in the line were getting 3 day bands and if they had been doing this all along then most people would not have missed half the bands on that first day. Finally, at 5:30, a full 2 and a half hours after we first arrived, my sister-in-law made it into the festival. As we meandered around inside the festival grounds we could see the end of the will call line running down the street on the other side of the river! The line had actually grown larger since our arrival! It was absolute insanity at its highest levels. Some people I am sure made it in just in time to see PRIEST at 8, and they were the last metal act of the night.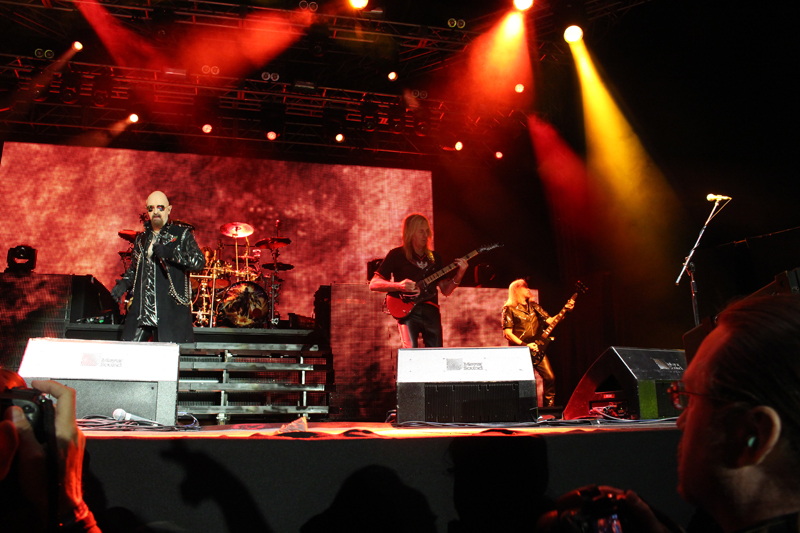 The organization inside the festival was very nicely done, with plenty of portable restrooms available and, like other festivals, there were a couple of midway areas set up with food, drink and merchandise vendors. After browsing through these areas and grabbing something to eat, it was time to get ready for JUDAS PRIEST.
Festival organizers made another gaffe by approving 35 people to shoot photos of PRIEST's set and because the barricade area was still just the normal size (about 6 feet wide), we would all not be able to shoot the full first 3 songs that is standard. On the contrary, what they did was break us up into groups of roughly 10-12 and each group got to shoot just one song. I opted for the first group and as the lights went down and the strains of the intro to the song "Battle Cry" blared over the speakers, it was time. The curtain dropped and the band hit the stage with "Dragonaut" from the new album and the crowd went nuts. The Metal Gods were in tight form on this night and seemed energized for their performance as they rolled through a set that included "Metal Gods", "Devil's Child", "Beyond The Realms Of Death" and "Jawbreaker". JUDAS PRIEST was in the midst of their Redeemer Of Souls North American Tour, but even so, being a festival appearance, a shorter set was expected. That was not the case however, as the fans were treated to the full headline set they had been playing. In addition to the opening number from the new album they also played 3 others: "Halls Of Valhalla", "March Of The Damned" and the title track, "Redeemer Of Souls". They finished off their pre-encore list with "Breaking The Law" and "Hell Bent For Leather". They came back twice for encores, the first time playing "You've Got Another Thing Comin'" and the second time, "Living After Midnight" and "Defenders Of The Faith". You can debate that they should have included this song or that song, but in the end it was still JUDAS PRIEST and they never disappoint. The band was having a great time and the overall performance showed.
Setlist:
"Battle Cry" Intro
"Dragonaut"
"Metal Gods"
"Devil's Child"
"Victim Of Changes"
"Halls Of Valhalla"
"Love Bites"
"March Of The Damned"
"Turbo Lover"
"Redeemer Of Souls"
"Beyond The Realms Of Death"
"Jawbreaker"
"Breaking The Law"
"Hell Bent For Leather"
Encore:
"You've Got Another Thing Comin'"
Encore:
"Living After Midnight"
"Defenders Of The Faith"
"Beginning Of The End" Outro
Would we do this event again? Not a chance in hell, at least not the way it was run this year with the issues we had. Hopefully the planners of this event will rethink their strategy and be a little more prepared and staffed accordingly to help things go a little more smoothly. I can't speak for the rest of the weekend as we only stayed for the Friday portion but I can only hope that those issues did not continue for days 2 and 3.

Check out some more photos from AMON AMARTH and JUDAS PRIEST's performances!
All Photos By Larry Petro

Please log in to view RANTS


THE WINERY DOGS, BLACK HEART SAINTS In Houston, TX With Photos!

ROBIN MCAULEY Alive

CRADLE OF FILTH, DEVILDRIVER In Santa Ana With Photos!

KAMELOT The Awakening

ALTER BRIDGE, MAMMOTH WVH In Houston, TX With Photos!

ACID KING Beyond Vision

STEEL PANTHER On The Prowl

NIGHT DEMON Outsider

YNGWIE MALMSTEEN In Ottawa, Canada

THEORY OF A DEADMAN, SKILLET, SAINT ASONIA In Houston, TX With Photos!

OFFICER X Hell Is Coming

PERIPHERY Periphery V: Djent Is Not A Genre

INSOMNIUM Anno 1696

STEEL PANTHER, CROBOT, TRAGEDY In Houston, TX With Photos!

BABYLON A.D. Live Lightning

ROTTING CHRIST, CARACH ANGREN, UADA, GAEREA In Houston, TX With Photos!

MOTÖRHEAD Bad Magic: Seriously Bad Magic

TRAGEDY I Am Woman